Abath Sagayeswarar(Guru) Temple
Alangudi, Thiruvarur District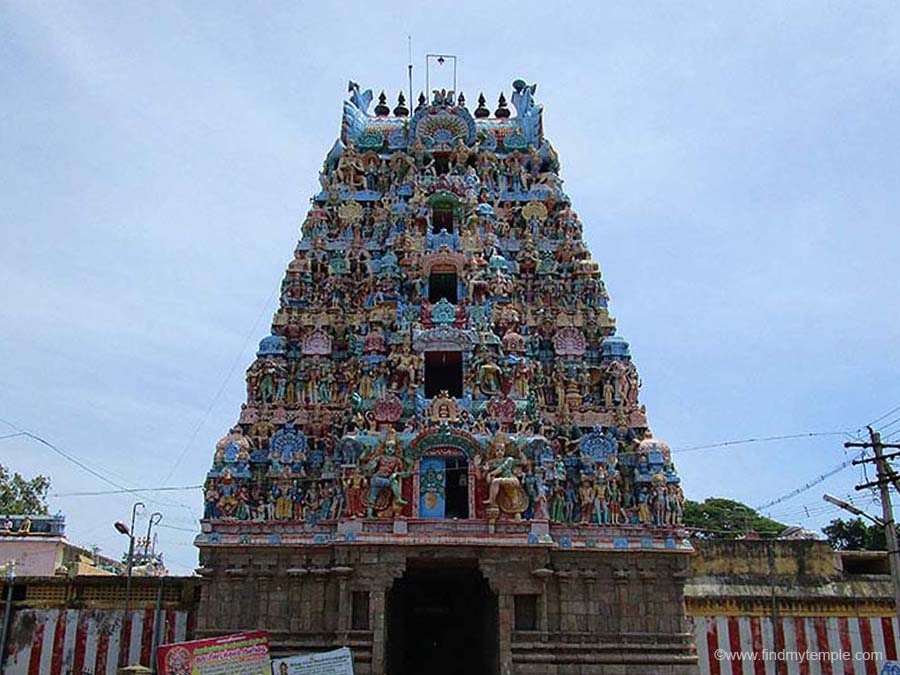 Main Deity : Abath Sagayeswarar

Ambal : Elawar Kuzhali

Other Deities : Lord Ganesha

Holy Water : Brahma Theertham, Amirtha Pushkarani

Temple Tree : Plant called Poolai

Prominence of the Shrine : In this sacred temple Lord Dakshinamoorthy is appearing as Guru (one of the navagrahas). If we worship the Lord Guru (Planet Jupiter) here, the Guru dosha will be cured. It's a mythological belief that, anybody having skin diseases will get cured if they take bath in the holy tank in the temple and worship the Lord here. As Lord Ganesha is famous here to remove the devotee's mental worries, he is called as "Kalangamal Kaththa Vinayagar".

Temple History : As per Hindu mythology, once upon a time Devas and Asuras tried to churn the Cosmic Ocean in order to obtain Amrita - the nectar of immortal life. At the suggestion of Vishnu the gods, (devas) and demons (Asuras) churn the primeval ocean in order to obtain Amrita which will guarantee them immortality. To churn the ocean they used the Serpent King, Vasuki, for their churning-string. For a churning pole they use Mount Mandara placed on the back of a Great Tortoise - the Kurma Avatar of Vishnu. As the gods and demons churned the sea, a terrible poison issued out of the sea which enveloped the universe. The devas and asuras approach Shiva who took the poison into his throat and swallowed it. As Lord Shiva saved the world from the poison the Lord here is called as 'Abath Sagayeswarar'. This place also called as Alangudi ( poison means Alam in tamil).
Apart from worshipping Lord Shiva here, devotees visit here to worship the planet Guru (Jupiter). Every year during the planet Jupiter's movement from one house to another house is considered to be very auspicious and lakhs of devotes arrive to worship the Guru Bhagavan.
As per another mythological story a Shiva devotee named 'Amudogar' who worked as a minister in Thiruvarur kingdom constructed this temple. The King asked the minister to donate half of his good will earned by him. As the minister refused to do so, the King ordered to kill the minister. Once the head of the minister was removed, there was a loud unmanned voice heard as "Amudogar" in the temple location. King realized it was the voice of the God himself and it was his mistake to kill the minister. He worshipped in this temple later and god rid of the sin of killing a Shiva devotee.
Temple Timings : Morning 6.00 AM to 12.45 PM, Evening 4.00 PM to 8.30 PM
Pooja Details : Four times pooja per day
Morning :- 9:00 AM – 9:30 AM
Noon :- 12:30 PM– 1:00 PM
Evening :– 5:30 PM - 6:00 PM
Night :- 8:30 PM – 9:00 PM

Temple Festivals : 3rd Thursday of tamil month Maasi.
Nearest Town : Kumbakonam.
Address : Sri Abath Sagayeswarar Temple, Alangudi, Thiruvarur District - 612 801.
Telephone No : 04374 - 269407
Hotel Near Abath Sagayeswarar(Guru) Temple, Alangudi :
1.Sivamurugan Hotels(18.3km from Temple)
60 Feet Main Road, | Near New Bus Stand,
Kumbakonam 612 001, India
Ph: 096000 00384
2.Sara Regency (20.3km from Temple)
45/1 Chennai Road, Kumbakonam 612002, India
Ph:082200 05555
3.Quality Inn VIHA (17.2km from Temple)
New Railway Road, Kumbakonam,
Tanjore, Tamil Nadu 612001
Trichy Road, Namakkal
Ph:0435 255 5555
4.Hotel Green Park (18.9km from Temple)
No. 10, Lakshmi Vilas Street,
Kumbakonam, South India - 612001.
Ph :(0435) - 2402853 / 2403914
5.Hotel Vinayaga - Kumbakonam(17.3km from Temple)
132C, Kamaraj Road,
Kumbakonam- 612 001
Tamilnadu, India
Tele : +91 435 240 03 56
Telefax : +91 435 240 03 57
Mobile: +91 822 001 9 122
Reservation No: +91 4296 272 110
Restaurant Near Abath Sagayeswarar(Guru) Temple, Alangudi :
1.Venkatramanaa Hotel
No 40, TSR Big Street, Kumbakonam HO,
Kumbakonam - 612001, Near Gandhi Park
Ph : +(91)-9442130736
2.Sri Balaji Bhavan
1, Sasthra College Road,
Kumbakonam HO, KUMBAKONAM - 612001
Ph : +(91)-435-2424578
3.Hotel Shanmuga Bhavan
16, Kumbeswarar South Street,
Kumbakonam HO, KUMBAKONAM - 612001
Ph:+(91)-435-2433962
4.Gowri Shankar Hotel
No 47, John Selvaraj Nagar,
Kumbakonam HO, Kumbakonam - 612001
Ph : +(91)-9443131276 ,+(91)-435-2431177
tel : (91)-435-2430736
5.Rayas Garden Restaurant
No 18 Rayas Hotel, Head Post Office Road,
Kumbakonam HO, Kumbakonam - 612001
Ph :+(91)-435-2423170, 2423171, 2423172, 2423173
1 1 1 1 1 1 1 1 1 1 Rating 3.37 (235 Votes)
Driving Direction & Temple Location