Kapalesewarar Temple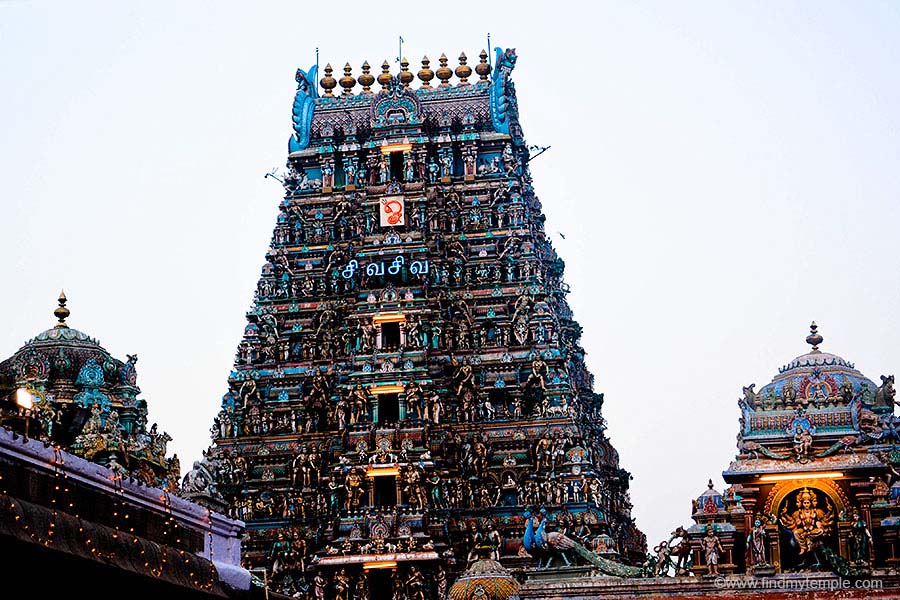 Main Deity : Kapaleeswarar ( Lord Shiva)
Ambal : Karpagambal ( Goddess Parvathi)
Holy Water : Kapali Theertham
Temple Tree : Punnai Tree
Prominence of the Shrine : There are many important mythological beliefs are attached to this temple. 'Vaayilar' is one among the 63 Nayanmars born at this location. Thirugnana Sampanthar converted a bone into a women after worshipping at this temple and then Goddess Parvathi took a form of Peacock to worship the lord are the other mythological beliefs. Brahma got rid of his ego after worshipping here and Shiva's son Murugan got his holy spear from his father here.
Temple History : Goddess Parvathi requested the Lord Shiva to teach her the mantra of "Shivaya Nama". Shiva also tougher her the same. During the time, there was a peacock dancing in the vicinity and Goddess Parvathy lost her concentration on the mantra and started enjoying the peacock's performance. Lord Shiva got angry by seeing this, and cursed her to become a peacock. Goddess realized her mistake requested a way to get out of this curse and Shiva asked her to worship as a peacock from the earth to get relief. Goddess Parvathi born as a peacock and did a penance towards the Shiva on this temple. In tamil peacock means "mayil" so this place is called as "mylai" or "thiru mylai" and later turned as mylapore.
During AD 1516 mylopore came under rules of Portuguese and later they destroyed the old temple to build their fort. The current day temple has been constructed later around AD 1672.
It is also believed the famous tamil poet "Thiruvalluvar" was born at Mylapore during 1st century so this place is one of the oldest places referred in history.
Poets who sang its praise : Thirugnana Sampanthar, Thirunavukarasar, Sundarar
Temple Timings : Morning 5:00 AM to 12:30 PM
Evening 4:00 PM to 9:30 PM
Temple Festivals : Panguni Big festival.
Arupaththu Movar festival ( 63 Nayanmar' s festival).
New moon days & Full moon days are also famous at this temple.
Nearest Town : Chennai
Address : Sri Kapaleeswarar Swamy temple, Mylapore , Chennai – 600004.
1 1 1 1 1 1 1 1 1 1 Rating 3.36 (233 Votes)
Driving Direction & Temple Location