Ramanadha Swamy Temple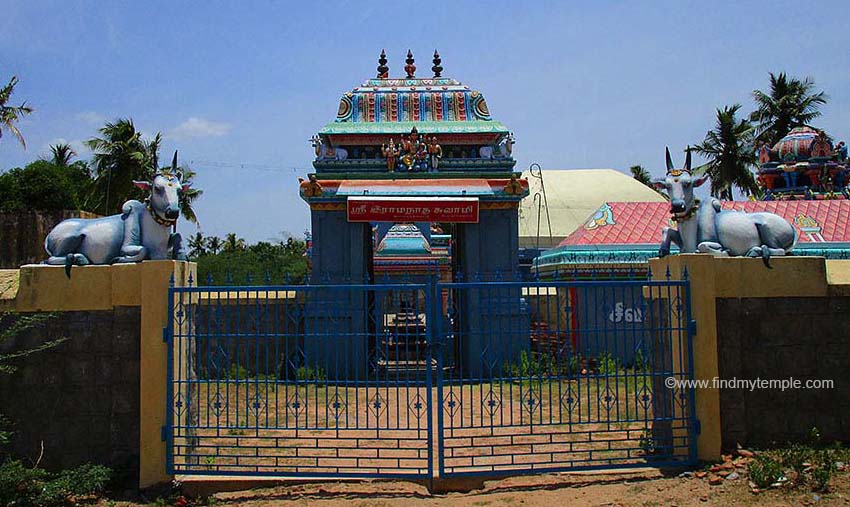 Main Deity : Ramanadha Swamy.
Ambal : Sariwarkuzhali.
Other Deities : Somaskandar with Nandi.
Holy Water : Rama Theertham.
Temple Tree : Magizha, Champak (Magnolia champaca).
Prominence of the Shrine : The lingam here is self-formed. When Deepa aradhanai is made, it is something unique to see the image of light on the lingam. This temple was built by the Cholas. This is the 140th temple among the 274 Shiva temples celebrated in the great Tamil Spiritual literature "Devaaram".
Temple History : As per Indian Epic Ramayana, Sri Rama (Avatar of Vishnu) quelled many Soldiers including Ravana when he went to Sri Lanka to get back his wife Sita. To ward off the evil effect of this act he performed Shiva pooja at Rameswaram. On his return he crossed this forest made up of Champak flowers. Under a tree he found lord Shiva in a Self-formed state. He made preparations to perform poojas. Nandi Deva prevented Sri Rama not to reach Shiva by mistaking him as an ordinary human being. Goddess Ambigai appeared there by pulling Nandi on the sides and allowed Sri Rama to perform the poojas. Rama performed Shiva pooja and returned to city of Ayodhya . Later a temple was raised here. As Rama offered worship here, the lord here is called "Ramanadheswarar".
Temple Festivals : Maha Shivarathri; annabishegam in Aippasi, Kanda Shashti.
Nearest Town : Thiruvarur.
Address : Sri Ramanadha Swamy temple,
Ramanadheecharam,
Thirukkannapuram – 609 704,
Tiruvarur Dt.
Telephone Number :+91-4366-292 300, 291 257, 94431 13025.
Hotels Near Ramanadha Swamy Temple, Thiruvarur :

1.Hotel Selvies (P) LTD,
2, Kattukara Street Santhamangalam,
Madapuram,Thiruvarur-610002,
Tel:04366 222 082.

2.Arun Hotel,
Santhamangalam, KTR Nagar,
Thiruvarur, Tamil Nadu 610001

3.Hotel Kauveri,
Santhamangalam, KTR Nagar,
Thiruvarur, Tamil Nadu 610003

4.Hotel MMA,
3/364A, Hotel MMA,Dr. kalaingar nagar, M
annarkudi Road,T.Nagar,Vilamal,
Thiruvarur-610001,
ph:04366 220 218
1 1 1 1 1 1 1 1 1 1 Rating 3.38 (238 Votes)

Driving Direction & Temple Location