Brahmapureeswarar Temple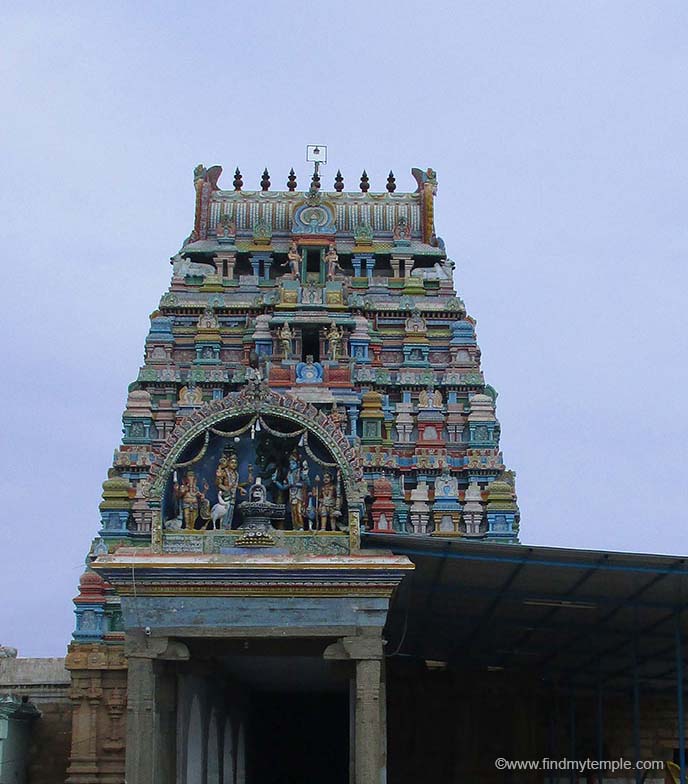 Main Deity : Sri Brahmapureeswarar.
Ambal : Brahma nayagi.
Holy Water : Brahma Theertham.
Temple Tree : Magizha(Spanish cherry)tree.
Prominence of the Shrine : The Brahma idol here is 6 ¼ feet tall. Thursday is considered auspicious for worshipping Brahma. One can participate in the abhishekam at 6.00 am. On 15, 16 and 17th of Tamil month Panguni every year, the rays of the sun fall on Brahma. Devotees throng to witness and benefit from this phenomenon.
Devotees believe that if they worship at this temple, they can change what is written on one's head (fate – as per Hindu religion belief all the good and bad events in one's life are already written on your head at the time of birth). Also it is believed that, only if it is written in your destiny, you will end up visiting this temple. At Thirupattur only Lord brahma is having a dedicated Sannidhi. Where Lord Shiva blessed Brahma is what is known as Brahmapureeswarar. Brahma's Sannidhi is facing the east direction here.
Temple History : It is believed that Lord Brahma at Thirupattur is so powerful the he can change the fate his devotees. As per mythology Brahma is the creator of living beings. Once he had the egoistic thought that him and Shiva both have five heads, so both must be equals. Lord Shiva decided to teach Brahma a lesson. He removed Brahma's fifth head which gives Brahma the power of creation. Brahma realized his mistake and observed penance here to twelve different Shiva lingams to get back his lost powers. Lord Shiva felt elated with the pooja of Brahma and gave him back the powers of creation. He also gave the power to change the fate of devotees who worship here. Hence the Brahma here is considered to be the one who can change what is written one's head (fate). If devotees worship at this temple they are believed to get relief from all kinds of Dosha. First they need to worship Shiva, Brahma and then the Goddess Brahmanayagi. Devotees are given to light 36 ghee lamps and perform 9 rounds of the temple in order to get rid of their problems.
Temple Timings : 7.00 am to 12.00 noon, 4.00 pm to 8.00 pm. On Thursdays the temple is open until 1.00 pm.
Pooja Details : Morning Pooja: 8.30 am to 9.30 am.
Noon Pooja : 11.30 am to 12.00 noon.
Evening Pooja: 5.45 pm to 6.15 pm.
Night Pooja:7.45 pm to 8.00 pm.
Nearest Town : Thirupattur, Trichy.
Location : On the Trichy Chennai Highway 5 km from Siruganur and 15km from Samayapuram.
Address : Sri Brahmapureeswarar Temple, Thirupattur 621 105.Tiruchirapalli Dt.
Hotels Near Brahmapureeswarar Temple, Thirupattur :
1. Mathura Hotel, (39 km from Temple)
No 1, Rockins Road, Tiruchirappalli Townhall,
Trichy - 620002, Opposite Central Bus Stand Contonment
Tel : +(91)-431-2414737, +(91)-9894558654.
2. Mayavaram Lodge, (33 km from Temple)
No 87, Vanapattarai Street, Tiruchirappalli Townhall,
Trichy - 620002, Teppakulam Post,
Tel : +(91)-431-2711400, 2704089
3. Femina Hotel, (39 km from Temple)
109, Williams Road, Tiruchirappalli 620001,
Hotel Area: Trichy Central Bus Stand / Railway Junction Area,
Tel : 0431 - 2414501.
4. Hotel Rockfort View, (30 km from Temple)
05, Odathurai Road | Chinthamani, Tiruchirappalli 620 002.
Mobile: +91 740 2713466.
Tel : +91 431-2713466.
5. Grand Gardenia, (38 km from Temple)
22-25 Mannarpuram Junction,Trichy-620020,
Mobile : +91 95856 44000.
Tel : +91 431 4045000.
Restaurants Near Brahmapureeswarar Temple, Thirupattur :
1. Ragunath Restaurant, (30 km from Temple)
College Road, Tiruchirappalli.
2. Parthasarathy vilas, (29 km from Temple)
Vegetarian / Vegan Restaurant
Kondayam Pettai Agraharam, Thiruvanaikoil, Trichy 620005.
1 1 1 1 1 1 1 1 1 1 Rating 3.36 (233 Votes)

Driving Direction & Temple Location