Sowri Raja Perumal Temple
Thirukkannapuram, Thiruvarur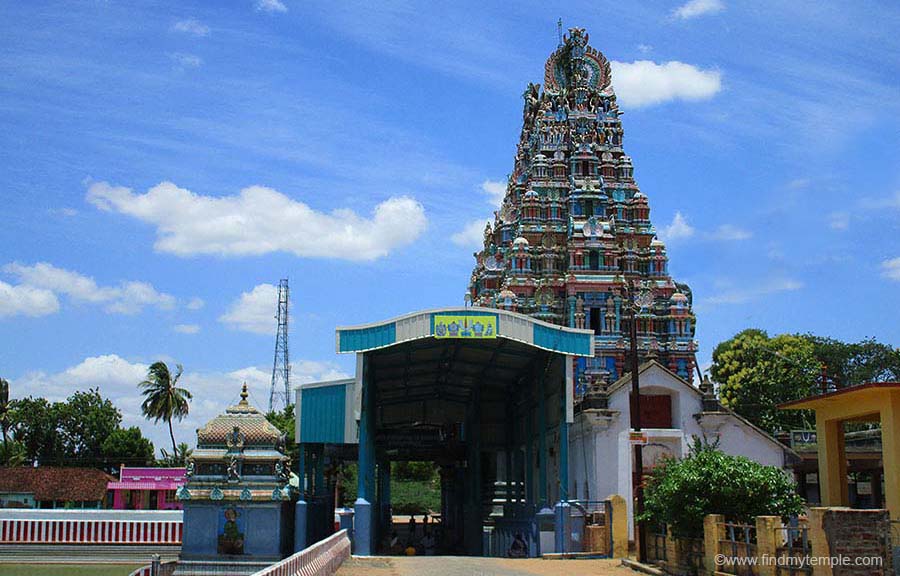 Main Deity : Sowri Raja Perumal, Neela Mega Perumal.
Ambal : Kannapura Nayagi (Sri Devi; Bhoodevi).
Holy Water : Nithya Pushkarani.
Vimanam : Uthpalavathaga vimanam.
Prominence of the Shrine : A little away from Vishnu with his consorts, on the left is Andal with her crown and on the right is Padmavathi Thayar alias Chembavada Princess whom Perumal wedded. Perumal here graces with his hands at the receiving posture for kanayaga danam (meaning requesting a girl for marriage). In this shrine Thiru mangai Azhwar was offered Thiru Mantra Upadesam. This shrine also marks the Lord gracing with his walking gait on new moon day as Sriranganathar gracing Vibheeshana Azhwar. Here he appears with hair on the head as Urchavar. The 'Thirumudi dharshan' can be seen on new moon day when the Lord is taken around. 'Sowri' means both 'hair' and 'beauty'.
Temple History : Ranga Bhattar, an poojari (priest), promised the Chola King that he would show the hair grown on the head of Perumal. To prove his word, Perumal showed the lot of hair and graced and He was called Sowri Rajan. Munayadharayar, an ardent devotee, could not take to the temple the pongal(Prasad for the god) cooked by his wife as it was midnight. He offered with devotion and the Lord accepted it. At the mid night the temple bell chimed and the smell of pongal filled the temple. From that day, the pongal offered at night is called 'Muniyodharam' pongal. Even today pongal is offered to Perumal as offering after melting butter and using it for making pongal.
Temple Timings : 7am to 12.15pm and 5pm to 8.30pm.
Pooja Details : Six times a day.
Temple Festivals : Vaigasi – Brahmothsavam 13days – 7th day holy marriage with Padmini Thayar. Aadi – Ekadasi Jeshtabhishegam for Perumal.
Masi – Masi magam festival – 15 days.
On the Masi magam day Perumal would go 25km to 'Thirumalairayanpattinam' on Garuda for Theerthavari. Theerthavari is conducted by Puducherry government and the temple. Fishermen carry the Garuda here.
Address : Sri Sowri Raja Perumal Temple, Thirukkannapuram – 609704. Thiruvarur Dt.

Hotels Near Sowri Raja Perumal Temple, Thirukkannapuram :

1.Hotel Selvies (P) LTD,
2, Kattukara Street Santhamangalam,
Madapuram,Thiruvarur-610002,
Tel:04366 222 082.

2.Arun Hotel,
Santhamangalam, KTR Nagar,
Thiruvarur, Tamil Nadu 610001

3.Hotel Kauveri,
Santhamangalam, KTR Nagar,
Thiruvarur, Tamil Nadu 610003

4.Hotel MMA,
3/364A, Hotel MMA,Dr. kalaingar nagar, M
annarkudi Road,T.Nagar,Vilamal,
Thiruvarur-610001,
ph:04366 220 218
1 1 1 1 1 1 1 1 1 1 Rating 3.37 (235 Votes)

Driving Direction & Temple Location