Balukandanadha Swamy Temple
Thiruvaipadi, Thiruvidaimarudur (Tk)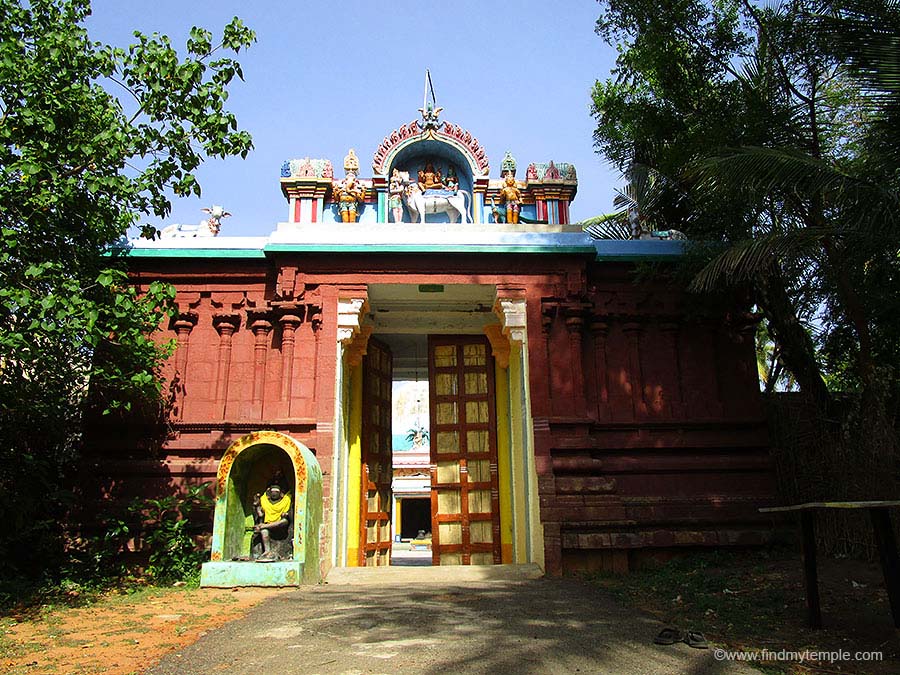 Swami : Sri Balukandanadha Swamy.

Ambal : Sri Periyanayagi.

Moorthy : Bairavar, Sooriyar, SaniBagavan (The Saturn God)

Holy Water : Manniyaru.

Temple Tree : Aathi.

Specialty of the shrine : Chandigeswarar offered worship here. According to inscriptions, the name of the Lord is AappadiUdayar. River Manniyar flows beside this shrine.

Who worshiped here : Chandeswarar.

Poets who stand in praise : Thirunavukkarasar.

Temple Timings : 8.00 am to 12.00 noon ---- 5.00 pm to 8.00 pm

Details of Poojas : Two times a day.

Temple Festivals : KarthigaiSomavaaram (Monday),
MargazhiThiruvaadhirai.

Nearest Town : Kumbakonam.

Address : Sri BalukandanadhaSwamy Temple,
Thiruvaipadi (Po), Thiruppanandaal (via),
Thiruvidaimarudur (Tk),
Tanjore (Dt). Pin : 612 504.
Hotel Near Balukandanadha Swamy Temple, Thiruvaipadi :
1.Sivamurugan Hotels(12.6km from Temple)
60 Feet Main Road, | Near New Bus Stand,
Kumbakonam 612 001, India
Ph: 096000 00384
2.Sara Regency (15km from Temple)
45/1 Chennai Road, Kumbakonam 612002, India
Ph:082200 05555
3.Quality Inn VIHA (11.5km from Temple)
New Railway Road, Kumbakonam,
Tanjore, Tamil Nadu 612001
Trichy Road, Namakkal
Ph:0435 255 5555
4.Hotel Green Park (13.5km from Temple)
No. 10, Lakshmi Vilas Street,
Kumbakonam, South India - 612001.
Ph :(0435) - 2402853 / 2403914
5.Hotel Vinayaga - Kumbakonam(11.6km from Temple)
132C, Kamaraj Road,
Kumbakonam- 612 001
Tamilnadu, India
Tele : +91 435 240 03 56
Telefax : +91 435 240 03 57
Mobile: +91 822 001 9 122
Reservation No: +91 4296 272 110
Restaurant Near Balukandanadha Swamy Temple, Thiruvaipadi :
1.Venkatramanaa Hotel
No 40, TSR Big Street, Kumbakonam HO,
Kumbakonam - 612001, Near Gandhi Park
Ph : +(91)-9442130736
2.Sri Balaji Bhavan
1, Sasthra College Road,
Kumbakonam HO, KUMBAKONAM - 612001
Ph : +(91)-435-2424578
3.Hotel Shanmuga Bhavan
16, Kumbeswarar South Street,
Kumbakonam HO, KUMBAKONAM - 612001
Ph:+(91)-435-2433962
4.Gowri Shankar Hotel
No 47, John Selvaraj Nagar,
Kumbakonam HO, Kumbakonam - 612001
Ph : +(91)-9443131276 ,+(91)-435-2431177
tel : (91)-435-2430736
5.Rayas Garden Restaurant
No 18 Rayas Hotel, Head Post Office Road,
Kumbakonam HO, Kumbakonam - 612001
Ph :+(91)-435-2423170, 2423171, 2423172, 2423173
1 1 1 1 1 1 1 1 1 1 Rating 3.38 (238 Votes)
Driving Direction & Temple Location