Amuthavalli Nachiyar Sametha Ulagalantha Perumal Temple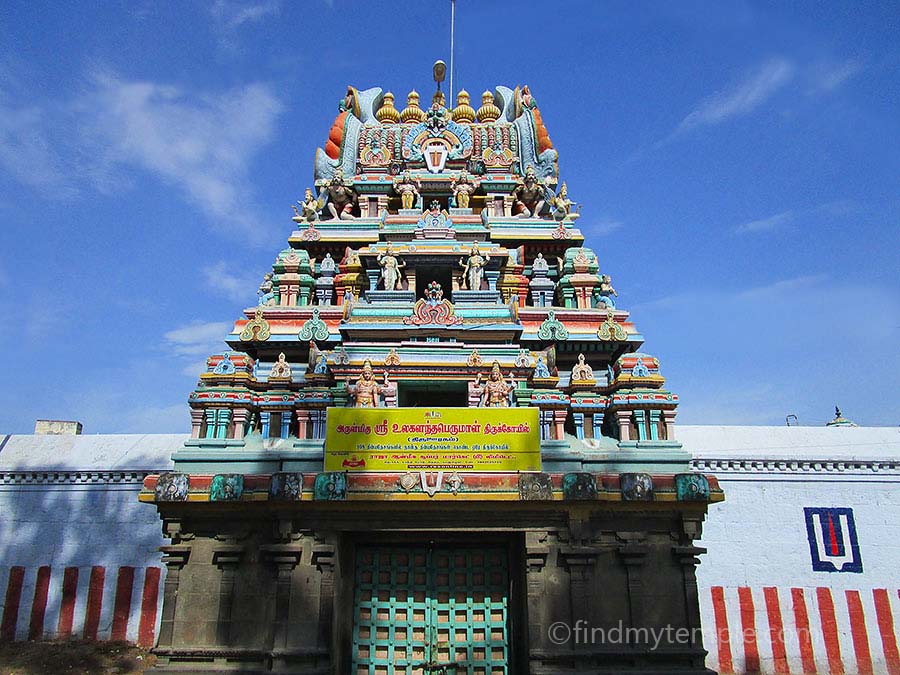 Main Deity : Sri Ulagalandha Perumal, Sri Thrivikrama Perumal.

Ambal : Amudavalli Nachiar, Aranavalli Thayar, Amruthavalli

Holy Water : Naga Theertham (Sesha Theertham).
Prominence of the Shrine : There are four Divya Desams in Ulagalanda Perumal Temple: 1. Thiru Oorgam. 2. Thiruneeragam 3. Thirukkaragam and 4. Thirukkarvanam are there. This is a unique feature which can't be seen anywhere. It is a great benediction to Kanchi to have 4 "Divya Desams" in a single temple. As per unconfirmed stories With the exception of Thiru Ooragam, the other three were elsewhere and later consecrated here.Here the vimanam (temple dome) is in the form of "Saara Srikara Vimanam". The temple is located 6 feets lower than the ground level or you need step down 8 steps to reach the main temple.
Temple History : The purana is a well-known one to all. The Demon King Mahabali adorned as emperor and ruled all the Three worlds. The Devas were the worst hit and jealous. . To relieve the Devas of their agony, the Lord Vishnu took the incarnation of "Vaamana Avatar" and told Mahabali that He needed three foots of land which is calm place to meditate upon the Lord and it would benefit him if he offered such a place.Mahabali accepted it and asked him to measure and take the place he required. The Lord (Vaamana) rose to his Thrivikrama form and by two foot measured the whole of Swarga (Devaloka) and Pathala (the Asura loka) and then sought the king the space for his third foot. Mahabali offered his head and requested the Lord to put the third foot on his head. The Lord did so and He pressed Mahabali under the Earth. Hence the Lord Vishnu here is called as Thiruvikrama Perumal Or Ulagalandha Perumal (In Tamil Ulagalandha means, The lord who measured the entire world).
Poets who sang its praise : Thirumazhisai Azhwar, Thirumangai Azhwar.

Temple Timings : 6.00 am to 12.00 noon ---- 4.00 pm to 8.00 pm.
Nearest Town : Kanchipuram
Address : Amuthavalli Nachiyar Sametha Ulagalantha Perumal Temple, Kanchipuram -631 501, Kanchipuram District.
Telephone No : 94425 53820
Hotel Near Amuthavalli Nachiyar Sametha Ulagalantha Perumal Temple, Kanchipuram :
1. GRT Regency-Kanchipuram,
487, Gandhi Road, Kanchipuram 631502, India
Ph: +(91)-44-27225250, +(91)-9940184251
2. MM Hotels,
No. 65 - 66, Nellukara Street, Kanchipuram 631502, India
Ph: +(91)-44-27227250, +(91)-8098827250
3. Hotel Baboo Soorya,
No 85, East Raja Street, Kanchipuram Ho,
Near Kamakshi Amman Temple,
Kanchipuram - 631501, India
Ph: +(91)-44-27222556, +(91)-9597121214
Restaurant Near Amuthavalli Nachiyar Sametha Ulagalantha Perumal Temple, Kanchipuram :
1.Saravanaa Bhavan,
66, Annai Indhira Gandhi Street,
Kanchipuram 631502,India
Ph: 4427226877
2.Hotel Saravana Bhavan,
504, Gandhi Road | Near Indian Overseas Bank
Kanchipuram 523230
Ph: 044 27222505
3.Haritam,
NH-45 Thenpakkam Village,
Kanchipuram 603301, India
Ph:44 27522336
1 1 1 1 1 1 1 1 1 1 Rating 3.37 (235 Votes)
Driving Direction & Temple Location