Naganadha Swamy Temple(Kethu Isthalam)
Keelaperumpallam, Nagai (Dt)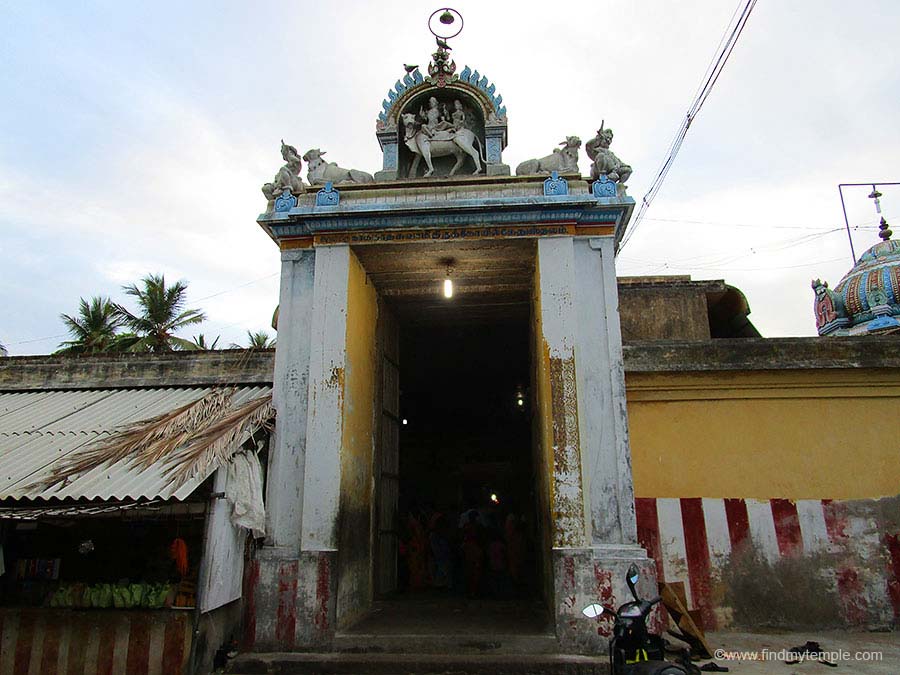 Main Deity : Sri Naganadha Swamy

Ambal : Sri Soundara Nayagi

Other Deities : Nataraja, Somaskandar, Murugan ,Ganesha, Kedhu, Ambal
Holy Water : Naga Theertham

Temple Tree : Bamboo (Moongil).

Prominence of the Shrine : Here Lord Kedhu is in a separate Sannidhi. Offering worship here wards off all adverse effects from Kedhu planet and brings one all good.

Temple History : This temple is there approximately for 1900 years and one of the oldest temples in this region. This temple has been constructed by Chola kings. The story of the temple is, when Devas and Asuras where trying to take the nectar using the snake God 'Vasuki' and she started spilling the poison. To save the world Lord Shiva drank that poison and suffered. So the snake God Vasuki was concerned that due to her Shiva had to go through the pain and she worshipped Lord Shiva to get rid of any Dosha that was caused. Lord Shiva also appeared at this temple and awarded her wish to come true. Snake God Vasuki requested Lord Shiva to stay in this temple. Here the Snake God is appearing as human body with snake head. Here the Snake God (Kedu) is appearing in a separate Sannidhi with the worshiping position towards lord Shiva. The poojas are conducted for Kedu during 'Ragu kalam' & 'Ema kandam' (different time of the day as per hindu panjankams)
Temple Timings : 6.00 am to 12.00 noon - 3.00 pm to 8.00 pm

Pooja Details : Six times a day.

Temple Festivals : The departure of Kedhu, Panguni Thiruvonam, Thiruvadhirai, Arudhra, Thirukkarthigai, Navarathri, Shivarathri, Pradhosham worship, Vinayagar Chathurthi.
Nearest Towns : Mayiladuthurai, Sirkazhi

Address : Sri Naganadha Swamy Temple (Kedhu Stahalam),
Keelaperumpallam, Vanagiri (Po.),
Tharangambadi (Tk.),
Nagai (Dt).
Hotel Near Naganadha Swamy Temple(Kethu Isthalam), Keelaperumpallam :
1.Chola Inn,(21km form Temple)
105, Pidari South Street,
Thenpathi,Sirkazhi,
Tamil Nadu 609111,
Ph: 094444 93388
2.Ayarpadi Hotel,(21.6km form Temple)
Old NH,Thenpathi,Sirkazhi,
Tamil Nadu 609110
3.Hotel Aryabhavan,(20.6km form Temple)
Old NH,Thiruvalluvar Nagar,
Thenpathi,Sirkazhi,
Tamil Nadu 609111
4.Mangala Vilas Hotel,(20.7km form Temple)
Thenpathi,Sirkazhi,
Tamil Nadu
5.Ganesan Hotel,(21.9km form Temple)
Sirkazhi, Tamil Nadu
Resturant Near Naganadha Swamy Temple(Kethu Isthalam), Keelaperumpallam :
1.Samboorna Restaurtant,
Old NH,Thenpathi,Sirkazhi,
Tamil Nadu 609110
2.Garden Restaurant,
Thenpathi,Sirkazhi,
Tamil Nadu 609110
1 1 1 1 1 1 1 1 1 1 Rating 3.37 (235 Votes)
Driving Direction & Temple Location