Ramaswamy Temple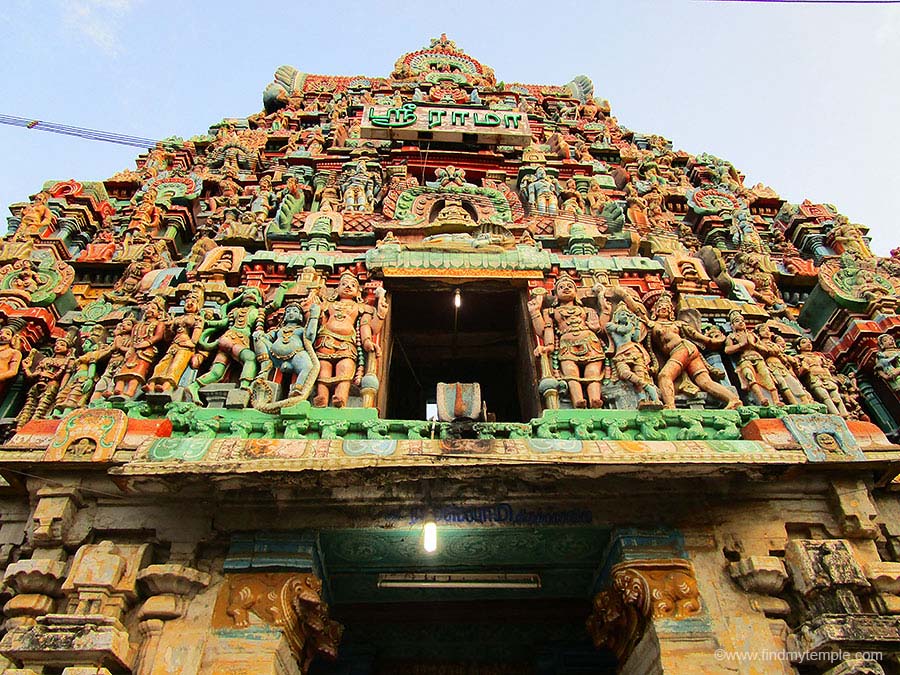 Main Deity : Sri Ramaswamy

Ambal : Sri Seethalakshmi

Other Deities : Ramar, Seethai, Lakshmanan, Sathrugan, Bharathan, Hanuman

Prominence of the Shrine : Scenes from the Ramayana are portrayed in the inner Praharas

Temple History : The temple is not only beautiful in structure it is also a great art gallery. This temple has been constructed by King 'Regunatha Nayakkar' who ruled Tanjore at CE1620. The temple's Urchava moorthies (Urchava moorthy means smaller size of idols which are carried around the temple as procession during festivals) are very old and it was found under the earth near to Darasuram town. It's front hall was constructed with 62 pillars that has beautiful carvings of various gods. Different avatars of Lord Vishnu also carved in this hall. This hall is called as 'Maha Mandapam'. One of the great Indian Epic Ramayan has been painted in the inner prahara of this temple. More than 200 such paintings are present in the inner prahara makes the temple more beautiful and it demonstrates the depth of art and architecture.

The Temple's Karpagraha is in the old fashion. Sri Ram and Seeta Devi both are in the sitting position in the karpagraha and his three brothers Laxman, Bharadan, and Sathrukkan are standing nearby them. Lord Hanuman is placed here with 'Veena' in his hand (Veena is a indian musical instrument). Hanuman with veena is one of the very rare idols which you find in many temples.

Temple Timings : 7.00 am to 12.15 noon - 4.00 pm to 9.00 pm

Pooja Details : Six times a day

Temple Festivals : Sri Ramanavami, Gokulastami, Navarathri(Dussera), Pavithra Urchavam, Oonjal Urchavam.

Nearest Town : Kumbakonam
Address : Sri Ramaswamy Temple,
Kumbakonam (Po.),
Thanjavur (Dt). PIN – 612 001.
Hotel Near Ramaswamy Temple, Kumbakonam :
1.Sivamurugan Hotels
60 Feet Main Road, | Near New Bus Stand,
Kumbakonam 612 001, India
Ph: 096000 00384
2.Sara Regency
45/1 Chennai Road, Kumbakonam 612002, India
Ph:082200 05555
3.Quality Inn VIHA
New Railway Road, Kumbakonam,
Tanjore, Tamil Nadu 612001
Trichy Road, Namakkal
Ph:0435 255 5555
4.Hotel Green Park
No. 10, Lakshmi Vilas Street,
Kumbakonam, South India - 612001.
Ph :(0435) - 2402853 / 2403914
5.Hotel Vinayaga - Kumbakonam
132C, Kamaraj Road,
Kumbakonam- 612 001
Tamilnadu, India
Tele : +91 435 240 03 56
Telefax : +91 435 240 03 57
Mobile: +91 822 001 9 122
Reservation No: +91 4296 272 110
Restaurant Near Ramaswamy Temple, Kumbakonam :
1.Venkatramanaa Hotel
No 40, TSR Big Street, Kumbakonam HO,
Kumbakonam - 612001, Near Gandhi Park
Ph : +(91)-9442130736
2.Sri Balaji Bhavan
1, Sasthra College Road,
Kumbakonam HO, KUMBAKONAM - 612001
Ph : +(91)-435-2424578
3.Hotel Shanmuga Bhavan
16, Kumbeswarar South Street,
Kumbakonam HO, KUMBAKONAM - 612001
Ph:+(91)-435-2433962
4.Gowri Shankar Hotel
No 47, John Selvaraj Nagar,
Kumbakonam HO, Kumbakonam - 612001
Ph : +(91)-9443131276 ,+(91)-435-2431177
tel : (91)-435-2430736
5.Rayas Garden Restaurant
No 18 Rayas Hotel, Head Post Office Road,
Kumbakonam HO, Kumbakonam - 612001
Ph :+(91)-435-2423170, 2423171, 2423172, 2423173"
1 1 1 1 1 1 1 1 1 1 Rating 3.38 (238 Votes)
Driving Direction & Temple Location