Ganesapura Mariamman Temple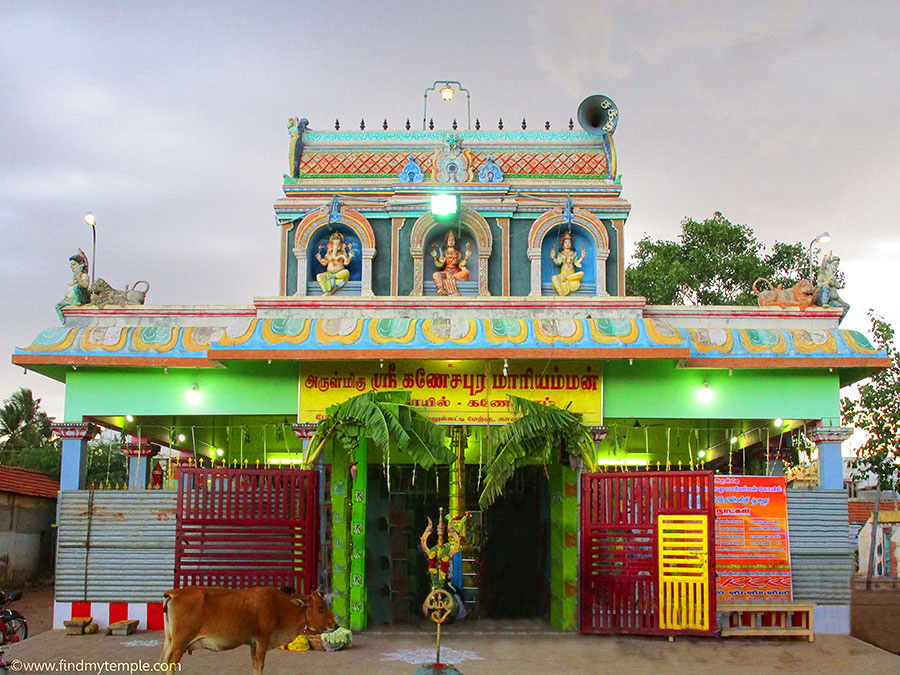 Main Deity : Mariamman.

Prominence of the Shrine : The Karaikudi Ganesapuram temple is a very famous temple. The festival of this temple begins with the Poochoridhal and following it, the Ganapathy Homam, the Kaappu tying festival, Kodiyettram [ flag hoisting ] take place. On the evening of the important festival day of Paalkuda Oorvalam, the Karagam, Madhukkudam, Mulaippari come in a procession and reach the temple and in the evenings at 6 pm the Abhisheka Aaradhanai for the Ambal take place.

While worshipping Ambal, the best Abhishekam is the one done with flowers. It is a popular belief that if Vaazhaippazha Abhishekam [banana pooja] is done, there will be a good harvest of the crops. If Palaappazha [Jack fruit] Abhishekam is offered, the wishes of the devotees will be fulfilled. If Maambazha [mango] Abishekam is done devotees who don't have kids, will be graced to have children.
If Maathulampazha [pomegranate] Abishekam is done, anger will be reduced. If Elumichhampazham [lemon] Abishekam is offered, the troubles caused by enemies will be removed. There is also a belief that if we light a ghee lamp, sufferings will be abolished and we can live happily with the blessings of the Ambal.
Temple Timings : Morning – 06:00 a.m to 12:00 noon, Evening - 04:00 p.m to 08:00 p.m.
Temple Festivals : Panguni Pongal festival, Poochoridhal.
Temple Address : Ganesapura Mariamman Temple,
Ganesapuram, Karaikudi, Sivagangai District.
Hotels Near Ganesapura Mariamman Temple, Karaikudi :
1.Hotel Subhalakshmi Palace, (11.7 km from Temple)
#1 Church 1st Street, Sekkalai Road,
Sekkalai,Karaikudi, Tamil Nadu 630 001,
ph:04565 237 010.

2.The Bangala, (11.5 km from Temple)
Devakottai Road, Senjai,Karaikudi,
Tamil Nadu 630 001,
ph:04565 220 221

3.Thappa Gardens Resort, (14.5 km from Temple)
687,Main Road,Ariyakudi,
Karaikudi, Tamil Nadu 630202,
ph:04565 221 777

4.Hotel President, (11.5 km from Temple)
Sekkalai,Karaikudi,
Tamil Nadu 630 001

5.Selvam Hotel, (3.8 km from Temple)
Koviloor Thirupathur Road,
Koothadipatti, Pillayarpatti,
Tamil Nadu 630 212
1 1 1 1 1 1 1 1 1 1 Rating 3.37 (235 Votes)

Driving Direction & Temple Location