Tamilnadu temple tour packages – Free Consultation
Consultation for Customized Pilgrimage Tours for Tamil Nadu.
A Tamil Nadu Temple tour plan - tailored to your requirements!
Are you looking to visit one or more of the famous temples of Tamil Nadu? Confused what halts to take, where to stay? Which route is best? How to perform the rituals properly? Do you want to know what is the best time to take the pilgrimage tour? Take help from the experts! We at FindMyTemple.com help people yearning for a pilgrimage of the temples of Tamil Nadu.
How do we help?
Simple. Let us know when to contact you and we will call you to discuss your plan. We will offer tips, logistical information, recommended routes - everything you need to know! This is not a promotion to sell something! We offer this service just so you thoroughly enjoy your exploration of the temples of Tamil Nadu.
So what are you waiting for? Click the button below to get started.
Charges: We do not expect any payment for this service. But if you are happy with the guidance we provide, we will be happy to receive a nominal payment of Rs. 300 which will be invested in furthering the research of the temples of Tamil Nadu. You can pay after your tour, so you know for sure that our tips helped.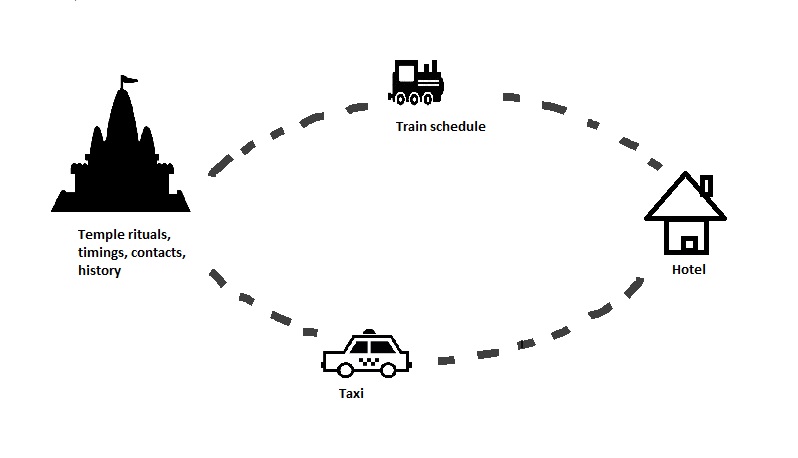 Which temples to visit in Tamil Nadu?
Tamil Nadu is the land of temples. There are hundreds of ancient temples here that date back tens of centuries. People from across the world throng to the temples here for many different reasons. Interest in architecture - like the Brihadeeswarar Big Temple. Temples popular for their healing powers or power to eliminate Dosha - like the Saneeswaran temple of Thirunalluru.

We can help you chart out your spiritual journey. We specialize in travel plus pooja arrangement for visits to Amrithakadeswarar, Thirukadaiyur, Vaitheeswaran Kovil, Saneeswaran, Thirunalluru and Raghu Temple, Thirunageswaran. We also arrange custom travel plans for other temples, complete with route details, help arranging stay and local taxi services.
Just click here to get in touch with Team FindMyTemple. Do not set out on a journey for the temples without consulting the experts! We will thoroughly analyze your expectation from the tour and prepare a proper plan for your visit.
We pride in being ethical, responsible, honest and deeply involved while helping you reach the sacred temples of Tamil Nadu and undertake key rituals there (or even just understand these marvels better). Give us an opportunity to help you explore the temples of Tamil Nadu. Get in touch today!
---
Don't see a temple you would like to go to? Request for services to that temple. You can request services to a new temple through the feedback form. Click here.

---
Note: Are you looking for epuja / epooja services? Epooja is the latest trend in Hindu rituals. There are many websites offering this. But we are not among them. Nothing pleases us more than if we can encourage you to personally experience the minutae of a properly conducted ritual. Obviously physical or other limitations demand that you resort to epooja, do not hesitate to reach out to us and we will be happy to refer reliable remote pooja service providers to you.