Somanatha Swamy Temple
Keezha Pazhayarai, Kumbakonam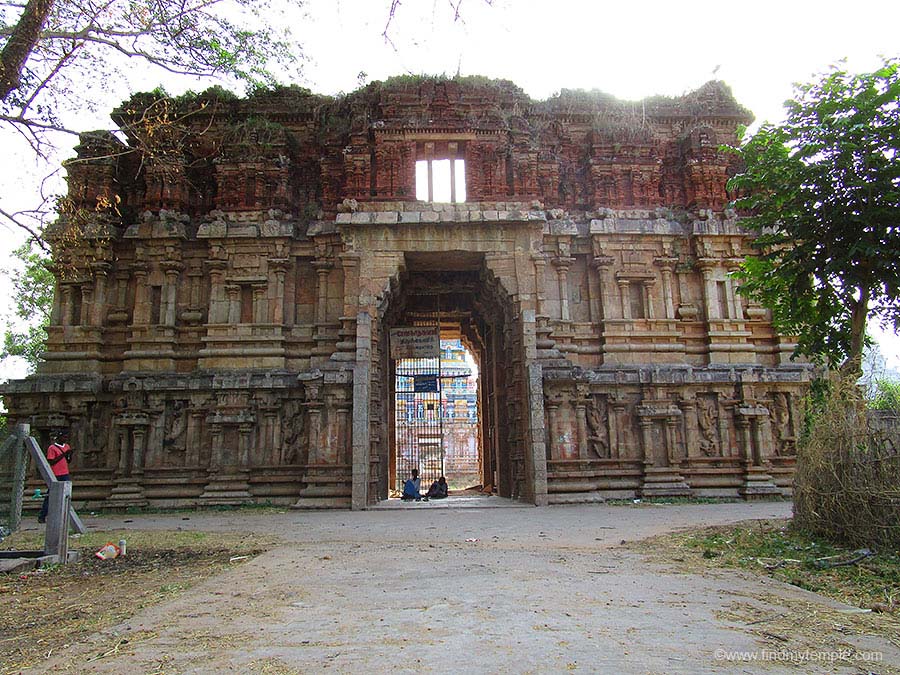 Main Deity : Sri Somanatha Swamy (Lord Shiva).

Ambal : Soma Kamalambigai Amman.

Other Deities : Sandikeswarar.

Holy Water : Soma Theertham, Jadayu Theertham.

Temple Tree : Nelli (Phyllanthus emblica).

Prominence of the Shrine : Sri Somanatha Swamy (Somanadha Swamy) temple is located in a small village called Keezha Pazhayarai near to Kumbakonam. This temple was constructed by Chola kings during 7th century. This village Pazhayarai is frequently referred in one of the greatest Tamil Novel Ponniyin Selvan. Before Tanjore become the capital Pazhayarai used to be a Chola capital. The Great Raja Raja Chola also spent his early ages at this place. The temple has beautiful carvings and it is a great example of early Chola architecture. This temple is under the control of Swami malai Murugan temple.
Temple History : Somanatha Swamy Temple was sung by Appar, Thirugnana Sampanthar, Sundarar and Sekkizhar. This town was also a capital for few years during later Cholas. Sundara Chola who is the father of Great Raja Raja Chola ruled Chola Dynasty from Pazhayarai. Pazhayarai was also called as "Nandipuram" and "Mudi Konda Cholapuram". "Amar Needhi Nayanar" one among the 63 Nayanars lived in this place. As per the paintings inside the temple it is mentioned that Raja Raja Chola was grown up in Pazhayarai and he visited every day at this temple when he was at young age. So this temple should have been treated with highest importance considering that Raja Raja Chola is the greatest warrior and administrator of Tamil country but that did not happen. The temple got damaged and renovated by Government during 1962. Maha Kumbhabhishekham was conducted on 6.6.1962.
During the renovation four beautiful idols made up of five metals have been found. They were Sundarar, Thirugnana Sampanthar, Adipoora Amman and Ariya Nachiyar. Post 1962 again the maintenance of the temple is not good and once again it is in the edge of destruction. The temple is going through a massive renovation. Though this temple is just 6 KM from Kumbakonam (Temple city), the knowledge and history of Pazhayarai is very less known among the people so the visitors to this temple is considerably less compared to other temples at Kumbakonam. Daughter of Manimudi Chola who later married to Koon Pandya, Mangaiyarkarasi lived at Pazhayarai. As per Ponniyin Selvan Tamil Novel, entire power center of Chola dynasty including Raja Raja Chola's sister Kundavai Devi was at Pazhayarai and they used Pazhayarai as a place for queens and princess while all the political battles happened at Tanjore.
who worshipped here : Mangaiyarkarasi.
Poets who sang its praise : Appar, Thirugnana Sampanthar, Sundarar, Sekkizhar.
Temple Timings : Morning 7:30 A.M. to 12:00 Noon, Evening 4:00 P.M. to 7:00 P.M.
Nearest Town : Kumbakonam (6 K.M).

Address : Sri Somanatha Swamy Temple,
Keezha Pazhayarai, Kumbakonam (Tk), Tanjore District.
Telephone Number : 98945 69543.
Hotel Near Somanatha Swamy Temple, Kumbakonam :
1. Sivamurugan Hotels
60 Feet Main Road, | Near New Bus Stand,
Kumbakonam 612 001, India
Ph: 096000 00384
2. Sara Regency
45/1 Chennai Road,
Kumbakonam 612 002, India
Ph:082200 05555
3. Quality Inn VIHA
New Railway Road, Kumbakonam,
Tanjore, Tamil Nadu - 612 001.
Trichy Road, Namakkal.
Ph:0435 255 5555
4. Hotel Green Park
No. 10, Lakshmi Vilas Street,
Kumbakonam, South India - 612 001.
Ph :(0435) - 2402853 / 2403914
5. Hotel Vinayaga - Kumbakonam
132C, Kamaraj Road,
Kumbakonam- 612 001
Tamilnadu, India
Tele : +91 435 240 03 56
Telefax : +91 435 240 03 57
Mobile: +91 822 001 9 122
Reservation No: +91 4296 272 110
Restaurant Near Somanatha Swamy Temple, Kumbakonam :
1. Venkatramanaa Hotel
No 40, TSR Big Street, Kumbakonam HO,
Kumbakonam - 612 001, Near Gandhi Park.
Ph : +(91)-9442130736
2. Sri Balaji Bhavan
1, Sasthra College Road,
Kumbakonam HO, KUMBAKONAM - 612001
Ph : +(91)-435-2424578
3. Hotel Shanmuga Bhavan
16, Kumbeswarar South Street,
Kumbakonam HO, KUMBAKONAM - 612001
Ph:+(91)-435-2433962
4. Gowri Shankar Hotel
No 47, John Selvaraj Nagar,
Kumbakonam HO, Kumbakonam - 612001
Ph : +(91)-9443131276 ,+(91)-435-2431177
tel : (91)-435-2430736
5. Rayas Garden Restaurant
No 18 Rayas Hotel, Head Post Office Road,
Kumbakonam HO,
Kumbakonam - 612001
Ph :+(91)-435-2423170, 2423171, 2423172, 2423173
1 1 1 1 1 1 1 1 1 1 Rating 3.37 (235 Votes)
Driving Direction & Temple Location