Arunajadeswarar Temple
Thiruppanandal, Kumbakonam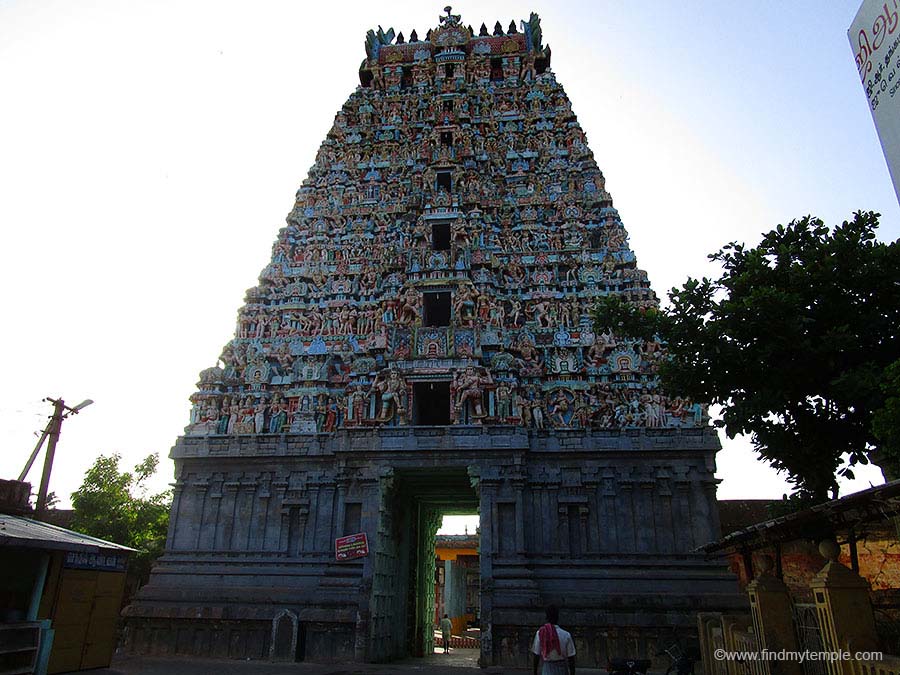 Main Deity: Sri ArunajadeswaraSwamy.

Ambal : Sri Periyanayagi.

Other Deities: Sokkanadhar, NardhanaVinayagar, Panchabootha Lingas, Vinayagar, Bairavar, Sooriyar, Chandirar, SapthaKanniyar, Kungiliyakalayar.

Holy Water : Brahma Theertham, IravathaTheertham, ThaelagaiTheertham.

Temple Tree : Palm.
Prominence of the Shrine : This shrine is known as Thadagaiyeeswaram. Here a woman called 'Thadagai' was offering worship for begetting a son. One day while she was adoring the Lord with a garland, her dress on the upper part of her body gave way and she held it with her elbow. She felt extremely sad for she was unable to garland the Lord. To comfort her, the Lord Himself bowed and accepted her garland. From them on the Lingam was only in the tilting posture. The King tried to make the Lingam erect by pulling it with an elephant but he couldn't do it. KungiliyakalayaNayanar tied a rope around his neck and pulled the Lingam with it. The Lingam assumed its original posture. In this place, there is a mutt by name ThirupanandalKasi Mutt.
Temple History : Long ago there was a debate between Vishnu and Brahma about who is superior to the other. They went to Lord Shiva and asked him to solve their problem. Shiva told them that whoever is able to find his start and end (head and toe) is the winner. Lord Vishnu and brahma started searching for his head and toe but they couldn't find. On a "Shivarathiri" day Shiva took the form of flame around midnight 12o cock. The time between 11:30 PM to midnight is called "Lingothbava Time" which is idle to worship Shiva on Shivarathiri days.
Lord Vishnu went to search Shiva's end(Toe) and Brahma went to find Shiva's start (Head). Lord Maha Vishnu and Brahma couldn't find the start and end of Shiva. Vishnu accepted his defeat and told that he can't find the end of Shiva. But brahma lied that he saw the beginning of Shiva with the help of Thazhampoo (screw pine in English – is a type of flower). When Brahma was searching the Lord's head the flower from Shiva's head was falling down. Brahma stopped the flower and convinced it to support him. He said he saw Shiva's head and that is where he picked the flower to Shiva. Knowing this entire events Shiva got angry and cursed Brahma that he will not have any dedicated temple at earth. He also cursed the Thazhampoo to lose the importance in Shiva Pooja. Brahma realized his mistake and apologized with Shiva. He prayed to rescue him from the curse. Shiva told him to go to Thiruppananthal and worship the Shiva there after takin bath at the temple tank. Brahma did as per Lord Shiva's word and got rid of Dosha that is caused due to Lie. Later Brahma become very happy as his curse was removed and he conducted a grand Yaga during the Tamil month of Chithirai. It is general believe that every year Brahma comes down and conducts this Yaga personally during Chithirai. The temple tank which Brahma took bath is called as Brahma Theertham.
During the new moon day in tamil month of Aavani another grant festival celebrated at this temple is "Brahma Saba Nivarthi TheerthaVari". Lord Shiva rescued Thazhampoo also from the curse at this temple. If the devotees worship Shiva and Devi at this temple, they will perform well in education. At this temple the god of Moon also worshiped Shiva and got rid of his Dosha. So anyone having Dosha from Moon also can worship here. The Ganesha at this shrine is called as "Aanda Vinayagar". To represent the Temple tree there are 2 Palmyra trees ( Borassus flabellifer) inside this temple.
Who worshiped here : Brahman, Thirumal, Indiran, Iravadham, Agathiar, Sooriyar, Chandirar, Aadhikesan, Nagakkanni, Thadagai, KungiliyaKalayaNayanar.

Poets who stang its praise : Thirugnanasambandar.

Temple Timings : 5.30 am to 12.30 noon ---- 4.30 pm to 9.00 pm

Details of Poojas : Six times a day.

Temple Festivals : Chithirai Celestial Marriage, Aadipooram, Navarathiri, Sivarathiri.

Nearest Town : Kumbakonam.
Address : Sri Arunajadeswarar Temple,
Thiruppanandal (Po), Kumbakonam(Tk),
Tanjore (Dt). Pin : 612 504.
Hotel Near Arunajadeswarar Temple, Thiruppanandal :
1.Sivamurugan Hotels(19.2km from Temple)
60 Feet Main Road, | Near New Bus Stand,
Kumbakonam 612 001, India
Ph: 096000 00384
2.Sara Regency (16.8km from Temple)
45/1 Chennai Road, Kumbakonam 612002, India
Ph:082200 05555
3.Quality Inn VIHA (19.1km from Temple)
New Railway Road, Kumbakonam,
Tanjore, Tamil Nadu 612001
Trichy Road, Namakkal
Ph:0435 255 5555
4.Hotel Green Park (18.8km from Temple)
No. 10, Lakshmi Vilas Street,
Kumbakonam, South India - 612001.
Ph :(0435) - 2402853 / 2403914
5.Hotel Vinayaga - Kumbakonam(19.7km from Temple)
132C, Kamaraj Road,
Kumbakonam- 612 001
Tamilnadu, India
Tele : +91 435 240 03 56
Telefax : +91 435 240 03 57
Mobile: +91 822 001 9 122
Reservation No: +91 4296 272 110
Restaurant Near Arunajadeswarar Temple, Thiruppanandal :
1.Venkatramanaa Hotel
No 40, TSR Big Street, Kumbakonam HO,
Kumbakonam - 612001, Near Gandhi Park
Ph : +(91)-9442130736
2.Sri Balaji Bhavan
1, Sasthra College Road,
Kumbakonam HO, KUMBAKONAM - 612001
Ph : +(91)-435-2424578
3.Hotel Shanmuga Bhavan
16, Kumbeswarar South Street,
Kumbakonam HO, KUMBAKONAM - 612001
Ph:+(91)-435-2433962
4.Gowri Shankar Hotel
No 47, John Selvaraj Nagar,
Kumbakonam HO, Kumbakonam - 612001
Ph : +(91)-9443131276 ,+(91)-435-2431177
tel : (91)-435-2430736
5.Rayas Garden Restaurant
No 18 Rayas Hotel, Head Post Office Road,
Kumbakonam HO, Kumbakonam - 612001
Ph :+(91)-435-2423170, 2423171, 2423172, 2423173"
1 1 1 1 1 1 1 1 1 1 Rating 3.37 (235 Votes)
Driving Direction & Temple Location