Nedungula Nather Temple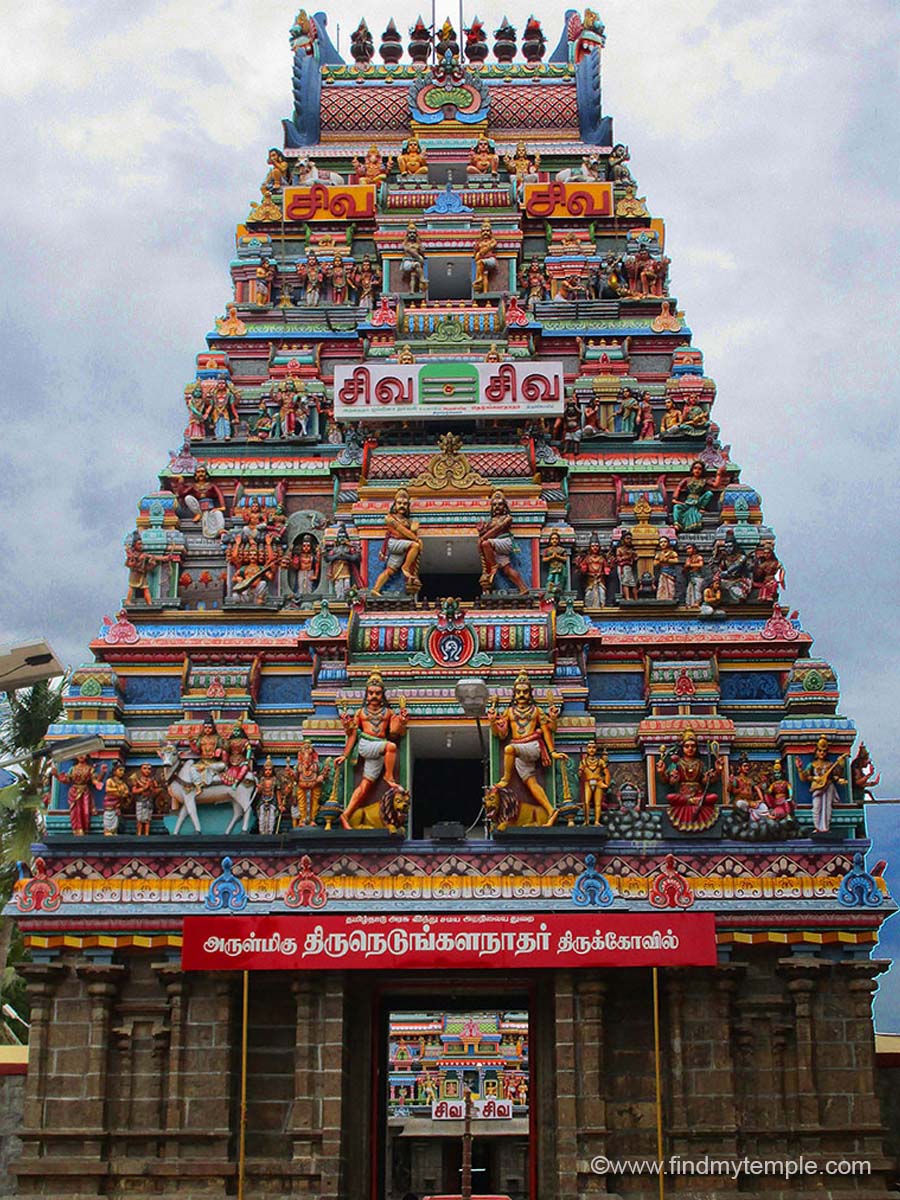 Main Deity : Nedungalanadhar.
Ambal : Mangalambigai.
Holy Water: Agathiar Theertham.
Temple Tree : Vilvam.
Prominence of the Shrine :
Happiness and sorrow are the results of our actions in our previous birth according to Thirumandiram of Thirumoolar. Those who performed good deeds in the previous birth enjoy happiness in this birth. Those who did evils in the previous birth suffer in this birth. Those who wish to get relief from suffering choose wrong means without knowing the right way. They suffer ultimately. Thirunedungulam 'Easan' graces us to experience happiness without any suffering. This is exemplified by Thirugnana Sambandar in his verse 'Thirunedungalam Padhigam' in which he repeats the last line in each of the stanzas "Idarkalavai Nedungalam Meviyane" (remove the suffering Thou the maker of Nedungalam). Crossing the outerwall of this temple we can worship the five-tier rajagopuram facing east. A few steps away are the flag mast and the altar. Worshipping them, we should go around the outer pragaram. At the northeast are Thirukkalyanamandapam and Amman Sannidhi. On the north of the outer Pragaram is Agathiar Sannidhi. Opposite to it is the perennial Agathiar Theertham. Crossing the three-tier rajagopuram, entering the sanctum sanctorum, Thirunedungalanadhar graces in His Swayambu form facing east. Here Agathiar offered worship and attained glory. The Lord here is called 'Nithya Sundareswarar' as he appeared to Vandhiya Chola king in his celestial beauty. Worshipping the Lord here for 8 Fridays continuously with lighting ghee lamp brings attraction to face. It also brings one fascinating features.
Temple History:
Mangala Nayagi here is Lord Siva's unique consort. She graces with four hands in standing posture facing south. Worshipping her continuously for nine Tuesdays during Ragu Kaalam lighting ghee lamp in lemon along with nine lemon fruits relieves one of impediments, diseases and poverty according to popular belief. The Shiva Linga here is said to be with Goddess Umayaval in a formless posture as he had offered her his left half of the body. Hence there are two vimanas atop the sanctum sanctorum. The structure resembles closely the one at Kaasi Viswanadhar temple. At the south of the inner pragaram are the "Saptha Kanniyar, Ayyanar, Sridevi Bhoodevi Samedha Varadharaja Perumal offering their grace. Worshipping the Ayyanar here with ghee lamp of Panguni Uthiram brings one prospects for constructing a house. The Yoga Dhakshinamoorthy here offers knowledge and intellect if offered worship with ghee lamp on Thursdays for 5 weeks continuously.

Temple Timings : 6.00 am to 12.00 noon - 4.00 pm to 8.00 pm

Nearest Town : Trichy.
Address : Sri Thirunedungalanadhar Temple,
Thirunedungulam (Po.), Thiruverumbur (Tk),
Trichy.
Hotels Near Nedungula Nather Temple, Thirunedungulam :
1. Mathura Hotel, (23 km from Temple)
No 1, Rockins Road, Tiruchirappalli Townhall,
Trichy - 620002, Opposite Central Bus Stand Contonment
Tel : +(91)-431-2414737, +(91)-9894558654.
2. Mayavaram Lodge, (22 km from Temple)
No 87, Vanapattarai Street, Tiruchirappalli Townhall,
Trichy - 620002, Teppakulam Post,
Tel : +(91)-431-2711400, 2704089
3. Femina Hotel, (25 km from Temple)
109, Williams Road, Tiruchirappalli 620001,
Hotel Area: Trichy Central Bus Stand / Railway Junction Area,
Tel : 0431 - 2414501.
4. Hotel Rockfort View, (23 km from Temple)
05, Odathurai Road | Chinthamani, Tiruchirappalli 620 002.
Mobile: +91 740 2713466.
Tel : +91 431-2713466.
5. Grand Gardenia, (23 km from Temple)
22-25 Mannarpuram Junction,Trichy-620020,
Mobile : +91 95856 44000.
Tel : +91 431 4045000.
Restaurants Near Nedungula Nather Temple, Thirunedungulam :
1. Ragunath Restaurant, (23 km from Temple)
College Road, Tiruchirappalli.
2. Parthasarathy vilas, (25 km from Temple)
Vegetarian / Vegan Restaurant
Kondayam Pettai Agraharam, Thiruvanaikoil, Trichy 620005.
1 1 1 1 1 1 1 1 1 1 Rating 3.36 (176 Votes)
Driving Direction & Temple Location