Piralaya Kaleeswarar Temple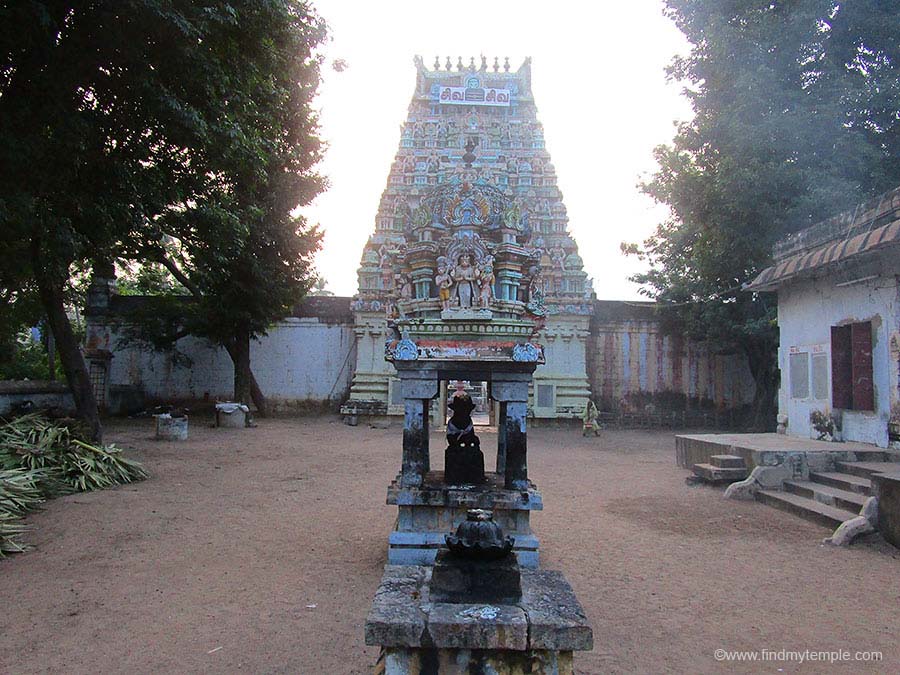 Main Deity : Piralaya Kaleeswarar (Lord Shiva), Sudar Kozhundeeswarar.
Ambal : Amodhanambal, Kadanthai Nayagi.
Holy Water : Parvathi Theertham, Kayilai Theertham, Indira Theertham, Vellaru, Mukkulam.
Temple Tree : Shenbaga Tree.
Prominence of the Shrine : Sri Piralaya Kaleeswarar Temple is located in the center of Pennadam town. Nandi at this temple is very unique as it is turned fully and facing the entrance of the temple (or facing the village instead of facing the Lord Shiva). This temple was sung by Shaivite sages Sampanthar and Appar. The main temple town is constructed with 5 levels. In the entrance of the temple Vinayagar Sannidhi is located. Inside the main entrance there is a small garden. There is plenty of beautiful carvings of idols in the main Tower. In the west side of the temple Meykandar Sannidhi is there. Shaivite sages Meykandar and Kalikamba Nayanar were lived in this place so it is one of the important Shiva temple in the state. The main karpagraha is Vimana looks like an elephant standing to represent the "Iravatham" (White elephant of Indra) worshipped at this temple.
The main Linga is self-formed and it is huge. Except the main entrance of the karpagraha all the other 3 directions have balconies to worship the Shiva linga. North side of Karpagraha there is one more Shiva idol called as Sounderswarar located in a separate Sannidhi. There are separate Sannidhis for Sekkizhar, Dhandapani, Kodi Vinayagar, Somas kandar, Visweswarar, Murugan and Maha Lakshmi. Ambal at this temple is "Piralaya Kaleeswari" is located in a dedicated Sannidhi. There were five temple tanks Kabilai Theertham, Parvathi Theertham, Mukkulam, Indra Theertham and Vellaru.
Temple History : Piralaya Kaleeswarar temple is constructed at least 1000 years back. Once this place had six thousand brave army men were living. They were called as "Kadanthayar" and this town used to be called as "Kadanthai Nagar". Once Shiva had decided to destroy the world. Deva's pleaded to Shiva at least to save the people near to this temple when he is going to destroy. Shiva agreed and ordered Nandi to stop the flood when the world is going through the catastrophe. Until then nandi was facing Shiva, turned back and faced the village. When the flood came to Pennadam and the Nandi swallowed all the water to save this place. Hence the Lord Shiva also is called Piralaya Kaleeswarar (Piralaya-catastrophe).
As per another mythological story women from paradise (Indraloga) came down to earth to collect flowers for the pooja. When they reached this temple they got mesmerized of the Lord and they stayed here. In search of them Indra sent the holy cow Kamadenu to the earth. That also didn't return. Then he sent his vehicle Iravatham(white elephant) to search of the women and Kamadenu. All of them stayed at Pennadam and started worshipping the Lord. Finally Indra came down himself in search of women, Kamadenu and Iravatham. He also worshipped the Lord Shiva. Hence the place is called as Pennadam. (women – pen , Cow – aa, elephant – kadam in tamil).
There are lots of stone scripts at this temple date back to Chola times. The information in the stone scripts talks about the donations like land, cow, gold etc. offered by different kings.
Who worshipped here : Deva chieftain Indra, Kamadenu, White elephant, Deva kanniyar.
Poets who sang its praise : Sampanthar, Appar, Thirunavukarasar,
Temple Timings : Morning 6:00 A.M. to 11:00 A.M. Evening 5:00 P.M. to 9:00 P.M.
Temple Festivals : Navarathiri, Shashti, Thai poosam, Shivarathiri,
Address : Sri Piralaya Kaleeswarar Temple,
Pennadam - 606 105.
Hotels Near Piralaya Kaleeswarar Temple, Pennadam :
1. Anandha lodge ,
(near bus stand)
viruthachalam.
2. shanmuga lodge ,
(near bus stand)
viruthachalam.
3. Vasantha lodge,
kadai veethi,
viruthachalam.
Restaurants Near Piralaya Kaleeswarar Temple, Pennadam :
1. Hotel Archana,
bus stund ,
viruthachalam.
2. Kirshna Bhavan,
kadai veethi,
viruthachalam.
3. Kirshna Bhavan,
kadai veethi,
viruthachalam.
4. Ganesh bhavan,
Thankodai veethi,
viruthachalam.
1 1 1 1 1 1 1 1 1 1 Rating 3.37 (235 Votes)
Driving Direction & Temple Location