Brahmapureeswarar Temple
Lalgudi Tk, Trichy District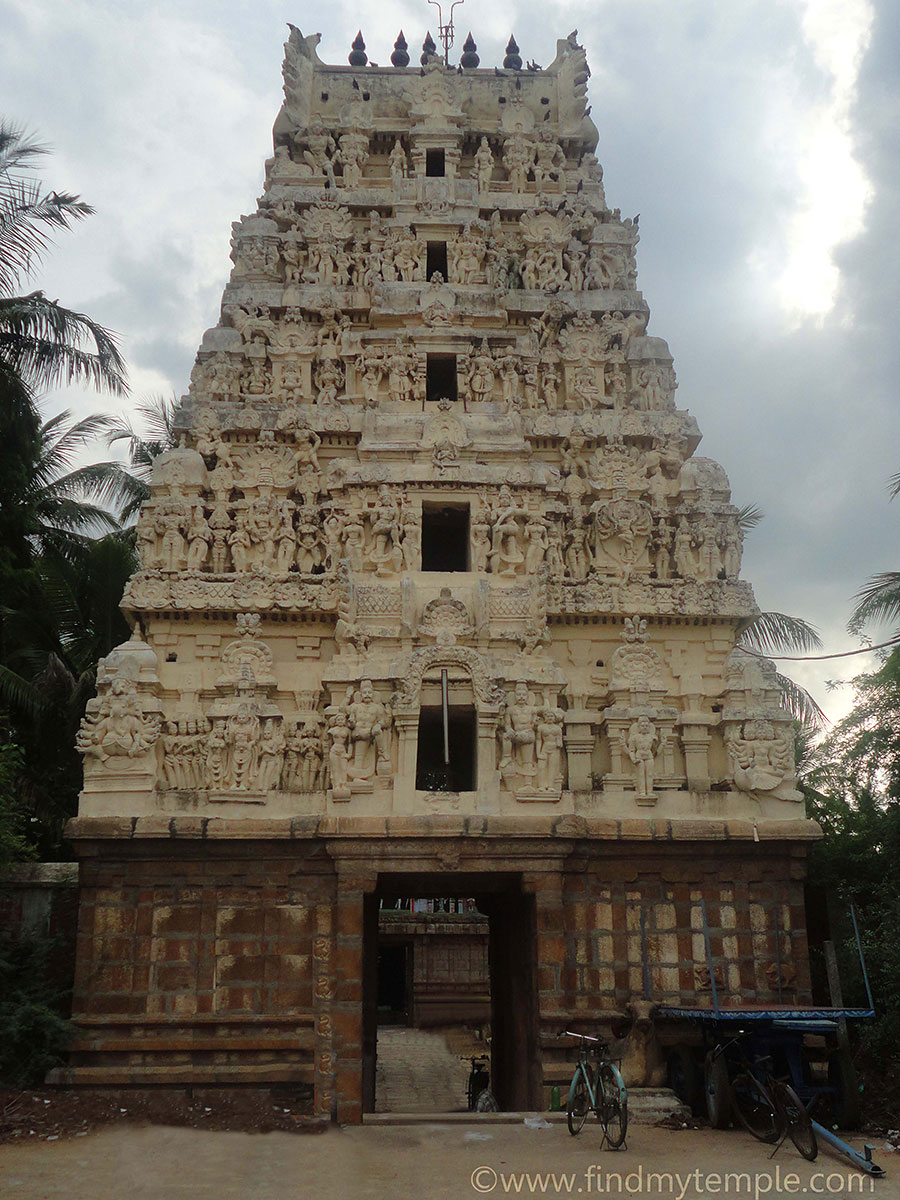 Main Deity : Alanthuraiyar, Satyavageeswarar, Brahmapureeswarar.

Ambal : Soundira Nayagi.

Holy Water : Brahma Theertham.

Temple Tree : Banyan Tree, Vilva Tree.

Prominence of the Shrine : If the devotees worship continuously at this temple they won't have birth again and they attain the liberation. If they worship on Chitra Powrnami(New moon day) it's more auspicious. This temple's main tower (Gopuram) is with five stories and the main god here is Sathyavageeswarar. He is in a Suyambu(self-made) form and facing the east direction. This is one of the temple where Lord Brahma worshipped to get cured from his curse.
Hence the temple is called Brahmapureeswaram and the god's another name is Brahmapureeswarar. There are dedicated Sannidhis for "Saptha Madhas", Pitchadanar, Viswanathar, Vishalatchi, Bairavar, Lord Murugan and Navagrahas.
Temple History : This temple was small when it was in Suyambu form and it was constructed in a big by Cholas around 700 years back. This temple is comparable to Kasi(Varanasi). This was worshipped by the great Shiva sages Thirugnana Sampanthar and Thirunavukarasar. Once when Thirugnana Sampanthar visited this temple to worship the river Kollidam was flooded with water. Sampanthar could not reach the temple. He stood far away from the temple and sung his poems on Lord Shiva who is in Suyambu form. The voice of him was very low when it reached the temple as he was stood far. To hear the poems properly Lord Ganesha turned his face and his ears towards the direction where Sampanthar was standing. Hence the Ganesha is called here as "Sevi Saytha Vinayagar"( Ganesha who turned his ears). Worshipping Lord Ganesha at this temple is considered to be very auspicious. Nandhi at this temple is not straight in front of the Shiva is another specialty.
Poets who sang its praise : Thirunavukarasar, Thirugnana Sampanthar.

Temple Timings : Morning 7:00 A.M. – 12:30 P.M. Noon, Evening 4:00 P.M. to 7:30 P.M.

Temple Festivals : Pradosham, New moon day.
Nearest Town : Lalgudi.

Temple Address : Brahmapureeswarar Temple,
Anbil Post, Lalgudi Tk, Trichy District – 621702.
Telephone No : 9965739750.
Hotels Near Brahmapureeswarar Temple, Lalgudi :
1.Mathura Hotel
No 1, Rockins Road, Tiruchirappalli Townhall, Trichy - 620002,
Opposite Central Bus Stand Contonment
+(91)-431-2414737, +(91)-9894558654
2.Mayavaram Lodge
No 87, Vanapattarai Street, Tiruchirappalli Townhall, Trichy - 620002, Teppakulam Pos
+(91)-431-2711400, 2704089
3.Femina Hotel
109, Williams Road, Tiruchirappalli 620001,
Hotel Area: Trichy Central Bus Stand / Railway Junction Area
Tel : 0431 - 2414501.
4.Hotel Rockfort View
5, Odathurai Road | Chinthamani, Tiruchirappalli 620 002.
Mobile: +91 740 2713466.
Tel : +91 431-2713466.
5.Grand Gardenia
22-25 Mannarpuram Junction,
Trichy-620020,Tamilnadu.
Mobile : +91 95856 44000.
Tel : +91 431 4045000.
Restaurants Near Brahmapureeswarar Temple, Lalgudi :
1.Ragunath Restaurant,
College Road,
Tiruchirappalli, India
2.Parthasarathy vilas
Vegetarian / Vegan Restaurant
Kondayam Pettai Agraharam,
Thiruvanaikoil, Trichy 620005, Tamilnad
1 1 1 1 1 1 1 1 1 1 Rating 3.38 (238 Votes)
Driving Direction & Temple Location