Kamala Valli Nachiar Temple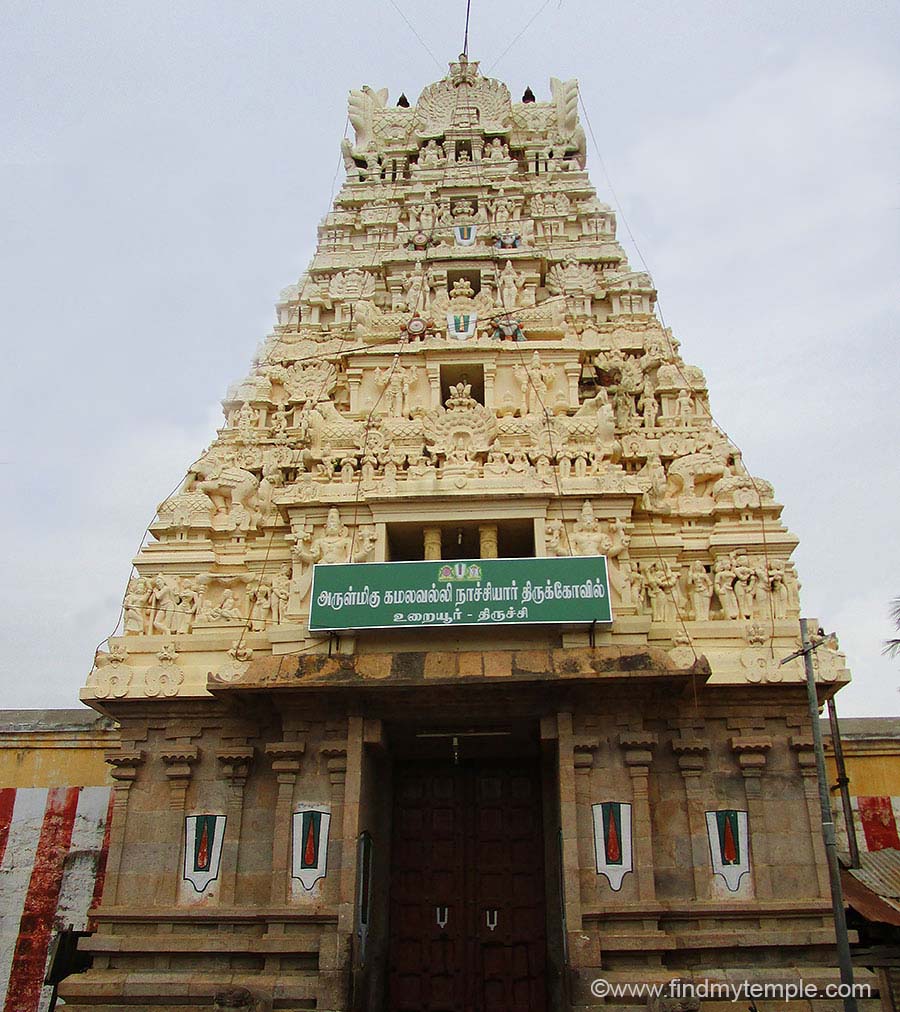 Main Deity : Azhagiya Manavalar & Kamalavalli Thayar.
Ambal : Kamalavalli Thayar.
Holy Water : Kamala Pushkarani.
Prominence of the Shrine : At the sanctum sanctorum, Azhagiya Manavala Perumal and Kamalavalli Thayar appear in the wedded, standing posture. As Lord Ranganathar himself incarnated as the Perumal and married the Thayar, here the deities face the north, in the direction of Ranganathar (Sri Rangam). Worshipping here on the day of Aayilyam is believed to remove obstacles for marriage. Thayar is the main deity here, and as such, the e temple is also called 'Nachiar Kovil'. At the moolasthanam Thayar alone appear as Urchavar. Generally kumkum is offered as Prasad in Perumal temples. Here sandal paste is offered as Prasad. Only black pepper (and not red chillies) is used to prepare food offerings to Thayar.
Temple History : Nanga Chola king, a devotee of Lord Ranganathar, was ruling over this region. Having no children, he worshipped to the Lord Vishnu. Lord Vishnu to fulfil his devotee's wish have sent Maha Lakshmi (the Goddess of prosperity & his consort) as the daughter to the king. One day, while hunting, the king saw a baby lying on a lotus in a pond. Believing to be the gift of God, he christened her Kamala valli (kamalam - lotus) and brought her up. One day while she was playing with her friends in a garden, she happened to see Lord Ranganathar riding a horse. The Lord appeared in the dream of the king asked Kamalavalli to be married to him. The king took her to Srirangam, where is believed to have united with Lord Ranganathar. Soon the king raised a dedicated temple for kamala valli at Woraiyur.
Temple Timings : 6.30 am to 8.00 am, 9.30 am to 12.00 noon and 5.00 pm to 8.00 pm.
Temple Festivals : Navarathri, Karthigai- Thirupanazhvar Thiruvizha for 10 days.
Nearest Town : The temple is in Woraiyur, a part of Trichy city.
Location : Worayur is about 4km from trichy Junction and 1.5km from chatram bus stand.
Train / Bus : There are town buses from junction and chatram bus stand. Stopping at nachiarkoil.
Address : Sri Kamala Valli Nachiar temple, Woraiyur,Trichy -620 003.Trichy Dt.
Telephone No : 9443307605 (Sk rangaraja Bhattar)
Hotels Near Kamala Valli Nachiar Temple, Woraiyur :
1. Mathura Hotel,
No 1, Rockins Road, Tiruchirappalli Townhall,
Trichy - 620002, Opposite Central Bus Stand Contonment
Tel : +(91)-431-2414737, +(91)-9894558654.
2. Mayavaram Lodge,

No 87, Vanapattarai Street, Tiruchirappalli Townhall,
Trichy - 620002, Teppakulam Post,
Tel : +(91)-431-2711400, 2704089
3. Femina Hotel,

109, Williams Road, Tiruchirappalli 620001,
Hotel Area: Trichy Central Bus Stand / Railway Junction Area,
Tel : 0431 - 2414501.
4. Hotel Rockfort View,

05, Odathurai Road | Chinthamani, Tiruchirappalli 620 002.
Mobile: +91 740 2713466.
Tel : +91 431-2713466.
5. Grand Gardenia,

22-25 Mannarpuram Junction,Trichy-620020,
Mobile : +91 95856 44000.
Tel : +91 431 4045000.
Restaurants Near Kamala Valli Nachiar Temple, Woraiyur :
1. Ragunath Restaurant,

College Road, Tiruchirappalli.
2. Parthasarathy vilas,

Vegetarian / Vegan Restaurant
Kondayam Pettai Agraharam, Thiruvanaikoil, Trichy 620005.
3. Banana Leaf
Madras Trunk rd ,

Tiruchirappalli,

Tel : 0431-2793287
4. Vasanta bhavan

N. S.B. Road, Tiruchirappalli, India

Tel : +(91)-431-2708282, +(91)-8508204247
1 1 1 1 1 1 1 1 1 1 Rating 3.37 (235 Votes)

Driving Direction & Temple Location