Uthira Pasupatheeswarar Temple
Thiruchengattangudi, Thiruvarur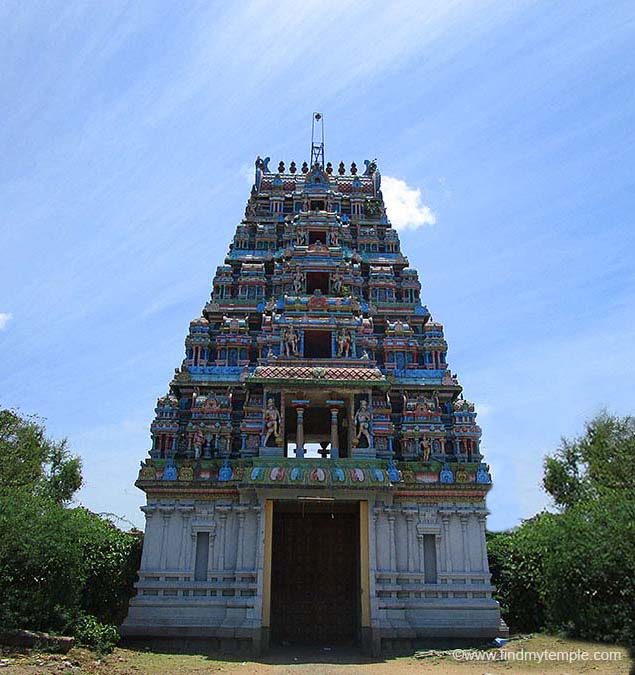 Main Deity : Uthira Pasupatheeswarar, Aathivana Nadhar, Mandirapureeswarar, Brahmapureeswarar, Baskarapureeswarar.
Ambal : Soolikambal, Thirukkuzhal Ammai.
Holy Water : Sathya Theertham, Sooriya Theertham, Agni Theertham, Chandra Theertham, Indra Theertham, Varuna Theertham, Vaayu Theertham, Seerala Theertham these are known as the Nine Theerthams.
Temple Tree : Aathi.
Prominence of the Shrine : The shrine is at the center of the place facing east. In this shrine the Lord appeared to 'Siru Thonda Nayanar' as Bairavar and asked for the flesh of his child. This shrine is also known as Mandirapureesam, Sakthipureesam, Indrapureesam, Aathivanam, Baskarapureesam. Adjacent to the temple is the palace where Siruthondar lived. Now it is also maintained as a temple.
Temple History : Lord Ganesh quelled an asura called Gajamugasuran who had the face of an elephant. As a result Ganesh was afflicted with Dosha. Ganesh came to this shrine to free himself from Dosha. He worshipped Lord Shiva who is self-made (Suyambu). Lord Shiva appeared before him and graced him. Hence Shiva is called "Ganapatheeswarar"
Who worshiped here : Siru Thonda Nayanar.
Temple Timings : 6.45am to 12noon, 5pm to 8pm.
Temple Festivals : Chithirai-Bharani- Festival marking the cooking of "Pillaikari" (flesh of child) Margazhi-Sathayam. Shashti- Ganapathy Vizha. Shivarathri, Thirukkarthigai Aippasi- Annabishegam.
Location : It is 2km south east of Thiru Kannapuram.
Address : Sri Uthira Pasupatheeswarar Temple, Ganapatheeswaram, Thiruchengattangudi, Thirupugalur-609704. Thiruvarur Dt.
Hotels Near Uthira Pasupatheeswarar Temple, Thiruchengattangudi :

1.Hotel Selvies (P) LTD,
2, Kattukara Street Santhamangalam,
Madapuram,Thiruvarur-610002,
Tel:04366 222 082.

2.Arun Hotel,
Santhamangalam, KTR Nagar,
Thiruvarur, Tamil Nadu 610001

3.Hotel Kauveri,
Santhamangalam, KTR Nagar,
Thiruvarur, Tamil Nadu 610003

4.Hotel MMA,
3/364A, Hotel MMA,Dr. kalaingar nagar, M
annarkudi Road,T.Nagar,Vilamal,
Thiruvarur-610001,
ph:04366 220 218
1 1 1 1 1 1 1 1 1 1 Rating 3.38 (238 Votes)

Driving Direction & Temple Location