Vekkali Amman Temple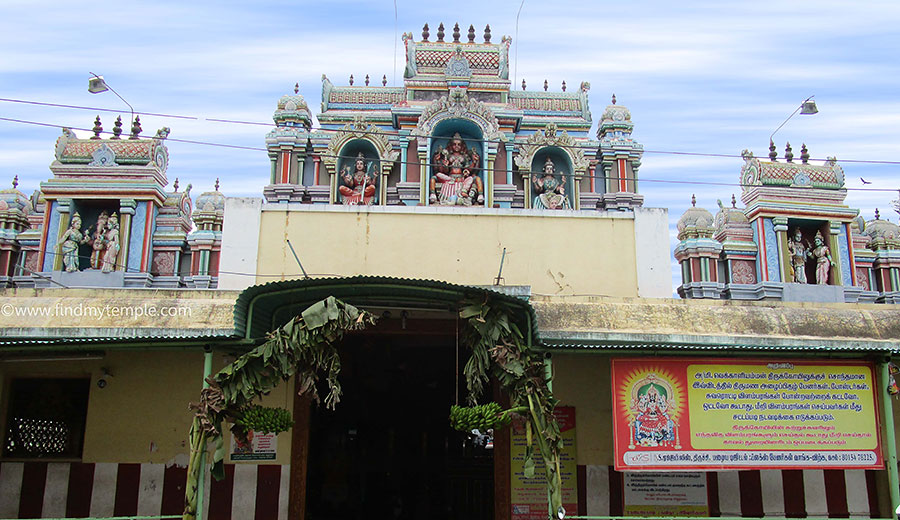 Main Deity : Goddess Vekkali Amman
Prominence of the Shrine : Vekkali was worshipped by the Chola kings. Here devotees write their demands or wishes on a sheet of paper, place it at the feet of Ambal(Amman) and then tie it at a 'Soolam' (trident) at the Sannidhi. Devotees complete their worship after their wishes are fulfilled. There is no Vimanam(top roof) over the Sanctum sanctorum. Whether it is sunshine or rain, Vekkali showers her graces on all. The abhishekam performed at 6pm every New moon day elevates the life of the devotees according to the words of the learned. In olden days, It is a practice to establish a Village God/Goddess (also called as Guardian deities) at the border or entrance of the village. It is believed that those deities save the people from the evil powers. It is also a practice to keep the War gods/goddess facing towards the north direction. Vekkali Amman is established at the north direction of Woraiyur based on these practices. In early days, Woraiyur is a capital of Cholas and most likely entire Trichy is only Woraiyur but today Woraiyur is just one area within Trichy city.
Temple History : A long ago, When a Chola king named 'Vanparanthagan' ruled this area along with his wife 'Bhuvanamadevi'. There was a sage named 'Saramamuni' created a flower garden at Woraiyur and offered those flowers to the God 'Thayumana swamy' at Rock fort Temple. At that time a flower seller called 'branthagan' to get a good name in front of the king, took the flowers from the garden and gave it to the King. The King loved these flowers and though he came to know that these flowers are made for Thayumana Swamy he continue to encourage the flower seller to bring them for him.
The sage realized the flowers are reducing day by day he waited one day at the garden and found that it is stolen by the flower seller. Then he saw those flowers are going to the King Vanparanthagan. The sage went to the King's court and complained about the flower seller that he is stealing. But the king who is already aware of this didn't bother to stop the flower seller rather he encouraged him. The sage was worried as these flowers are made for the God and not for anyone else and he didn't know how to handle the situation. He appealed to the God Thayumana Swamy (Shiva) to help him out. To prove a point that Lord will not tolerate his devotees worries, He turned his face towards west side (Woraiyur is located west of Rock fort) then the Sand shower begun and buried the entire town of Woraiyur. People of Woraiyur ran away for safe places and finally reach to Vekkali Amman (Who is a guardian deity for Woraiyur). Goddess Vekkali prayed to Lord Shiva to stop the Sand shower and it stopped. Though the shower is stopped already people had lost their homes and belongings. As people have lost their homes, Goddess Vekkali had decided to stay with an open Sanctum sanctorum.
Temple Timings : 5:30am to 9:30pm.
Temple Festivals :
Chithirai- five day festival.
Vaikasi- Last Friday- mango abhishegam.
Aani- Last Friday- Vegetables and fruits alangaram.
Aavani- "Chandi Homam".
Purattasi- Navarathri Vizha.
Karthigai- Deepam.
Thai – Pongal- Special prayer, Thai Poosam- Purappadu.
Masi- Last Sunday- Laksharchana.
Panguni- First Friday- Poochorithal Vizha.
Nearest Town : Trichy.
Address : Sri Vekkali Amman Temple, Woraiyur, Trichy- 620003.
Telephone Number :0431- 2761869.
Hotels Near Vekkali Amman Temple, Woraiyur :
1. Mathura Hotel,
No 1, Rockins Road, Tiruchirappalli Townhall,
Trichy - 620002, Opposite Central Bus Stand Contonment
Tel : +(91)-431-2414737, +(91)-9894558654.
2. Mayavaram Lodge,

No 87, Vanapattarai Street, Tiruchirappalli Townhall,
Trichy - 620002, Teppakulam Post,
Tel : +(91)-431-2711400, 2704089
3. Femina Hotel,

109, Williams Road, Tiruchirappalli 620001,
Hotel Area: Trichy Central Bus Stand / Railway Junction Area,
Tel : 0431 - 2414501.
4. Hotel Rockfort View,

05, Odathurai Road | Chinthamani, Tiruchirappalli 620 002.
Mobile: +91 740 2713466.
Tel : +91 431-2713466.
5. Grand Gardenia,

22-25 Mannarpuram Junction,Trichy-620020,
Mobile : +91 95856 44000.
Tel : +91 431 4045000.
Restaurants Near Vekkali Amman Temple, Woraiyur :
1. Ragunath Restaurant,

College Road, Tiruchirappalli.
2. Parthasarathy vilas,

Vegetarian / Vegan Restaurant
Kondayam Pettai Agraharam, Thiruvanaikoil, Trichy 620005.
3. Banana Leaf
Madras Trunk rd ,

Tiruchirappalli,

Tel : 0431-2793287
4. Vasanta bhavan

N. S.B. Road, Tiruchirappalli, India

Tel : +(91)-431-2708282, +(91)-8508204247
1 1 1 1 1 1 1 1 1 1 Rating 3.38 (238 Votes)

Driving Direction & Temple Location