Anjaneya Temple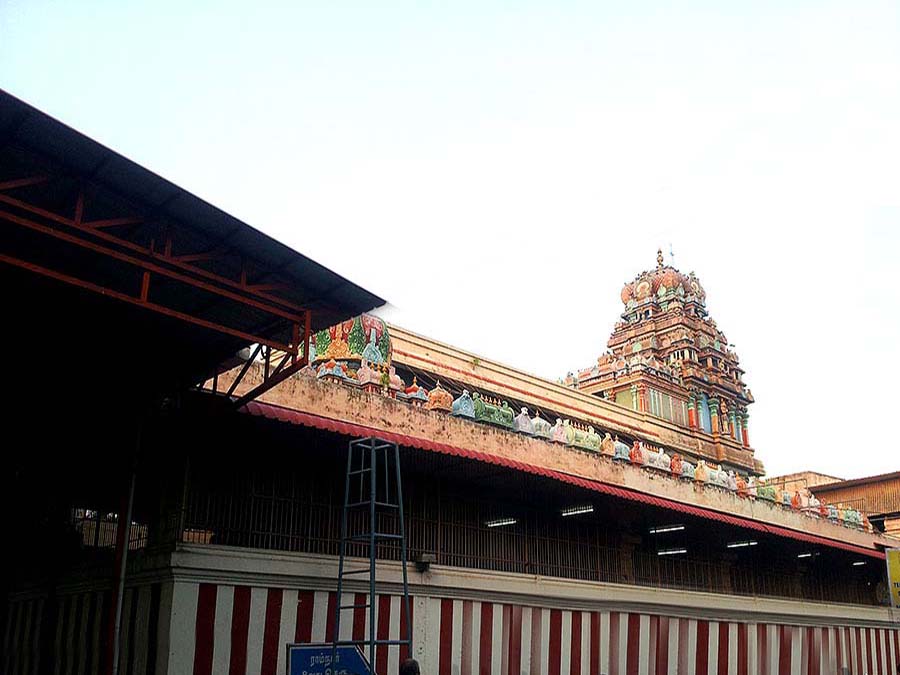 Main Deity : Anjaneya (Hanuman) - Sri Vishwaroopa Aadhivyathihara Baktha Anjaneya Swamy.
Other Deities : Rama, Krishna, Garuda, Ganesha, Naga.
Prominence of the Shrine : Hanuman at this temple is 32 feet high and it is made up of on a single stone. As a general practice, you can notice "Vada Garland" (Vada is a type of food) at Hanuman temples. At this temple every day 6000 Vadas are prepared and garland is made out of it. As per the known historical information Tanjore Big temple was constructed by placing the idol first and then the temple was built. Nanganallur Anjaneya temple was constructed in that same fashion as first the idol was incarnated and then the entire temple complex was constructed. The temple tower is 92 feet high and the "kalasam" kept on the top of the tower is made up of copper and covered by gold plates. Sannidhis for Rama, Krishna, Garuda, Ganesha and Naga were constructed lately.
Temple History : This temple has been constructed in the year 1995. Kanchi Sankarachariar "Chandrasekara Swami" named this place initially as Nangai Nallur and later become Nanaganallur. Kanchi Sankarachariar entrenched the 32 Feet Anjaneya Idol. Anjaneya here is called as Sri Vishwaroopa Aadhivyathihara Baktha Anjaneya Swamy" .
Temple Timings : Morning 5:00 A.M. to 12:00 Noon. Evening 4:30 P.M. to 9:00 P.M.
Address : Sri Anjaneya Swamy Temple,
Ram Nagar, Nanganallur, Chennai – 600 061.
1 1 1 1 1 1 1 1 1 1 Rating 3.37 (235 Votes)
Driving Direction & Temple Location