Thirunaganadha Swamy(Raghu)Temple
Thirunageshvaram, Kumbakonam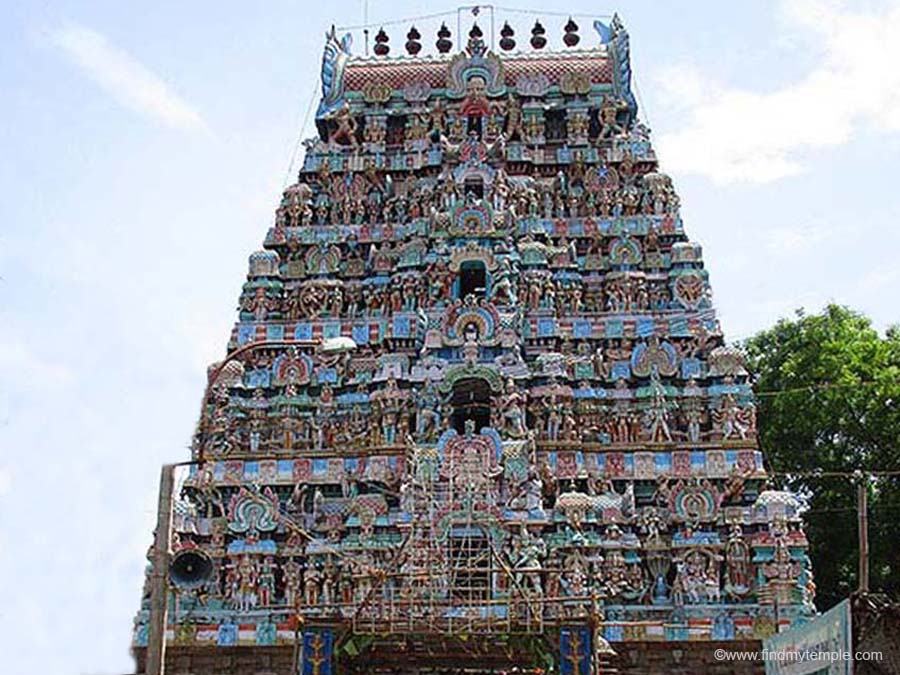 Main Deity : Sri Thirunaganadhaswamy.

Ambal : Sri Piraiyanamman.

Other Deities : Aadhi Vinayagar, Girigujambal, Saraswathi, Lakshmi, Navagraham, Ragu Bhagavan, Sekkizhar, Palaravayar, Azhagammai, Arupthu moovar.

Holy Water : Sooriya Pushkarani.

Temple Tree : Shenbagam.

Prominence of the shrine: This shrine is a favourite of Sekkizhar. Sekkizhar undertook the renovation of this shrine. Ragu Bhagavan offered worship here on the day of Mahashivarathri and attained salvation for the curse of Suseela Munivar. Here Ragu Bhagavan along with Nagavalli and Nagakkanni appears as Mangala Ragu. The milk poured on him by way of abhishegam turns blue. The milk abhishegam to Ragu here wards off the doshas pertaining to Ragu. Adjacent to Naganadhaswamy is the shrine of Piraiyaniamman. It is a visual splendor to see the light of the moon falling on the feet of Ambal and moving from the feet of the Ambal to her head on the fullmoon day of Karthigai(Tamil month). The Goddess of this shrine Girigujambal offers her grace along with Lakshmi and Saraswathi. The Ambal is adorned with 'Punugu' (a paste of incense) only. Among the Navagraha Kshetras, this shrine is for Ragu. For Ragu Dosha parikaras, people throng this shine in great numbers.

Temple History : Long time ago a serpent king Aadhiseshan wanted to worship Lord Shiva. He found a forest full of Shenbaga trees where he decided to stay and worship the Lord. He created a Theertham (Temple tank) there and sat on the banks of that tank for his penance. That Theertham is called as Shenbagaranyam or Naga Theertham. Lord Shiva at this place is called as Naga Nathar. Aadhiseshan, Dashahan and Karkodagan are the three different serpent kings who worshipped here hence this temple is named as Thirunageswaram( In tamil 'Nagam' means the snake cobra). At the second prahara of this temple, Nagaraja is established along with two 'Naga Kannigal' (female form of Naga). As per the stone scripts this temple has been constructed by a renowned Chola king Kandarathitha Chola. Govinda Dixithar who worked as a minster under Achuthappa Nayakar built the outside hall in the temple. Another Theertha Surya Pushkarani here is believed to be curing all sorts of diseases in human body.
Raghu Bhagavan to get rid of the curse he got it from Susila Rishi worshiped the Shiva at this location. After that this temple became famous for Raghu Dosha. Raghu is a great devotee of Lord shiva and it is famous in Kalahasthi and Rameswaram Temples as well. However only in Thirunageswaram Raghu is along with his wifes Simhi and Chithralekha hence Raghu is called here as Mangala Raghu. As Shiva appeared here for Naga (snake cobra) Raghu visited this temple every day to worship the lord along with his wives. Later he stayed here permanently and dedicated Sannidhi for Raghu has been constructed. In other temples Raghu appears in the form of human head and snake body. But in this temple Raghu is appearing in the full form of human body. It is very rare to the serpent planet in this form. It is mythological belief that if the devotees worship Raghu here they will attain health, wealth, promotion, good business and luck in their lives.
Who worshiped here : Ragu Bhagavan, Aadhiseshan, Dhatchagan, Karkodagan, Gowthamar, Nandhi, Nalan, Parasarar, Bagirathan, Sekkizhar.
Poets who sand in praise : Appar, Sundarar, Thirugnanasambandar.
Temple Timings : 6.00 am to 1.00 noon ---- 4.00 pm to 9.00 pm
Details of Poojas : Six times a day.
Temple Festivals : Chithirai – Singaravelar in procession,
Vaikasi – Sekkizhar Poosa Vizha,Visagapperuvizha, Aanithirumanjanam, Aadipooram, Vinayaga Chathurthi, Navarathri, Kanda Shashti,
Karthigai – the last Sunday festival,
Margazhi – Thiruvadhirai,
Thai – Girigujambal Punugu Kappu Thiruvizha, Sivarathri, Panguni Uthiram.
Nearest Town : Kumbakonam.
Address : Sri Thirunageswara Swamy Temple,
Kumbakonam (Po.),
Tanjore (Dt),Thirunageswaram – 612 204.
---
Team FindMyTemple provides services to devotees visiting Raghu Temple. We help arrange travel, stay and rituals. Click here for more information or submit your request by clicking the button below.
---
Hotel Near Thirunaganadha Swamy(Raghu)Temple, Thirunageshvaram :
1.MallikaBaluHomes,
lodge, West Street,
Thirunageswaram-612204,
Ph:0435 246 3465

2.Arasu Hotel,
Thirunageswaram,
Tamil Nadu 612204
3.Hotel Raya's,
No. 18, Head Post Office Road,
Near Mahamaham Tank West Bank,
Gandhi Adigal Salai, Valayapettai Agraharam,
Kumbakonam-612001,
Ph:0435 242 3170
4.Hotel Vinayaga,
132, Kamaraja Road, John Selvaraj Nagar,
Opposite Railway Station,
Kumbakonam-612001,
Ph:096298 66611
5.Hotel Green Park,
N0. 10, Lakshmi Vilas Street,
Kumbakonam 612001.
Restaurant Near Thirunaganadha Swamy(Raghu)Temple, Thirunageshvaram :
1.Anaz Restaurant,
Srinagar Colony,
Kumbakonam-612001.
2.Hotel Shanmuga,
SH 64 Anna Nagar,
Kumbakonam, Tamil Nadu 612001,
Ph: 0435 242 5350.
3.Sri Ganesh Bhavan,
Moopanar Nagar, Chettimandapam Ullur,
Tamil Nadu 612001,
Ph: 0435 200 1333
1 1 1 1 1 1 1 1 1 1 Rating 3.38 (238 Votes)
Driving Direction & Temple Location