Uthamar Temple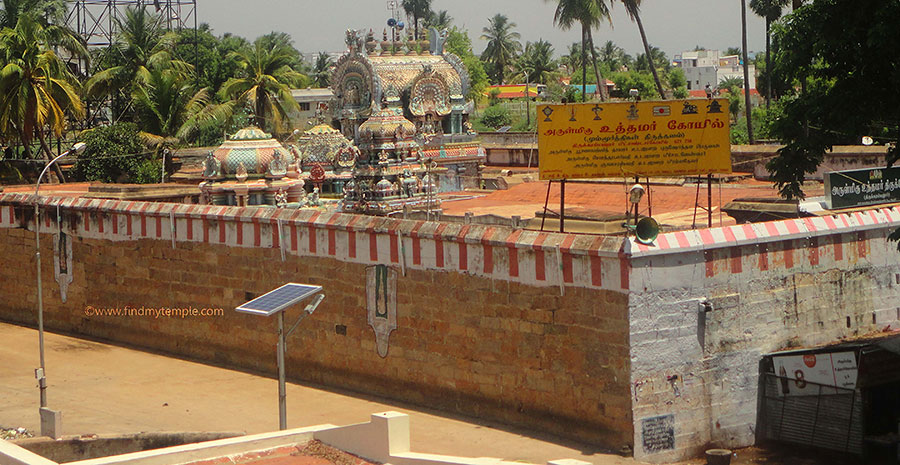 Main Deity: Pichandar, Pichadanar, Pichandavar
Ambal : Soundarya Parvathi, Vadivudaiya Nayagi.
Holy Water : Kadamba Theertham, Ayyan Theertham, Pragalatha Theertham, Brahma Theertham.
Temple Tree: Kadambam
Prominence of the Shrine : Lord Shiva is otherwise called as Purushothamar. So this temple is called Uthamar Kovil. As per the stone inscriptions here many kings have contributed to this temple. On the list of kings Chola king Kesari Varman and Pandya King Sundara Pandian are the known important kings. Unique specialty about this temple is Three main gods of Hinduism Brahma, Shiva and Vishnu are appearing along with their consorts Laxmi, Saraswathi and Parvathi Devi. Thiru mangai Azhwar sung songs about this temple. As Lord Shiva came here in the form of beggar, the god here is also called as Pichadanar. Shiva has 63 unique forms and one among them is Pichadanar. Lord had appeared in front of Thiru mangai Azhwar, Kadamba Rishi, Janakar and Sananthanar.
It is also a Guru Parighara sthalam. There are seven different Gurus are appearing at this temple. Those seven Gurus are Brahma Guru, Vishnu Guru, Shiva Guru, Sakthi Guru, Subramanya Guru, Deva Guru and Asura Guru Sukrachariar. This is the only temple has seven different Guru avatars. Brahma has a dedicated Sannidhi and left side of him Goddess Saraswathi is located.
Temple History: Information about this temple is present in Aadhi Brahma Purana.
Brahma was dedicated follower of Vishnu and once Vishnu decided to test brahma's dedication. Vishnu changed his form as a Kadamba tree and arrived here. Brahma realized it is lord Vishnu who is in the form of tree and he continued to worship Vishnu. Vishnu was very happy by seeing Brahma's dedication and he allowed him to have dedicated Sannidhi here. In the world only very few places have dedicated Sannidhis or temples for Brahma.
As per another mythological story, to kill Brahma's ego Lord Shiva had plugged his fifth head. As he removed one head from Brahma Lord Shiva got a Brammahati Dosha and the skeleton of the brahma's head got attached to Shiva's hand. Shiva came in the form of beggar and Sri Maha Laxmi offered food for that beggar. As Maha Laxmi offered a food on the skeleton Shiva got cured from his Dosha.
Poets who sang its praise : Appar, Sundarar, Thirugnana Sampanthar
Temple Timings : Morning 6:00 AM – 12:00 PM
Evening 4:00 PM – 8:00 PM
Pooja Details: Four times per day
Address :Sri Uthamar Kovil,manachanallur (t.k) Trichy District.
Telephone no : 0431-2591466(officer room),0431-2591405
Hotels Near Uthamar Temple, Trichy :
1.Mathura Hotel
No 1, Rockins Road, Tiruchirappalli Townhall, Trichy - 620002,
Opposite Central Bus Stand Contonment
+(91)-431-2414737, +(91)-9894558654
2.Mayavaram Lodge
No 87, Vanapattarai Street, Tiruchirappalli Townhall, Trichy - 620002, Teppakulam Pos
+(91)-431-2711400, 2704089
3.Femina Hotel
109, Williams Road, Tiruchirappalli 620001,
Hotel Area: Trichy Central Bus Stand / Railway Junction Area
Tel : 0431 - 2414501.
4.Hotel Rockfort View
5, Odathurai Road | Chinthamani, Tiruchirappalli 620 002.
Mobile: +91 740 2713466.
Tel : +91 431-2713466.
5.Grand Gardenia
22-25 Mannarpuram Junction,
Trichy-620020,Tamilnadu.
Mobile : +91 95856 44000.
Tel : +91 431 4045000.
Restaurants Near Uthamar Temple, Trichy :
1.Ragunath Restaurant,
College Road,
Tiruchirappalli, India
2.Parthasarathy vilas
Vegetarian / Vegan Restaurant
Kondayam Pettai Agraharam,
Thiruvanaikoil, Trichy 620005, Tamilnad
1 1 1 1 1 1 1 1 1 1 Rating 3.37 (235 Votes)
Driving Direction & Temple Location