Sundareshwara Swamy Temple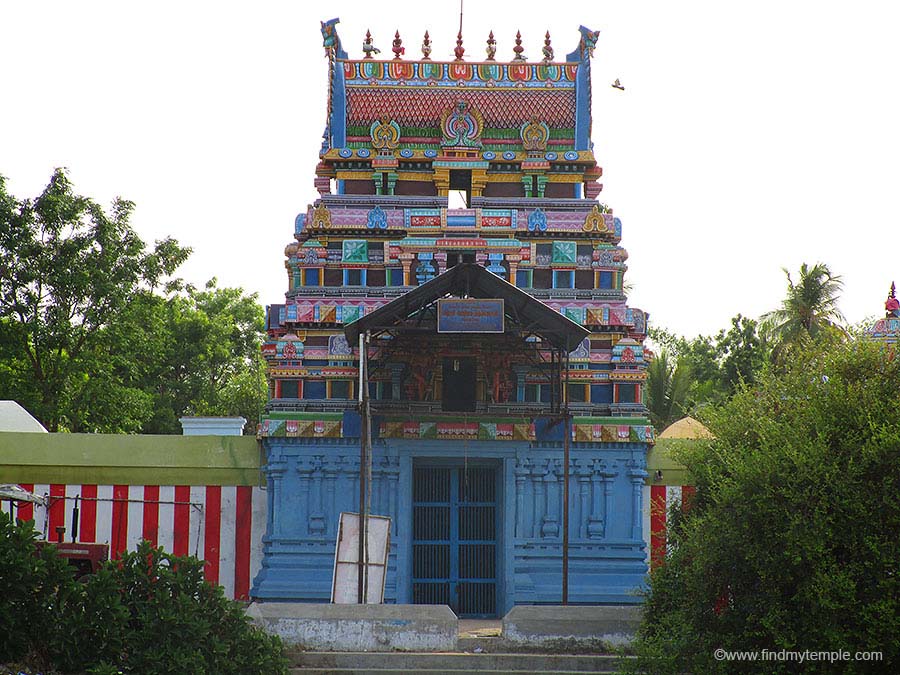 Main Deity: Sri Sundareshwara Swamy

Ambal : Sri Abirami Ambal.

Other Deities: Sri Sundareswarar.

Temple Tree : Elandai Maram.

Agamam : Sivagamam.

Sambradhayam : Shiva Sambradhayam.

Prominence of the Shrine : Viyasar has made a tank here called 'Vyasa Kulam'. Anyone who takes a bath on the first Tuesday of Karthigai will be blessed with a son. Taking a bath on the second Tuesday fetches wealth, while the bath on the third Tuesday fetchess 'Gnanam' (Knowledge). A bath on the fourth Tuesday gets one what he wishes for. Bath on the fifth Tuesday, if there is one, brings all heavenly pleasures. Those who have 'Sevva Dosham' has it dispelled by offering worship here.

Who worshipped here : Kasiyabar, Agathiar, Pirugu, Kabilar, Kandar, Vyasar, Sooriyan, Nalan.

Poets who sang its praise : Thirumangai Azhwar.

Temple Timings : 7.00 am to 12.00 am - 5.00 pm to 8.30 pm

Poojas : Four times a day.

Temple Festivals : The last Tuesday of Karthigai and daily poojas.

Nearest Town : Thirunageswaram.

Address : Sri Sundareshwara Swamy Temple,
Elandurai (Po.),
Thiruvidaimarudur (Tk.),
Thanjavur (Dt),
Hotel Near Sundareshwara Swamy Temple, Thiruvidai Maruthoor :
1.Sivamurugan Hotels(12.6km from Temple)
60 Feet Main Road, | Near New Bus Stand,
Kumbakonam 612 001, India
Ph: 096000 00384
2.Sara Regency (15km from Temple)
45/1 Chennai Road, Kumbakonam 612002, India
Ph:082200 05555
3.Quality Inn VIHA (11.5km from Temple)
New Railway Road, Kumbakonam,
Tanjore, Tamil Nadu 612001
Trichy Road, Namakkal
Ph:0435 255 5555
4.Hotel Green Park (13.5km from Temple)
No. 10, Lakshmi Vilas Street,
Kumbakonam, South India - 612001.
Ph :(0435) - 2402853 / 2403914
5.Hotel Vinayaga - Kumbakonam(11.6km from Temple)
132C, Kamaraj Road,
Kumbakonam- 612 001
Tamilnadu, India
Tele : +91 435 240 03 56
Telefax : +91 435 240 03 57
Mobile: +91 822 001 9 122
Reservation No: +91 4296 272 110
Restaurant Near Sundareshwara Swamy Temple, Thiruvidai Maruthoor :
1.Venkatramanaa Hotel
No 40, TSR Big Street, Kumbakonam HO,
Kumbakonam - 612001, Near Gandhi Park
Ph : +(91)-9442130736
2.Sri Balaji Bhavan
1, Sasthra College Road,
Kumbakonam HO, KUMBAKONAM - 612001
Ph : +(91)-435-2424578
3.Hotel Shanmuga Bhavan
16, Kumbeswarar South Street,
Kumbakonam HO, KUMBAKONAM - 612001
Ph:+(91)-435-2433962
4.Gowri Shankar Hotel
No 47, John Selvaraj Nagar,
Kumbakonam HO, Kumbakonam - 612001
Ph : +(91)-9443131276 ,+(91)-435-2431177
tel : (91)-435-2430736
5.Rayas Garden Restaurant
No 18 Rayas Hotel, Head Post Office Road,
Kumbakonam HO, Kumbakonam - 612001
Ph :+(91)-435-2423170, 2423171, 2423172, 2423173
1 1 1 1 1 1 1 1 1 1 Rating 3.38 (238 Votes)
Driving Direction & Temple Location