Ulakalanda Perumal Temple
Thirukovilur,
Villupuram District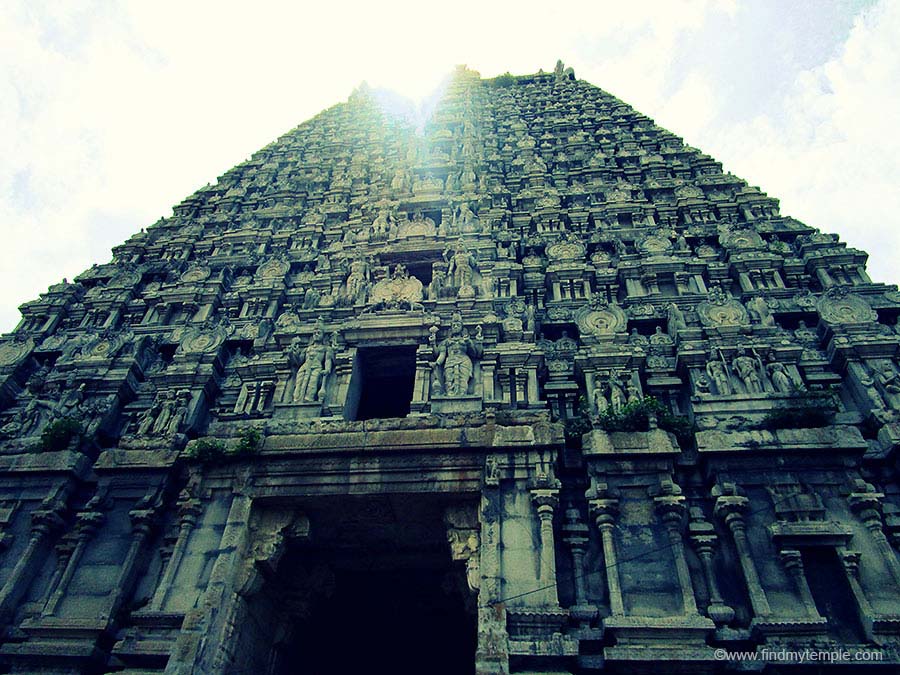 Main Deity : Thirivikraman (with feet lifted up posture)
Ambal : Poongovil Nachiar.
Holy Water : Pennai river; Krishna Theertham; Chakra Theertham.
Temple Tree : Punnai tree (calophyllum inophyllum).
Vimanam : Sri Hara Vimanam.
Prominence of the Shrine : This shrine marks the incarnation of Vamana Thirivikrama(Vamana Avatar).At this Divya Desam, the three first Azhwars, Poigai Azhwar, 'Boothathazhwar' and 'Pey azhwar' together had a dharshan of Perumal and the Devi and composed Three Thiruvandhathi. Moolavar (main idol) holds the conch in his right hand and the chakra on his left hand and measures the world with his raised right foot. The Durgai inside this temple is not considered Devadandiram. This shrine marks the quelling of the pride of Mahabali (the Kerala king). The pedigrees of Emperumanar Jeeyars have authority over this shrine. This shrine is one among the Pancha Krishnaranya shrines. The others are : Thiru Kannankudi, Thiru Kannan Kavithalam, Thiru Kannapuram and Thiru Kannamangai. The body of Moolavar is made of wood. Such a gigantic Perumal can't be seen anywhere. There is a separate Sannidhi for Krishna who is made of Salagramam.

Temple History : King Mahabali was supreme in giving charity and dharma. He wished that none should exceed in fame. Hence he performed a grand Yagna (Yaga) presided over by the asura Guru Sukrachariar. Vishnu who resolved to quell his pride appeared there in a miniature form (Vamana) and asked for 3 feet land as offering. Sukrachariar who understood that Vishnu had come there prevented the king from making the offering. However Mahabali was ready to make the offer superseding the words of his guru. Maha Vishnu took his mighty form and placed one foot on the land and the second on the sky. He asked Mahabali where he should place the third. Mahabali who also understood that it was Maha Vishnu offered his head as the third place. Vishnu placed his foot on the head of Mahabali and pressed it hard asking him to offer it by making on oath by pouring water as a ritual. Mahabali took the Kendi (a vessel) to pour water. Sukrachariar became a beetle and blocked the water coming out of the kinds. Vishnu used a Dharppai (a type of grass) to pierce through the blockage. As a result Sukrachariar became blind and he left the place. Mahabali offered the third feet and got himself sunk in the earth. After quelling Mahabali's pride Maha Vishnu absorbed him into Himself. So goes the temple history.
Who worshiped here : Poigai Azhwar
Boothathazhwar
Pey Azhwar
Temple Timings : 6.30am to 12noon, 4pm to 8.30pm.
Nearest Town : Villupuram.
Address : Sri Ulakalanda Perumal temple, Thirukovilur-605757, Vilupuram Dt.
Hotels Near Ulakalanda Perumal Temple, Thirukovilur :

1.Hotel SKTC Grand Palace,
Kallakurichi Main Road,
Tirukoilur to Kallakurichi Main Road,
Tirukoilur.
1 1 1 1 1 1 1 1 1 1 Rating 3.37 (235 Votes)

Driving Direction & Temple Location