Vadapalani Murugan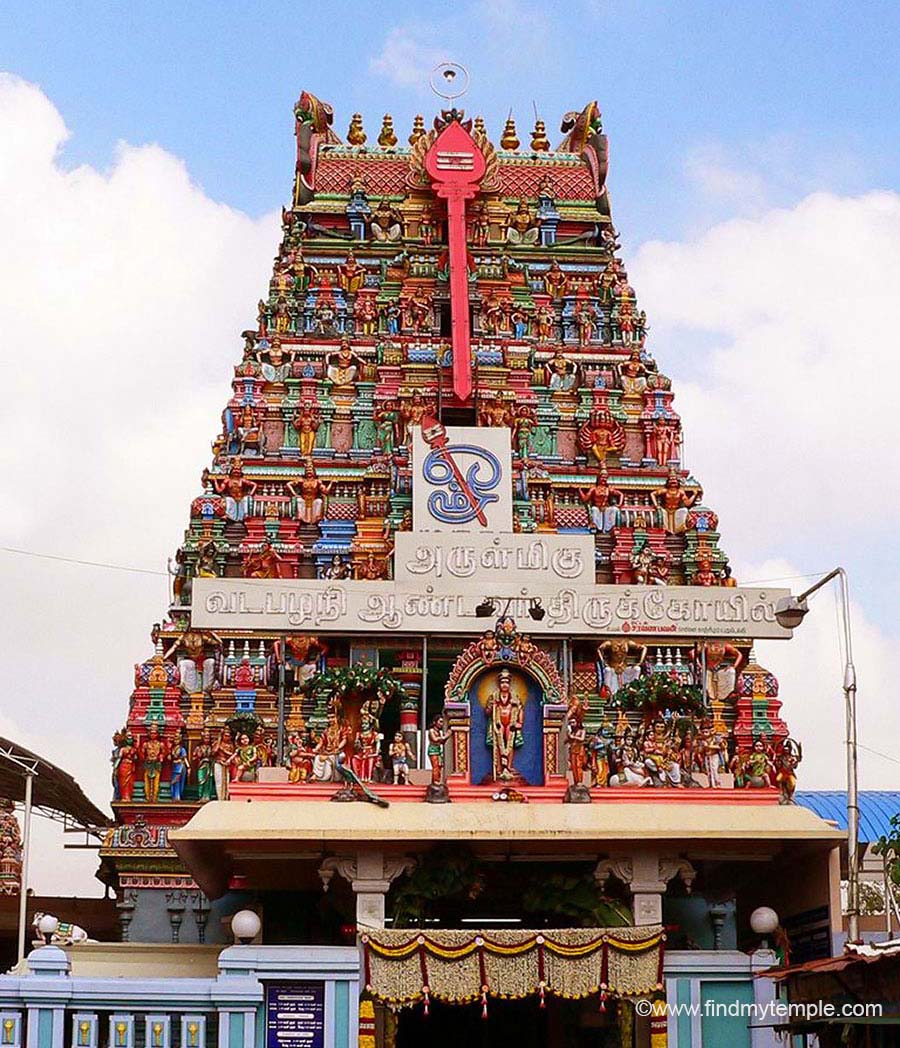 Main Deity : Murugan (Vadapalani Andavar)
Other Deities : Varasidhi Vinayagar, Chokkanathar, Shanmugar (Valli , Deivanai)
Chevvai sannathi ( Chevvai Dhosha Parikaram)
Meenakshi Sundareswarar,
Arunagiri Nathar, Hanuman, Sidhar peedam.
Holy Water : Thirukkulam.
Temple Tree : Athi maram (FICUS RACEMOSA).\
Prominence of the Shrine : At this temple Lord Murugan is with his footwear which is unique. Usually the Hindu gods are without any footwear at temples. Also the God Murugan is placed in Lotus flower at this temple.
Temple History : The temple is built here due to Lord Murugan's devotee Annasamy Thambiran. He has cut his tongue and offered to Lord Murugan at Tiruttani. Annasamy kept a lord Murugan's photo from Palani and started telling the future events based on astrology he believed. The photo that he worshipped is still there in the temple's north mandapam. Annasamy's follower Rathinasamy Thambiran also cut his tongue and offered to Lord Murugan.
After Annasamy's life time, during Rathinasamy's period he incarnated the murugan's idol at this temple. Earlier it used to be small room kind of setup for the Murugan's idol where currently the main sanctum sanctorum is there. Rathinasamy thambiran later converted his guru's home as a Vadapalani Murugan Temple. Another devotee Bagyalinga Thambiran helped constructing the main sanctum sanctorum and the inner prahara of the temple. During his period the Vadapalani temple started gaining popularity among Chennai people. All the three devotees are buried in less than 1KM from the temple location. There is a dedicated temples have been constructed for these three extra ordinary Murugan devotees in the Red hills road and public can worship every day.
Temple Timings : Morning 6 AM to 12 PM and Evening 4 PM to 9 Pm.
Temple Festivals : Tamil new year (April 14),
Everymonth krithigai,
New moon day of Chithirai month
Vaigasi vishakam.
Aippasi – Kanda Shashti 6 days
Panguni – 1 lakh archana's for 3 days ; Temple Tank festival for 6 days.
Nearest Town : Vadapalani, Chennai.
Address : Sri Vadapalani Murugan Temple, Vadapalani – Chennai - 600 026.
Telephone Number :+91 44 2483 6903.
1 1 1 1 1 1 1 1 1 1 Rating 3.37 (235 Votes)

Driving Direction & Temple Location