Rathnagireeswarar Temple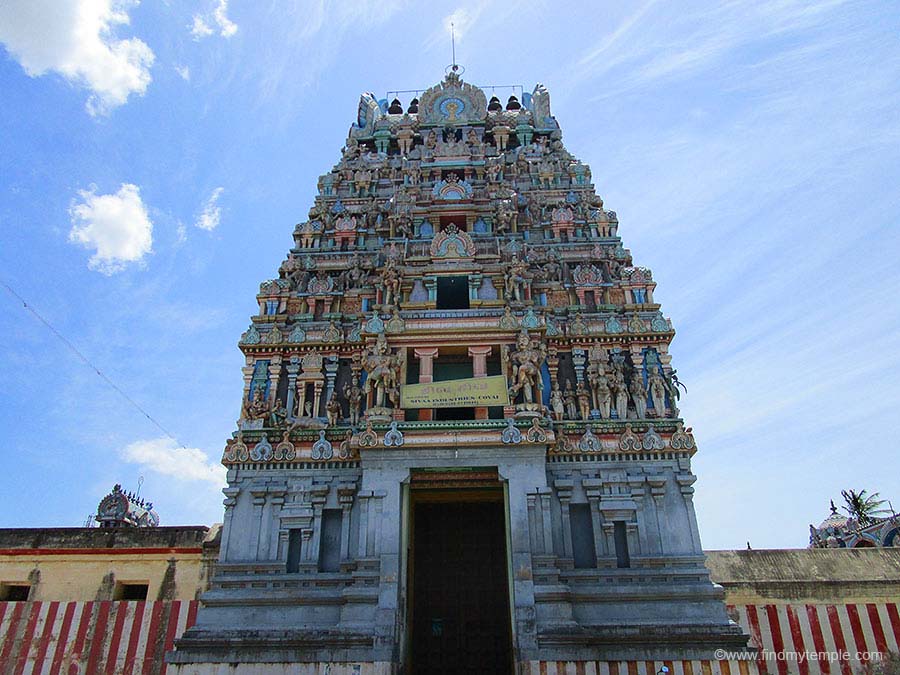 Main Deity : Manicka Vannar Rathna Gireeswarar.
Ambal : Vanduvar kuzhali, Aamodhala Nayagi.
Holy Water : Lakshmi Theertham alias Manicka Theertham.
Temple Tree : Marugal (a kind of banana).
Prominence of the Shrine : It is type of 'madakkovil' built by Kochengat Cholan. Here the Lord Ganapatheeswarar of Thiruchengattangudi showed Thirugnana Sampanthar his form and played miracle. Here we find the idols of Vinayagar, Muruga, The sixty three Nayanmars, Parasana lingam, Natarajar Saba, Pathanjali, Vyakkirabathar, Navagrahas, Bairavar, Sooriyan, Chettiar boy and girl related to the history of this temple. We find the Sannidhi' s of Thirugnana Sampanthar, Saptha mathargal, Soundarya Nayagi, Dakshinamoorthy, Lingothbavar, Brahma and Durgai. Marugal is a type of Banana as this is a Temple tree here the village is called as Thirumarugal.

Temple History : A Chettiar (a business community in Tamil Nadu) girl of 'Vaipur' who never deviated from the path shown by his father made away with her blood- related uncle. As they were staying at this shrine, a serpent bit the boy and he died. Thirugnana Sampanthar rushed to the spot where the girl was crying. He resurrected the dead Chettiar boy and got them married with the blessings of Lord Shiva here.
Who worshiped here : Thirugnana Sampanthar, Appar.
Temple Timings : Morning 6 AM – 12 PM
Evening 5 PM – 9 PM
Address : Sri Rathna Gireeswarar Temple, Thirumarugal, Thiruvarur Dt.

Hotels Near Rathnagireeswarar Temple, Thirumarugal :

1.Hotel Selvies (P) LTD,
2, Kattukara Street Santhamangalam,
Madapuram,Thiruvarur-610002,
Tel:04366 222 082.

2.Arun Hotel,
Santhamangalam, KTR Nagar,
Thiruvarur, Tamil Nadu 610001

3.Hotel Kauveri,
Santhamangalam, KTR Nagar,
Thiruvarur, Tamil Nadu 610003

4.Hotel MMA,
3/364A, Hotel MMA,Dr. kalaingar nagar, M
annarkudi Road,T.Nagar,Vilamal,
Thiruvarur-610001,
ph:04366 220 218
1 1 1 1 1 1 1 1 1 1 Rating 3.37 (235 Votes)

Driving Direction & Temple Location