Vairavar Temple
Vairavanpatti, Sivagangai District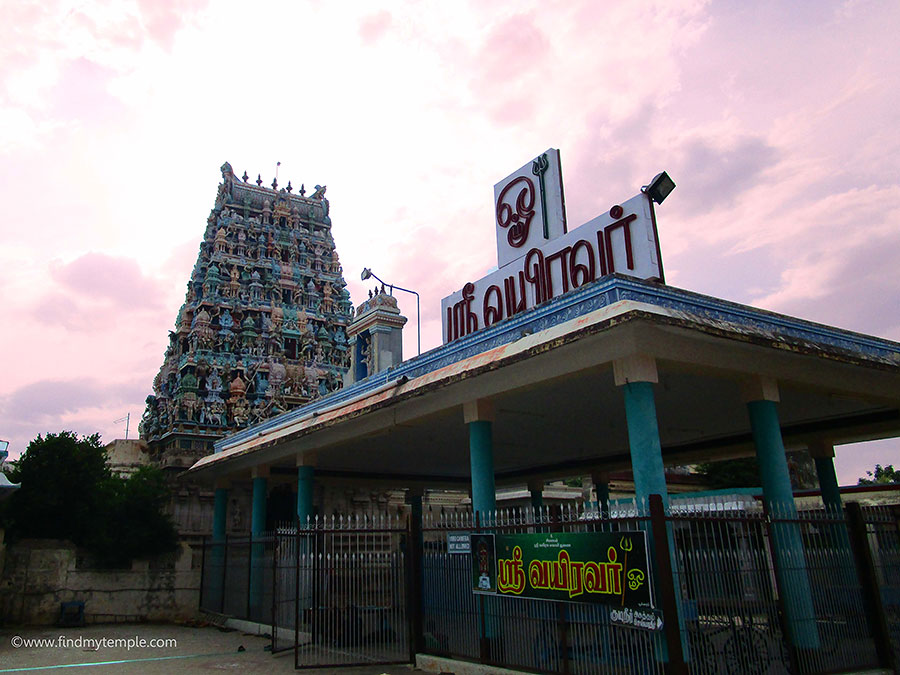 Main Deity : Valaroli Nadhar (Vairavan)
Ambal : Vadivudaiambal.
Holy Water: Vairvar Theertham.
Temple Tree : Aer, Alinji.
Prominence of the Shrine : This temple is adorned with 'Seven note Pillar' hailing the greatness of sculpture. This is one among the nine temples of 'Nagarathars'.
Temple History : Brahma was conceit as he too had five heads as Lord Shiva had. Once Goddess Parvathy mistaking Brahma for Lord Shiva offered her services. Brahma accepted them silently without any objection. Later when Parvathi came to know of it, complained to Lord Shiva about the act of Brahama. Lord Shiva sent Bairava, a representation of Lord Shiva, who cut off the one head of Brahma. He graces at this shrine as Lord Bairava.
Temple Timings : 6.00 am to 12.45 pm - 4 pm to 8.45 pm .
Temple Festivals : Chanbaga Soora Shashti, Pillayar Nonbu.
Nearest Town : Thiruppathur
Address : Sri Bairava SwamyTemple,
Vairavanpatti (Po.),
Sivagangai (Dt), PIN – 630 215.
Telephone No : +91- 4577 – 264 237
Hotels Near Vairavar Temple, Vairavanpatti :
1.Hotel Karthik,
Post office Road, Near Pillayarpatti,
NH 36 Thriruppatur, Tamil Nadu 630211,
ph:04577 268 780

2.Selvam Hotel,
Koviloor Thirupathur Road,
Koothadipatti,Pillayarpatti,
Tamil Nadu 630212

3.Thappa Gardens Resort,
687,Main Road,Ariyakudi,Karaikudi,
Tamil Nadu 630202,ph:04565 221 777

4.Hotel Subhalakshmi Palace,
#1 Church 1st Street, Sekkalai Road,
Sekkalai,Karaikudi, Tamil Nadu 630001,
ph:04565 237 010

5.Hotel President,
Sekkalai,Karaikudi,
Tamil Nadu 630001
1 1 1 1 1 1 1 1 1 1 Rating 3.38 (238 Votes)
Driving Direction & Temple Location