Saranatha Perumal Temple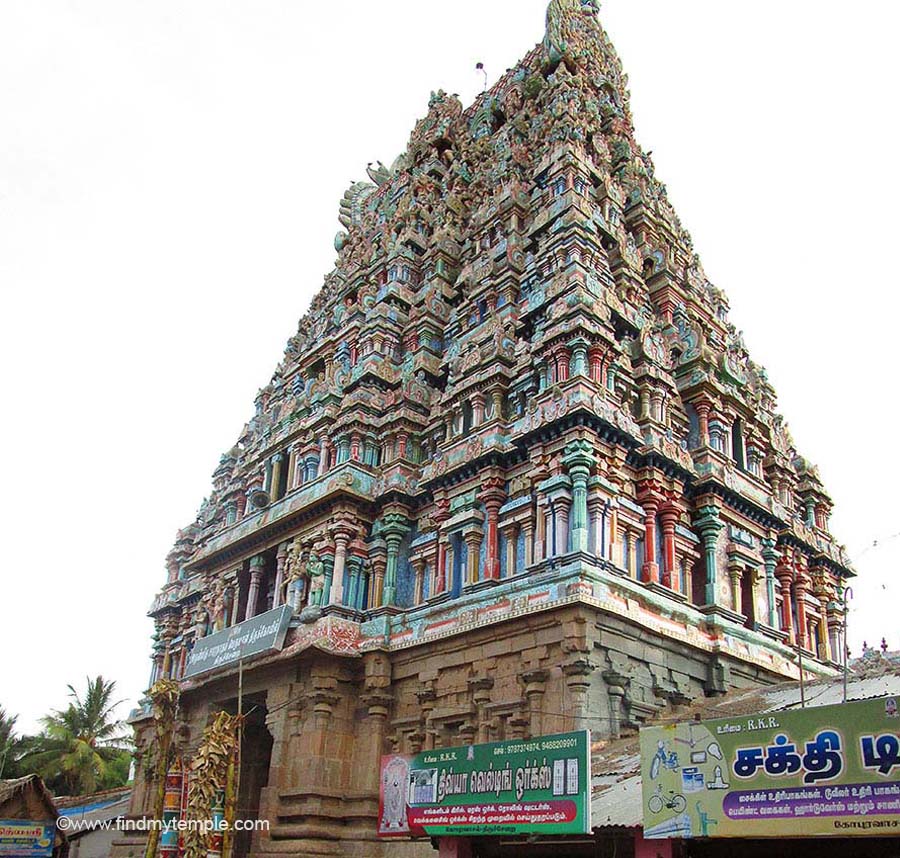 Swamy : Sri Saranatha Perumal

Ambal : Sri Saranayagi.

Moorthy : Saranathar.

Theertham : Sarapushkarani.

Temple Tree : Shenbagam.

Special Feature : This shrine is the 15th among the 108 Dhivya Desam. There was a dispute between Ganga and Cauvery as to who was superior. They approached Brahma for a solution. During the Thrivikkrama Incarnation, the feet of Perumal extended upto Sathyalogam. As Ganga performed Thirumanjanam to the feet of the Lord, it flooded into Ganges. Hence Ganga said that she was Holy. Cauvery, who became sorrowful hearing the account of Ganga, performed rigorous penance under a tree at Sarapushkarani. Lord Perumak, on the day of the Poosam star in Thai, appeared as a baby and began to crawl. Cauvery looking at the incomparable brightness of one crore Suns, worshipped the baby calling it Perumal. Thirumal appeared equipped with the chakra and the conch flanked by Sri Devi, Bhoomadevi, Neeladevi, Mahalakshmi and Saranayagi. He blessed 'Cauvery as holier than Ganges'. There is a separate shrine for Cauvery here. In this shrine Markandeya attained eternity.

Who worshipped here : Markandeyar, Cauvery.

Poets who sang in praise : Thirumangai Azhwar.

Temple Timings : 7.00 am to 12.00 am - 4.30 pm to 9.00 pm

Poojas : Six times a day.
Festivals : Chithrai – Ramanujar Festival,
Vaikasi – Vasantha Utsavam,
Aadi – Jeshtabishegam,
Purattasi – Navarathri Thiruvizha,
Aippasi – Manavala Mamunigal Uthsavam,
Karthigai – Pavithra Uthsavam,
Margazhi – Rapathu,
Pagal pathu Uthsavam,
Thai - Thaipoosam – Therthiruvizha.
Nearest Town : Kumbakonam.

Address : Sri Saranadha Perumal Temple, Thirucherai (Po.), Kumbakonam (Tk.), Thanjavur (Dt).
Hotel Near Saranatha Perumal Temple, Thirucherai :
1.Sivamurugan Hotels(14.3km from Temple)
60 Feet Main Road, | Near New Bus Stand,
Kumbakonam 612 001, India
Ph: 096000 00384
2.Sara Regency (16.4km from Temple)
45/1 Chennai Road, Kumbakonam 612002, India
Ph:082200 05555
3.Quality Inn VIHA (13.2km from Temple)
New Railway Road, Kumbakonam,
Tanjore, Tamil Nadu 612001
Trichy Road, Namakkal
Ph:0435 255 5555
4.Hotel Green Park (14.9km from Temple)
No. 10, Lakshmi Vilas Street,
Kumbakonam, South India - 612001.
Ph :(0435) - 2402853 / 2403914
5.Hotel Vinayaga - Kumbakonam(13.4km from Temple)
132C, Kamaraj Road,
Kumbakonam- 612 001
Tamilnadu, India
Tele : +91 435 240 03 56
Telefax : +91 435 240 03 57
Mobile: +91 822 001 9 122
Reservation No: +91 4296 272 110
1 1 1 1 1 1 1 1 1 1 Rating 3.36 (233 Votes)
Driving Direction & Temple Location