Vadapathragali Temple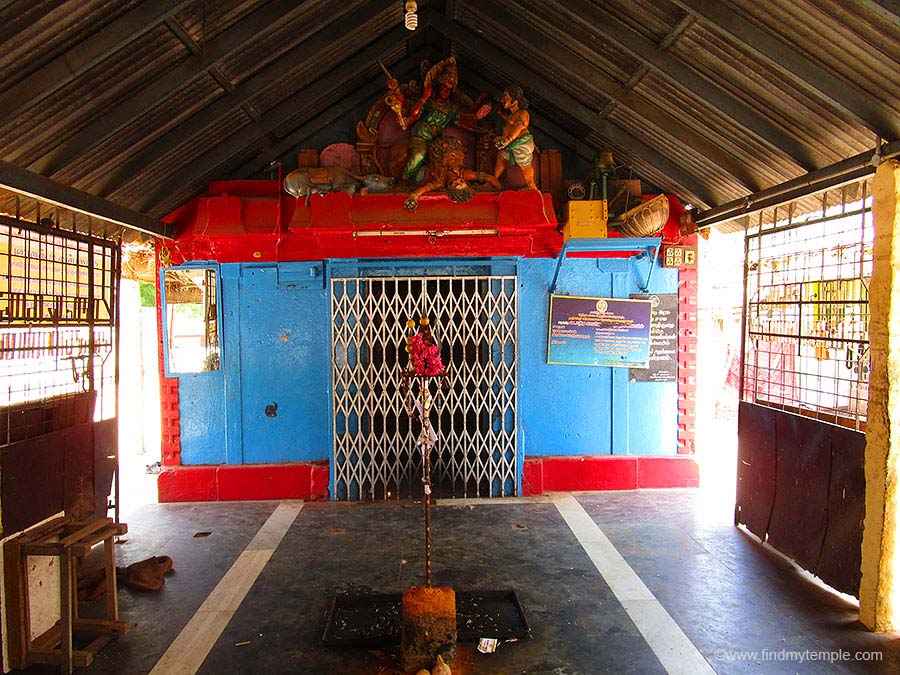 Main Deity: Nisambasoothani,Vadapathrakalli
History : The Nisumba Soodhani temple is situated in Thanjavur town. The temple is much older than the great Tanjore big temple. This is built by Vijayalaya Chola after his victory over Pandiyas in Thirupurampiyam war. (The great Tamil writer Kalki, in his master piece "Ponniyin Selvan", refers Thirupurampiyam War as comparable to "Battle of Waterloo" or "Battle of Panipet" in the history) The deity in this temple is ferocious form of Goddess Durga. She is very powerful with eight hands and in the pose of killing Nisumban (Asura). The furious face and eyes of the deity are remarkable. The Chola kings had a habit of worshipping her before going to the war and they believed Nisumba Soodhani as a goddess of victory. This temple is also called as Vada Badrakaali or Ragukaala Kali Kovil. The sad state of this temple is, many people living nearby doesn't aware of the historical importance of this temple.
This temple is also referred many times in the historical novel called "Udaiyar" by tamil writer Balakumaran. The Udaiyar novel mainly describes about the Great Raja Raja chola and how he constructed the Tanjore big temple.
Temple Timing : 6.00 am-12.00 Noon, 4.00 pm – 8.00 pm
Nearest Town : Tanjavur
Address : Vadapathragali Temple, Ravuthan Koil Street , Tanjavur District.
Hotels Near Vadapathragali Temple, Tanjore :
1.Sangam Hotel, Thanjavur
Trichy Road, Thanjavur – 613007

Tel : 91-4362-239451

Fax: 91-4362-236695

2.Hotel Parisutham

55 G.A. Canal Road, Thanjavur 613 001, India

Tel : 04362 231 801

3.Hotel Gnanam

Anna Salai ( Market Road)

Thanjavur 613 0001
Phone : 04362- 278501-507
Fax : 04362 235536

4.Hotel Balaji Inn
Baskara puram,

New Bus Stand,

Thanjavur-613005

Phone Number : 04362-226949/227949
5.Star Residency

Hotel Temple Tower) 20/1 A S.M Road,

Next to Ramanathan hospital Bus Stop,

Tanjore - 613 007.

Tel : +91 - 4362- 276333 / 34 / 37

Fax: +91 - 4362-276336
Restaurant Near Vadapathragali Temple, Tanjore :
1.Hotel Ramnath,
No 1335, Thanjavur Ho, Thanjavur -
613001, South Rampart Old Bus Stand
Ph: +(91)-4362-272567, +(91)-9362610901
2.Sri Lakshmi Narayana Bhavan,
No 133, Big Street, Thanjavur HO,
Thanjavur - 613001, Pattukottai
Ph : +(91)-4362-252358
3.Karthik Restaurant
No 1334, Thanjavur HO, Thanjavur - 613001, South Rampart Inside Karthick Hotel
Ph:+(91)-4362-278662, 278663, 278322

4.Hotel Coffee Palace AC
No 1465, Tanjore, Thanjavur - 613001, South Rampart
Ph: +(91)-4362-231358
1 1 1 1 1 1 1 1 1 1 Rating 3.36 (233 Votes)

Driving Direction & Temple Location