Lakshmi Narayana Perumal Temple
Thirumanancheri, Nagai District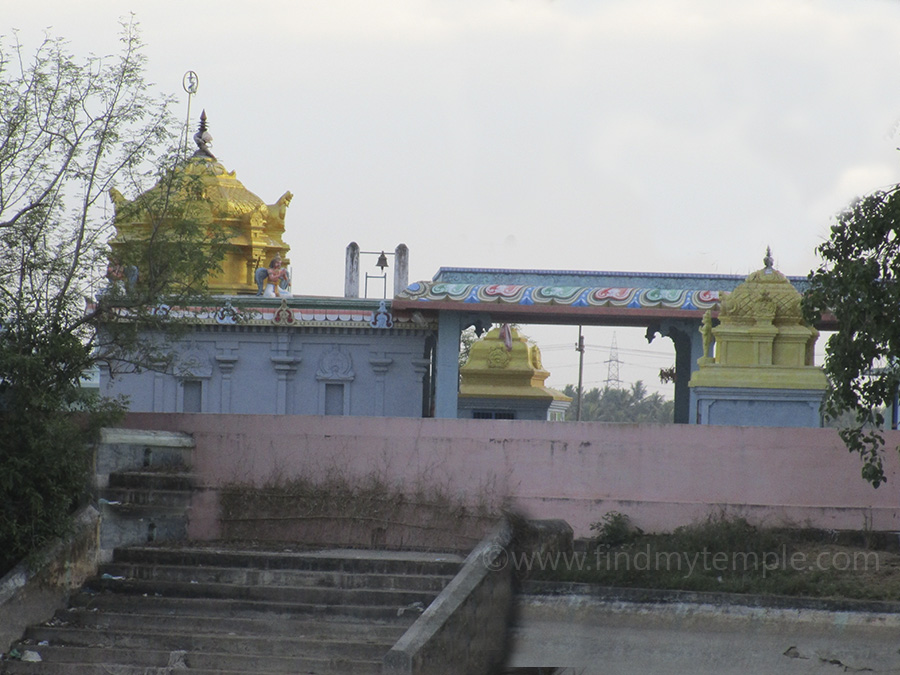 Main Deity : Lakshmi Narayana Perumal.
Ambal : Lakshmi.
Other Deities : Dhanvandhiri Perumal, Anjeneyar.
Theertham : Paneer.
Prominence of the shrine : Shri Lakshmi Narayana Perumal Temple is located in the west side. The Goddess Lakshmi is seated on the lap of the Lord Perumal and faces west side. Varadharaja Perumal is the procession deity. In this temple,there are separate shrines for Dhanvandhiri Perumal and Anjeneyar. If we worship the God Dhanvandhiri Perumal in this temple, all our diseases will be cured. Hanuman in this temple is in two forms, Bala Hanuman and Viswaroopa Hanuman. Vishwaroopa Hanuman's crown is replaced by Bell. If we worship this Hanuman all our desires will be fulfilled and we will be relieved from Sani Dosham and fear of Yama. If we worship Perumal in this temple, we will be redressed from Mangalya dosha and Puthra dosha (childlessness). It is believed that if we eat the Pongal which is offered to Perumal we will be blessed with children. Hence this temple's Narayana Perumal is regarded as the most prominent.
Temple History : It is believed that Lakshmi Narayana Perumal had duly conducted the marriage of Kalyana Sundareshwarar and Parvathy Devi. In this temple, Perumal is facing westward. This temple was consecrated in 2002. Again this temple was renovated and consecrated in 2013.
Temple Timings : Morning 07:00 am to 12:00 noon, Evening 04:30 pm to 07:00 pm.
Nearest Town : Kumbakonam.
Location : Thirumanancheri.
Address : Lakshmi Narayana Perumal Temple,
Thirumanancheri, Kuthalam circle, Nagai District.

Hotel Near Lakshmi Narayana Perumal Temple, Thirumanancheri :
1.Mantra Veppathur,
536/537 A, 1, Bagavathapuram Main Road,
Sri Sailapathipuram,Kadayanikadu,
Kumbakonam-612105.
2.Hotel Raya's,
No. 18, Head Post Office Road,
Near Mahamaham Tank West Bank,Gandhi Adigal Salai,
Valayapettai Agraharam,Kumbakonam-612001,
Ph: 0435 242 3170
3.Hotel Riverside Resort & Spa,
No.32 & 33, College Road,KondangudiIllam,
Kumbakonam-612002,
Ph: 0435 244 3666.
4.Hotel Vinayaga,
132, Kamaraja Road, John Selvaraj Nagar,
Opposite Railway Station,
Kumbakonam-612001,ph:096298 66611
Resturant Near Lakshmi Narayana Perumal Temple, Thirumanancheri :
1.Anaz Restaurant,
Srinagar Colony,
Kumbakonam-612001.
2.Hotel Shanmuga,
SH 64 Anna Nagar,
Kumbakonam, Tamil Nadu 612001,
Ph: 0435 242 5350
3.Sri Ganesh Bhavan,
Moopanar Nagar, Chettimandapam Ullur,
Tamil Nadu 612001,ph:0435 200 1333
1 1 1 1 1 1 1 1 1 1 Rating 3.37 (235 Votes)
Driving Direction & Temple Location