Somanathaswami Temple
Needur,

Mayiladuthurai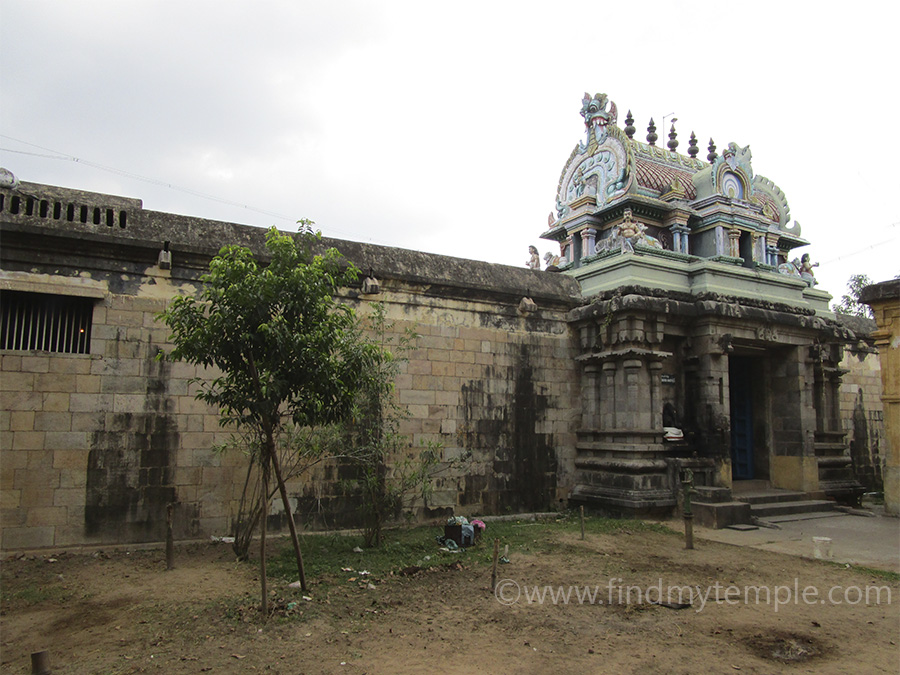 Main Deity : Somanathaswami.
Ambal : VeyurutholiAmmai, Mahalakshmi, Vedhanayagi, Aalalasundaranayagi, Durga, Adhithya Abayapradhambigai.
Other Deities : Dwara Ganapathy, Cindhamani Ganapathy, Sivaloganadhar, KasiVishwanadhar, Mahalakshmi, Natarajar, Kalabairavar, MunayaduVarNayanar.
Theertham : Pushkarani, SengazhuNeerodai, BathrakaliTheertham, Parudhikundam, Varuna Theertham, Surya Theertham.
Temple Tree : Magizham.
Prominence of the shrine : Sun God had worshipped Mother Veyuru Tholi Ammai in this temple. As Sun-Aditya worshipped, She is praised as Aditya Varada Ambica. The main God in this temple is called as Somaskandhar. This temple is located in the northern side of river Cauvery. Planet Saturn is opposite Ambica shrine facing east. The devotee can have the darshan of Mother and Saturn simultaneously for the removal of the adverse aspect of the planet. There is no Navagraha shrine in the temple. Mother Badrakali in a separate shrine had worshipped Lord in the temple. As a rule in Hindu customs, people worship Lord Vinayaka before commencing any work. They then have to follow the advice of elders. Lord Vinayaka in the temple is considered elder, experienced and adviser. The three aspects are praised as Chintamani Vinayaka, Selva Maha Vinayaka and Shivananda Vinayaka. Any one starting a business prays to Vinayaka in this temple for profitable results. Needur in Tamil means eternal place. As this place could not be destroyed even at the end of the world by the great floods-pralaya, it is named Needur. Inscriptions of first Kulothunga cholan, 2nd Rajaraja Cholan and 3rd Rajaraja Cholan can be seen in this temple.
Temple History : Indira the king of Devas could not get a Shiva Linga for his worship in the morning hours when he once came to earth. He gathered the sand from Cauvery, made a Linga for his worship. He also sang a melodious song seeking the dance darshan of the Lord. Lord was pleased with his devotion and granted the darshan he desired and is praised with name GanaNardanaSankara – Lord who danced to a devotional song. When he left the place, Indira left the Linga made by him here. His finger symbols are visible on the Linga.
Due to his sins, a demon Thanmasudhan was born as a cancer (nandu in Tamil). He sought advice from MaharshiNarada for relief. As advised, he came to this place, bathed in Cauvery and worshipped Lord Shiva. Pleased with his penance, Lord granted darshan to him. To facilitate his merger with Him, Lord also made a hole in Himself. Nandu entered into the Linga through the hole and got merged with Lord. The hole is visible on the Linga. Bathrakaliammbikai went to Kailash only after worshipping Lord Shiva. Lord Shiva in this temple will redress us from the sins which we do knowingly or unknowingly. By Siddha's saying, once illeness is the cause of their curse. So worshipping Somanathaswami will relieve us from all doshas, deseases and problems. Consecration was done on 5/4/2007.
People who worshipped here : Indira, Sun, Kali, Moon, Crab, Munaiyavar, Nayanar.
Poets who sang its praise : Appar, Sundarar.
Temple Timings : Morning 06:00 am to 12:00 noon, Evening 04:00 pm to 08:00 pm.
Pooja Details : Two term pooja.
Temple Festivals :
Navrathiri,
Thiruvadurai,
Shivrathiri,
Guru pooja,
Chitra Pournami.
Nearest Town : Mayiladuthurai.
Temple Address : Somanathaswami Temple,
Needur(po) - 609 203, Mayiladuthurai circle, Nagapattinam Disrtict.
Hotel Near Somanathaswami Temple, Needur :
1.Chola Inn,(13.3km form Temple)
105, Pidari South Street,
Thenpathi,Sirkazhi,
Tamil Nadu 609111,
Ph: 094444 93388
2.Ayarpadi Hotel,(13.9km form Temple)
Old NH,Thenpathi,Sirkazhi,
Tamil Nadu 609110
3.Hotel Aryabhavan,(12.9km form Temple)
Old NH,Thiruvalluvar Nagar,
Thenpathi,Sirkazhi,
Tamil Nadu 609111
4.Mangala Vilas Hotel,(13km form Temple)
Thenpathi,Sirkazhi,
Tamil Nadu
5.Ganesan Hotel,(14.2km form Temple)
Sirkazhi, Tamil Nadu
Resturant Near Somanathaswami Temple, Needur :
1.Samboorna Restaurtant,
Old NH,Thenpathi,Sirkazhi,
Tamil Nadu 609110
2.Garden Restaurant,
Thenpathi,Sirkazhi,
Tamil Nadu 609110
1 1 1 1 1 1 1 1 1 1 Rating 3.38 (238 Votes)
Driving Direction & Temple Location