Manognanadhaswamy Temple
Thiruneelakkudi,
Thiruvidaimarudhur (Tk)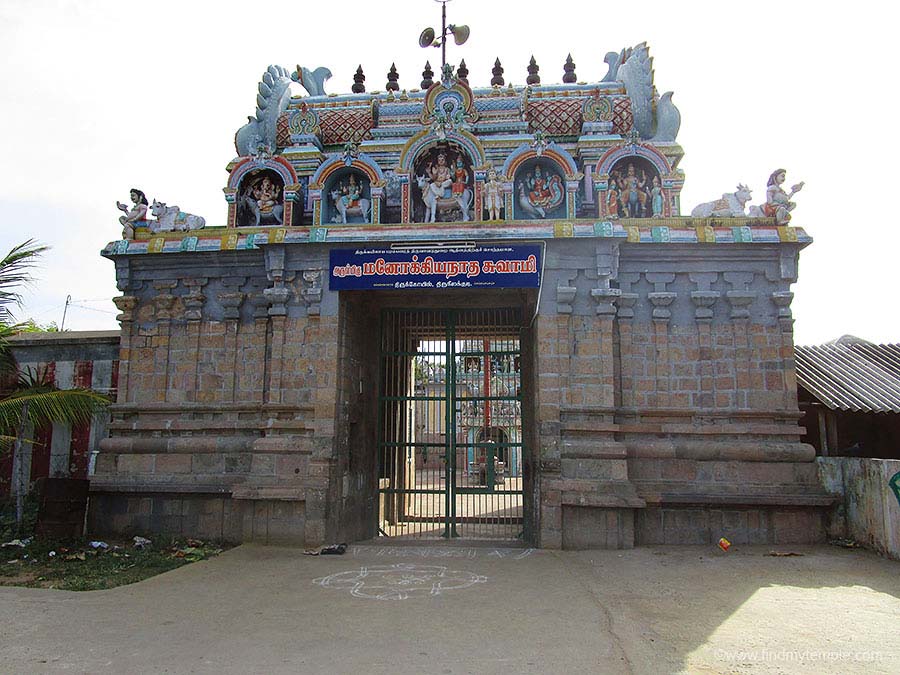 Main Deity : Sri Manognanadhaswamy.

Ambal : Sri Anoobamasthani.

Other Deities : Bakthabheeshtathayini, Panchamoorthy, Brahma, Linga, Viswanathar, Maha Lakshmi, Bairavar, Navagrahas.
Holy Water : Devi Theertham.

Temple Tree : Pancha Vilvam.

Prominence of the Shrine : The oil applied on the main idol (Moolavar) is absorbed and goes into the 'linga'. As per belief, Ambal herself performs the abhisheka and the cloves of jack fruit here will putrefy if they are taken out without offering them to the Lord here. This shrine clears one of 'MrithuDosha' and Raagu Dosha.

Temple History : It is a general belief that when Devas and Asuras where trying to take the nectar the nectar turned as a poison. All of them were frightened as the poison started filling in the sea. Lord Shiva who arrived to save the world took the entire poison and drank it. His consort Goddess Parvathi then applied oil on Lord Shiva's neck and due to the poison struck at his neck and his neck turned blue color. Hence the Lord Shiva is also called as Neelakandeswarar ( In tamil Neela Kandam is poison) and the village is called Thiruneelakudi. . Lord Brahma and Sage Vashistar have worshipped at this temple. There are four different holy water tanks are there near to this temple. As Goddess Parvathi has applied oil to Shiva the abhishekam at this temple is performed with Oil. The mystery is the oil doesn't needs to be cleaned everyday as it is absorbed by Linga itself.
Once upon a time there was a sage name Mirugandu lived in this area. He worshipped lord Shiva to have a child. Accepting sage's prayer Lord Shiva one day appeared in front of the sage and asked him what he wants? The sage told him he and his wife was worried that they don't have a kid. Shiva told Mirugandu that either he will have a very intelligent /smart son but who will live very short life or he will have a average son who will live for 100 years. Sage Mirugandu said to lord that he would prefer to have a brilliant son even though he won't live for long years. Lord Shiva awarded the boon as per sage's wish. Markandeyan was born for sage Mirugandu who was a great devotee of Lord Shiva. Markandeyan reached the age of 16. He came to know from his parents that his life will come to an end when he completes the age of 16. He wanted to live for long and he realized the only chance he may have is to worship Shiva. He started visiting every Shiva temples and he reached to Thiruneelakudi. Markandeyan performed a severe penance here and Shiva was happy with his devotion. Shiva appeared in front of him and asked what he wants? Markandeyan expressed his wish of living a long life. Lord Shiva was happy with his penance and awarded the boon as Markandeyan will live at Thiruneelakudi forever and his age will be always 16.
Who worshiped here : Markandeyar.
Poets who sang its praise : Appar.
Temple Timings : 6.00 am to 12.00 noon ---- 4.00 pm to 8.00 pm
Details of Poojas : Four times a day.
Temple Festivals : Chithirai Festival in the Tamil month of Chithirai.
'Saptha sthana Peruvizha' which marks the Lord going around seven places.

Nearest Town : Kumbakonam, Aduthurai.
Address : Sri ManognanadhaSwamy Temple,
Thiruneelakkudi (Po.), Kumbakonam (Via),
Thiruvidaimarudhur (Tk), Tanjore (Dt).
PIN – 612 108.
Hotel Near Manognanadhaswamy Temple, Thiruneelakkudi :
1.Sivamurugan Hotels(12.5km from Temple)
60 Feet Main Road, | Near New Bus Stand,
Kumbakonam 612 001, India
Ph: 096000 00384
2.Sara Regency (14.9km from Temple)
45/1 Chennai Road, Kumbakonam 612002, India
Ph:082200 05555
3.Quality Inn VIHA (11.4km from Temple)
New Railway Road, Kumbakonam,
Tanjore, Tamil Nadu 612001
Trichy Road, Namakkal
Ph:0435 255 5555
4.Hotel Green Park (13.1km from Temple)
No. 10, Lakshmi Vilas Street,
Kumbakonam, South India - 612001.
Ph :(0435) - 2402853 / 2403914
5.Hotel Vinayaga - Kumbakonam(11.5km from Temple)
132C, Kamaraj Road,
Kumbakonam- 612 001
Tamilnadu, India
Tele : +91 435 240 03 56
Telefax : +91 435 240 03 57
Mobile: +91 822 001 9 122
Reservation No: +91 4296 272 110
Restaurant Near Manognanadhaswamy Temple, Thiruneelakkudi :
1.Venkatramanaa Hotel
No 40, TSR Big Street, Kumbakonam HO,
Kumbakonam - 612001, Near Gandhi Park
Ph : +(91)-9442130736
2.Sri Balaji Bhavan
1, Sasthra College Road,
Kumbakonam HO, KUMBAKONAM - 612001
Ph : +(91)-435-2424578
3.Hotel Shanmuga Bhavan
16, Kumbeswarar South Street,
Kumbakonam HO, KUMBAKONAM - 612001
Ph:+(91)-435-2433962
4.Gowri Shankar Hotel
No 47, John Selvaraj Nagar,
Kumbakonam HO, Kumbakonam - 612001
Ph : +(91)-9443131276 ,+(91)-435-2431177
tel : (91)-435-2430736
5.Rayas Garden Restaurant
No 18 Rayas Hotel, Head Post Office Road,
Kumbakonam HO, Kumbakonam - 612001
Ph :+(91)-435-2423170, 2423171, 2423172, 2423173
1 1 1 1 1 1 1 1 1 1 Rating 3.38 (238 Votes)
Driving Direction & Temple Location