Shri Bhagavadh Vinayaga Temple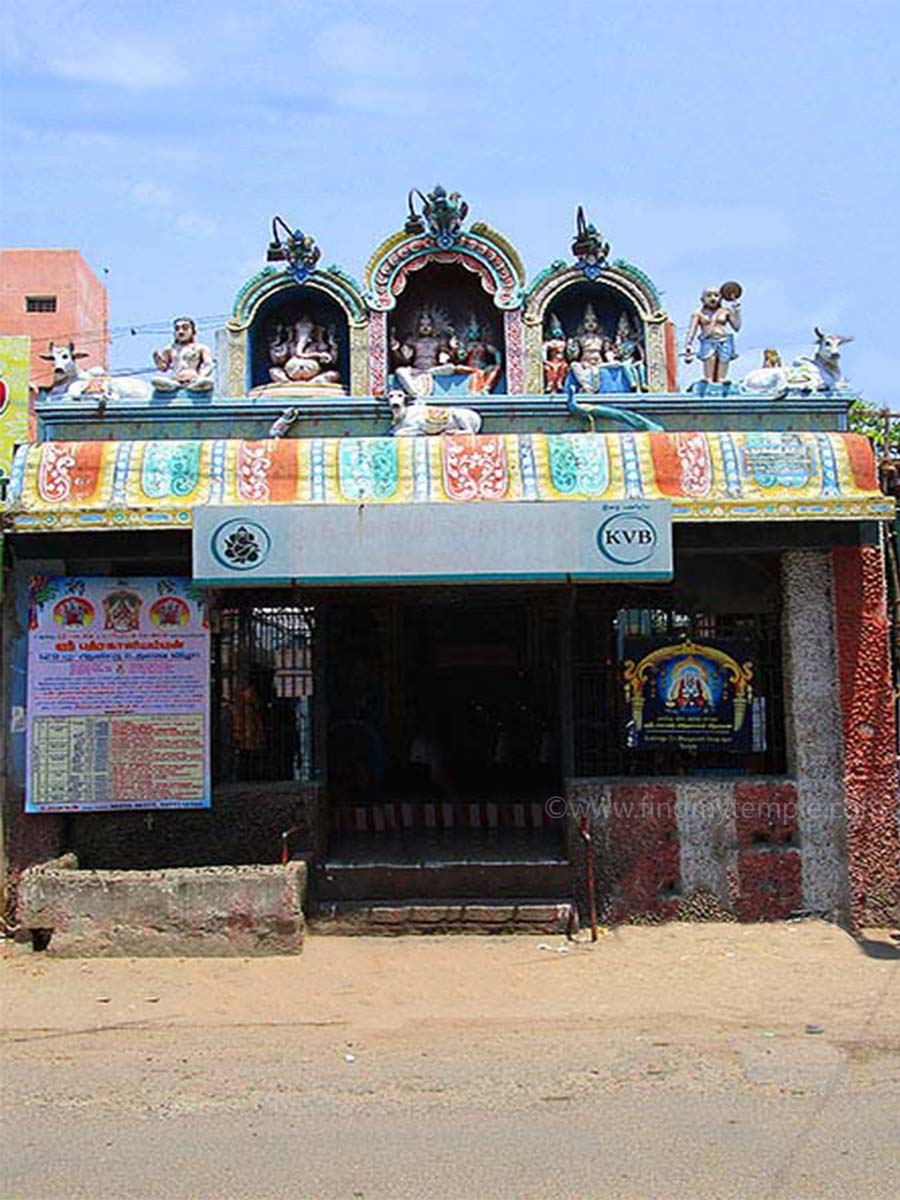 Temple Name : Shri Bhagavadh Vinayaga Temple.
Main Deity : Shri Bhagavadh Vinayaga.
Temple History : Shri Bhagavar Maharishi resided in Vedharanyam with his disciple. Shri Bhagavar Maharishi's old aged mother on her deathbed told her son to gather her 'Asthi' [ Ashes ] in a Kalasam after her death and take it to several holy places of worship. She instructed that where the ashes turned into flowers, there she asked him to dissolve the ashes in the flowing holy river nearby. so saying, she died. So, Shri Bhagavar went for a 'Theertha Yatra' carrying his mother's Asthi. When Bhagavar Maharishi went to Thirukudandhai (Kumbakonam) and was bathing in the holy Cauvery river, his disciple was very hungry and so he opened the Kalasam thinking that it may contain some food, but he was disappointed when he saw that it contained flowers. So, he closed the Kalasam's lid and kept it as it was before it was untouched. The guru who knew nothing about this, thought that the Asthi would bloom only in Kasi [Varanasi]. But he was shocked when the Asthi did not bloom even in Kasi. The disciple who came to know of it just then, narrated the incident at Kumbakonam. So, the guru took the Asthi to Kumbakonam and after bathing in the Cauvery, he saw that the Asthi had turned into flowers and was very happy. He dissolved it in the Cauvery.
The guru and his disciple came to know that Kumbakonam was more holy than Kasi and worshipped the Vinayaga under the tree and resided there. From that day onwards, the temple came to be known as "Shri Bhagavadh Vinayaga'.
The idol of the Bhagavadh Vinayaga is charming and beautiful. He is the Varaprasadhi who removes all the Navagraha Dhoshas.
The Ganesha has the 'Lord Surya' [ Sun God ] in His forehead, 'Chandra' [Moon God] in His neck cervix region, 'Budhan' in His right lower arm, 'Vyaazhan' in His head, 'Shukran' in His left lower arm, 'Sani' in His right upper arm, 'Raagu' in His left upper arm and 'Kethu' in His left thigh, thus possessing all the Navagrahas.
Prominence of the shrine : This temple is in the Nageshwarar Kovil Thirumanjana Veedhi. This temple is known as Bhagavadh Vinayaga Temple as well as Bhagava Vinayaga Temple. The Puranas tell that this temple has more Punniyam than Kasi [ Varanasi ]. The Thiruppani for the temple was done long back in the year 1692. This temple in the Madatthu street at the heart of Kumbakonam is equivalent to the Kasi Vishwanathar Temple. The Kumbabhishekam for this temple happened in the year 2006. Since the "Maha Maga Thiruvizha" will take place in 2016 in Kumbakonam, the Thiruppanigal and Kumbabhishekam of this temple will also take place in 2016.
Temple Timings : Morning – 06;00 am to 12:00 noon.
Evening – 04:00 pm to 08:00 pm.
Temple Festivals : Vinayagar Chathurthi.
Nearest town : Kumbakonam, Thanjavur District.
Temple Address : Shri Bhagavadh Vinayaga Temple, Kumbakonam, Thanjavur District.
Hotel Near Shri Bhagavadh Vinayaga Temple, Kumbakonam:
1.Sivamurugan Hotels
60 Feet Main Road, | Near New Bus Stand,
Kumbakonam 612 001, India
Ph: 096000 00384
2.Sara Regency
45/1 Chennai Road, Kumbakonam 612002, India
Ph:082200 05555
3.Quality Inn VIHA
New Railway Road, Kumbakonam,
Tanjore, Tamil Nadu 612001
Trichy Road, Namakkal
Ph:0435 255 5555
4.Hotel Green Park
No. 10, Lakshmi Vilas Street,
Kumbakonam, South India - 612001.
Ph :(0435) - 2402853 / 2403914
5.Hotel Vinayaga - Kumbakonam
132C, Kamaraj Road,
Kumbakonam- 612 001
Tamilnadu, India
Tele : +91 435 240 03 56
Telefax : +91 435 240 03 57
Mobile: +91 822 001 9 122
Reservation No: +91 4296 272 110
Restaurant Shri Bhagavadh Vinayaga Temple, Kumbakonam:
1.Venkatramanaa Hotel
No 40, TSR Big Street, Kumbakonam HO,
Kumbakonam - 612001, Near Gandhi Park
Ph : +(91)-9442130736
2.Sri Balaji Bhavan
1, Sasthra College Road,
Kumbakonam HO, KUMBAKONAM - 612001
Ph : +(91)-435-2424578
3.Hotel Shanmuga Bhavan
16, Kumbeswarar South Street,
Kumbakonam HO, KUMBAKONAM - 612001
Ph:+(91)-435-2433962
4.Gowri Shankar Hotel
No 47, John Selvaraj Nagar,
Kumbakonam HO, Kumbakonam - 612001
Ph : +(91)-9443131276 ,+(91)-435-2431177
tel : (91)-435-2430736
5.Rayas Garden Restaurant
No 18 Rayas Hotel, Head Post Office Road,
Kumbakonam HO, Kumbakonam - 612001
Ph :+(91)-435-2423170, 2423171, 2423172, 2423173"
1 1 1 1 1 1 1 1 1 1 Rating 3.36 (233 Votes)
Driving Direction & Temple Location