Kasi Viswanatha Swamy Temple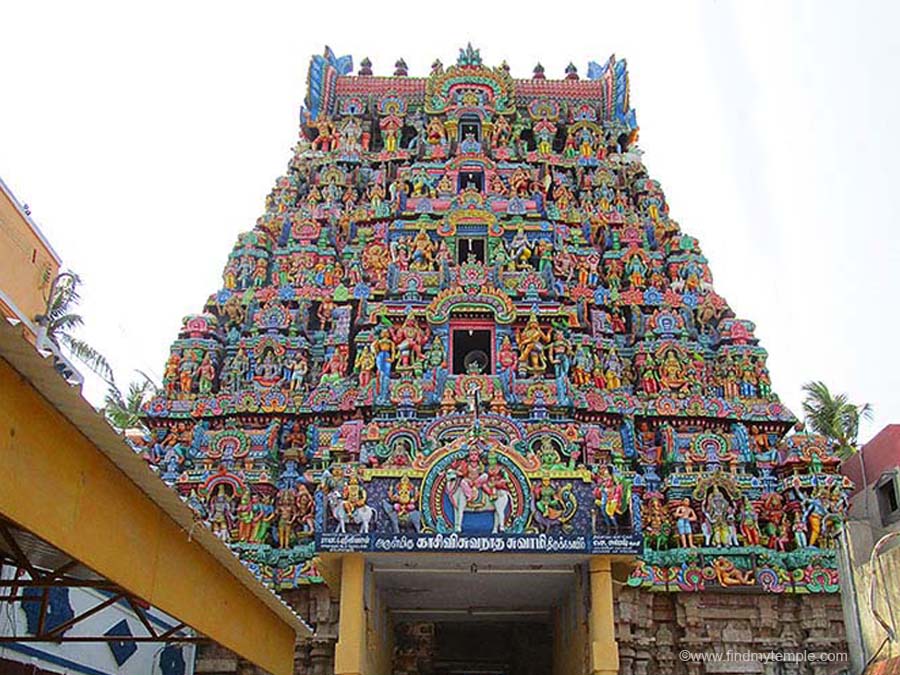 Main Deity : Sri Kasi Viswanatha Swamy

Ambal : Sri Visalakshi

Other Deities : Kasi Viswanathar

Holy Water : Mahamaha Theertham

Temple Tree : Vilvam

Prominence of the Shrine : The Nine Spinsters (Navakannihas) offered here worship to get relief from their sins and got the relief.

Temple History : This temple is located on the north bank of 'Mahamagam Tank'. The nine spinsters (Navakannihas) including Ganga, Yamuna, Godawari, Kumari, Payodhini and sarayu rivers had a problem for long time. World living beings have taken bath in these rivers to get rid of their sins and these rivers were carrying all those sins forever. They have worshipped Lord Shiva and enquired him how to get rid of these sins that they are carrying. Lord Shiva has advised them to come to Kumbakonam and take bath in Mahamagam tank and they will be recovered from the sins. They also did the same and got purified when they took bath in Mahamagam tank. Lord shiva also appeared in the North bank of this tank which is Viswanatha Temple.

Temple has one more history related to Sri Ram. Sri Ram worshipped Kasi Viswanadha and obtained a garland of 'Rudhraksha' (the seed is produced by several species of large evergreen broad-leaved trees in the genus Elaeocarpus, and is considered as the sacred beads for prayer in Hinduism; meaning the eye of Lord Shiva) on his way to quell Ravana according to the temple history.

who worshipped here : Agathair, Navakannihas
Temple Timings : 6.00 am to 12.00 noon - 4.00 pm to 8.3 0 pm
Pooja Details : Six times a day.

Temple Festivals : Masi Maham Festival, Maha Magam Festival (once in 12 years)

Nearest Town : Kumbakonam.

Address : Sri Kasi Viswanadha Swamy Temple,
Maha Maha Tank Northern Bank,
Kumbakonam (Po.),
Thanjavur (Dt). PIN – 612 001
Hotel Near Kasi Viswanatha Swamy Temple, Kumbakonam :
1.Sivamurugan Hotels
60 Feet Main Road, | Near New Bus Stand,
Kumbakonam 612 001, India
Ph: 096000 00384
2.Sara Regency
45/1 Chennai Road, Kumbakonam 612002, India
Ph:082200 05555
3.Quality Inn VIHA
New Railway Road, Kumbakonam,
Tanjore, Tamil Nadu 612001
Trichy Road, Namakkal
Ph:0435 255 5555
4.Hotel Green Park
No. 10, Lakshmi Vilas Street,
Kumbakonam, South India - 612001.
Ph :(0435) - 2402853 / 2403914
5.Hotel Vinayaga - Kumbakonam
132C, Kamaraj Road,
Kumbakonam- 612 001
Tamilnadu, India
Tele : +91 435 240 03 56
Telefax : +91 435 240 03 57
Mobile: +91 822 001 9 122
Reservation No: +91 4296 272 110
Restaurant Near Kasi Viswanatha Swamy Temple, Kumbakonam :
1.Venkatramanaa Hotel
No 40, TSR Big Street, Kumbakonam HO,
Kumbakonam - 612001, Near Gandhi Park
Ph : +(91)-9442130736
2.Sri Balaji Bhavan
1, Sasthra College Road,
Kumbakonam HO, KUMBAKONAM - 612001
Ph : +(91)-435-2424578
3.Hotel Shanmuga Bhavan
16, Kumbeswarar South Street,
Kumbakonam HO, KUMBAKONAM - 612001
Ph:+(91)-435-2433962
4.Gowri Shankar Hotel
No 47, John Selvaraj Nagar,
Kumbakonam HO, Kumbakonam - 612001
Ph : +(91)-9443131276 ,+(91)-435-2431177
tel : (91)-435-2430736
5.Rayas Garden Restaurant
No 18 Rayas Hotel, Head Post Office Road,
Kumbakonam HO, Kumbakonam - 612001
Ph :+(91)-435-2423170, 2423171, 2423172, 2423173"
1 1 1 1 1 1 1 1 1 1 Rating 3.37 (235 Votes)
Driving Direction & Temple Location