Mahalinga Swamy Temple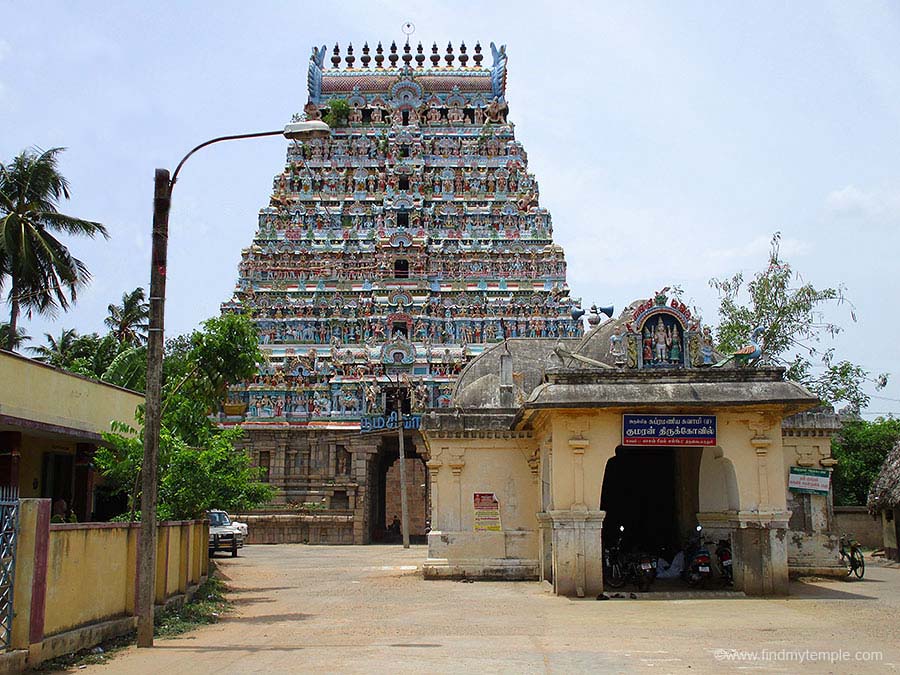 Main Deity : Sri Mahalinga Swamy.

Ambal : Sri Bruhatha Sundara Gujambiga (Perumamulaippratti).

Other Deities : Ganesha, Muruga, Dakshinamoorthy, Nataraja, Panchamoorthigal, Natchathira Lingas, Pattinathar, Barthrugiri, Moogambigai.

Holy Water : Karunyamirtha Theertham

Temple Tree : Marudha Tree (Arjun tree/ Terminalia arjuna)

Prominence of the Shrine : This shrine is known as Mahalinga shrine and the nine shrines surrounding it are known as shrines in accompaniment. 1. Vinayagar – Thiruvalanchuzhi, 2. Murugan – Swamimalai, 3. Nataraja – Chidambaram, 4. Navagrahas – Sooriyanar, 5. Dakshinamoorthy – Alangudi, 6. Bairavar – Sirkazhi, 7. Nandhi – Thiruvavaduthurai, 8. Somal Kandar – Thiruvarur, 9. Chandeswarar – Thirucheignalur,
It is believed that Mental illness and brahamathi dosha leave a person when worship is offered here. Saint Pattinathar and Barthrugiri stayed here and offered worship. This shrine is also known as 'Panchalinga shrine'.

Temple History : Once upon a time the Pandia King Varaguna pandian went to nearby jungle for hunting. He was returning on his horse from the jungle very late in the evening and it was dark. By mistake his horse killed a Brahmin who was sleeping on the way. So Varaguna pandian got a 'Brammahaththi Dosha' for killing a Brahmin. Being a great devotee of Lord Shiva the king prayed to Lord to get rid of his Dosha. Lord appeared in his dream and advised him to go to Thiruvidaimarudur. The king was initially worried how he can go to a temple that is under Cholas control. At the time Chola king came with his army to attack the Pandias and Pandian king won the war. Once he defeated the Chola king he visited the Thiruvidaimarudur's temple through its east entrance. Brahmmahaththi was not able to enter this sacred Shiva temple waited outside of the east gate thinking it will catch him again once he comes out. However when Varaguna Pandian worshipped here, he heard a unmanned voice from God that he should exit the temple through the other gate and not through the east entrance. He did the same and the Brahmmahaththi is still waiting at the east entrance to catch the Pandian king. So if someone worships here they will get relief from Brahmmahaththi Dosha.

who worshipped here : Uma, Ganesha, Murugan, Lord Vishnu, Kali, Lakshmi, Vashistar, Iravatham, Sivavakkiar, Kabilar, Agathiar, Pattinathar, Barthugiri, Varaguna Pandian.

Poets who sang its praise : Thirugnanasambandar, Appar, Sundarar, Manikkavasagar, Arunagirinadhar, Karuvur Thevar, Kottaiyur Sivakozhundu Desigar, Mahavidwan Meenakshi Sundaram Pillai

Temple Timings : 5.30 am to 12.30 noon - 4.30 pm to 9.00 pm

Pooja Details : Six times a day

Temple Festivals : Thaipoosam, Visaga Peruvizha, Thiruvadhirai, Navarathri, Annabishegam, Kanda Shashti, Aadipooram, Karthigai Somavaaram (Monday), Pournami Mahameru Abhishegam.

Nearest Town : Kumbakonam
Address : Sri Mahalingaswamy Temple, Thiruvidaimarudur (Po.)& (Tk.),Tanjavur (Dt). PIN – 612 104
Hotel Near Mahalinga Swamy Temple, Thiruvidaimarudur :
1.Sivamurugan Hotels(6.8km from Temple)
60 Feet Main Road, | Near New Bus Stand,
Kumbakonam 612 001, India
Ph: 096000 00384
2.Sara Regency (9.8km from Temple)
45/1 Chennai Road, Kumbakonam 612002, India
Ph:082200 05555
3.Quality Inn VIHA (8km from Temple)
New Railway Road, Kumbakonam,
Tanjore, Tamil Nadu 612001
Trichy Road, Namakkal
Ph:0435 255 5555
4.Hotel Green Park (8.7km from Temple)
No. 10, Lakshmi Vilas Street,
Kumbakonam, South India - 612001.
Ph :(0435) - 2402853 / 2403914
5.Hotel Vinayaga - Kumbakonam(8.5km from Temple)
132C, Kamaraj Road,
Kumbakonam- 612 001
Tamilnadu, India
Tele : +91 435 240 03 56
Telefax : +91 435 240 03 57
Mobile: +91 822 001 9 122
Reservation No: +91 4296 272 110
Restaurant Near Mahalinga Swamy Temple, Thiruvidaimarudur :
1.Venkatramanaa Hotel
No 40, TSR Big Street, Kumbakonam HO,
Kumbakonam - 612001, Near Gandhi Park
Ph : +(91)-9442130736
2.Sri Balaji Bhavan
1, Sasthra College Road,
Kumbakonam HO, KUMBAKONAM - 612001
Ph : +(91)-435-2424578
3.Hotel Shanmuga Bhavan
16, Kumbeswarar South Street,
Kumbakonam HO, KUMBAKONAM - 612001
Ph:+(91)-435-2433962
4.Gowri Shankar Hotel
No 47, John Selvaraj Nagar,
Kumbakonam HO, Kumbakonam - 612001
Ph : +(91)-9443131276 ,+(91)-435-2431177
tel : (91)-435-2430736
5.Rayas Garden Restaurant
No 18 Rayas Hotel, Head Post Office Road,
Kumbakonam HO, Kumbakonam - 612001
Ph :+(91)-435-2423170, 2423171, 2423172, 2423173
1 1 1 1 1 1 1 1 1 1 Rating 3.38 (238 Votes)
Driving Direction & Temple Location