Vaidyandhaswamy Temple
Srivilliputhur, Virudhunagar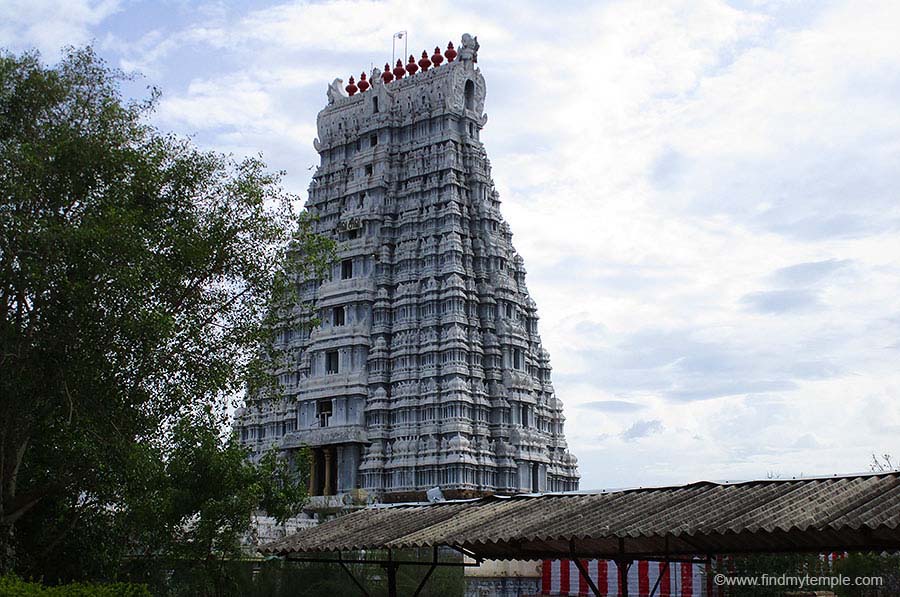 Main Deity : Vaidya Nadha Swamy.
Ambal : Sivagami Ambal.
Prominence of the Shrine : This is the biggest Shaivite shrine in Virudhu nagar district. In this shrine only Shivas 24 'Thiruvilayadal' (Lord Shiva's pranks) took place. Worshipping Vaidhyanadhar swamy relieves one of the incurable stomach ache. Apart from that safe delivery for pregnant women will take place. Every year Pooja for sun god is conducted in a grand manner when the rays of the sun fall on the main idol (Moolavar) on the first day of purattasi and Panguni(tamil months).
Temple History : Once a poor Shiva devotee performed Shiva pooja along with his wife ever day in a village called 'punalveli'. When his wife reached advanced pregnancy, she requested her mother to accompany her. But her mother did not turn up even at the end of ten months. Hence she started for her mother's house. On way she had the labour pain. She being a Shiva devotee appealed to lord Shiva in tears. Hearing the cries of this women, the lord who is father and mother, appeared as the woman's mother and nursed her delivery. The woman felt thirsty and asked for a water. The lord scratched the earth with his finger tip and water spurted out. The lord gave the water to her calling it a medicine. The woman never guessed that all these had been done by the lord. When the real mother arrived everything was clean and they realized it was Lord Shiva who came in her mother's appearance. The lord appeared with his consort Sivagami and told them that he himself looked after the delivery as she was truly devoted to him and that the water had the power to head all wounds. It would be called 'kayakkudi aaru'. Those who immerse here and worship will get all wealth and happiness.
Temple Timings : 6.00 am to 12 noon and4.00 pm to 8.00 pm.
Pooja Details : Temple Festivals Shivarathri, praelosham; Tuesdays and Fridays auspocirus for amman are celebrated.
Nearest Town : Srivilliputhur.
Location : Locked at about 3km from srivilliputhur on the srivilliputhur – rajapalayam road.
Train / Bus : Buses are available from Madurai to srivilliputhur. All buses going to rajapalayam, tenkasi from Madurai will pass through srivilliputhur.
Address : Sri Shivagami samedha vaidhyanadhaswamy temple, Madavarvalaham, Srivilliputhur, Virudhunagar Dt.
Telephone Number :+91-4563-261-262.
Hotels Near Vaidyandhaswamy Temple, Srivilliputhur :

1.Prema Palace AC Lodge,
No 47/14, Katcherry Road Madurai Road,
Virudhunagar Ho, Virudhunagar - 626001, Near Kvb Bank ,
Tel : +(91)-4562-244075, +(91)-9965544075
2.Kvs Mansion Feeder Road,
Virudhunagar,
Tel : +(91)-4562-243620

3.Hotel kurnichi,
Kollam Thirumangalam road,T S V Nagar,
Srivilliputhur-626125.

Resturants Near Vaidyandhaswamy Temple, Srivilliputhur :

1.Kurinchi Restaurant,
State Highway 208, Kollam-Tirumangalam Road,
Vannniyam Pattti, NH208,
Srivilliputhur-626125,
ph:099949 99511.
1 1 1 1 1 1 1 1 1 1 Rating 3.38 (238 Votes)

Driving Direction & Temple Location