Lakshminarasimhar Temple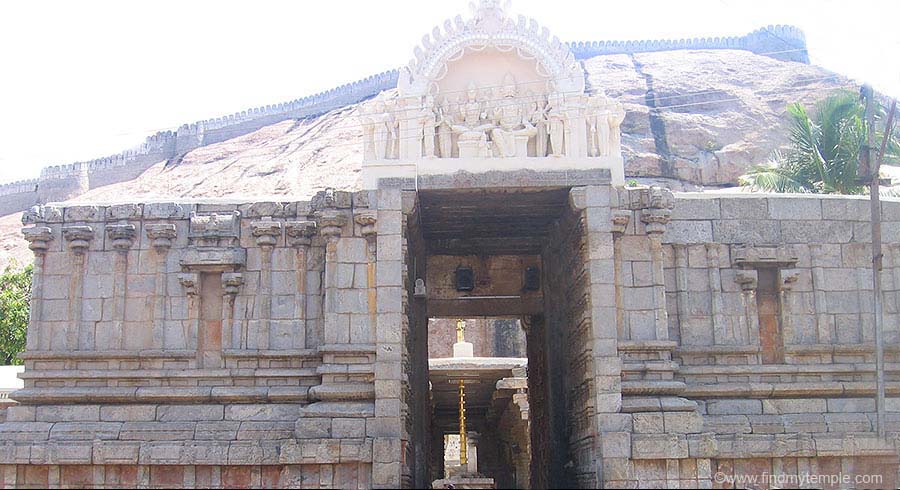 Main Deity : Lakshminarasimhar (Vishnu)

Ambal : Namagirithayar (Mahalakshmi)

Prominence of the Shrine : The temple, Sanctum Sanctorum and the mandapa are in a cave. The temple sculptures are protected by the Archaeological department. The Goddess here is Namagiri Thayar due to which the town is called as Namakkal. Here the Lord Vishnu is in sitting position with his right leg on the floor and the left leg is folded and kept in his thy. The Lord Vishnu sits in the main place, with Shiva and Brahma worshipping on both sides. All the important rishis surround them and offer worship. As such it also known as one of the Thiru Moorthy temples.

Temple History : Narasimha is the 4th of the 10 incarnations of Lord Vishu. Due to a curse by rishis, who came to meet Lord Vishu, but were stopped his two guards, the guards were born as two Demons; Hirnayaksha and Hiranyakashipu. Hiranyakashipu was very brave and strong and through long penance and meditation, got several boons, including immortality to the extent that he would be killed by neither humans nor animals; neither during the day nor night; neither on earth, air nor in water; not with weapons, neither in the palace nor outside. Attaining these enormous powers, he enslaved the Devas and killed rishis who worshipped Gods, and refused to worship him instead. The worried Devas and saints met Lord Vishnu and requested his help.
In the meantime, Hiranya was blessed with a son named Prahaladha. He was very pious to Lord Mahavishnu and his devotion grew as he grew and he started chanting "OM NAMO NARAYANA" despite the best efforts of his father and gurus to make him chant Hiranyay Nama". As his faith started influencing other youths as well, Hiranya became furious with rage and ordered his soldiers to kill Prahaladha. But several of their efforts failed and this enraged Hiranya further and he took it upon himself to kill Prahaladha.

So one day, around dusk, when Prahlada was chanting OM NAMO NARAYANA, Hiranya asked him where is your Narayana? To this the boy replied 'He is omnipresent'. Further infuriated, Hiranya asked him, pointing to a pillar, if Narayana is in that pillar. The boy confidently replied; yes, he is there too.
Hiranya could hold no more and in the fury he hit the pillar hard. It split into two and from that emerged the fierce Narasimha, roaring loudly, with the head of a lion (Simha) and the body of a man (Nara). Taken aback, Hiranya tried to kill the creature and in the fierce short battle thereafter, the Lord took Hirnaya bodily, sat on the doorstep (neither in nor out of the house), put hiranya on his lap (neither earth, air nor water) and tore his torso with his strong nails (no weapons used). It was dusk, neither day nor night. Thus Hiranya died.

However, the fury of the Lord was so large, that even the devas did not dare to go nearby and whole Universe started shivering. Lakshmi, the consort of Lord Vishnu too was afraid; and finally to save the world, She took the boy Prahlada to the Narasimha. Prahlada started chanting prayers of Vishnu, and seeing the lovely boy, the Lord calmed and blessed him, and disappeared in to a Saligramam (a type of rare stone). Prahaladha worshipped the Saligramam ever. Mahalakmy came to be known as Sri Namagiri Lakshmi and the Lord as Sri Lakshmi Narasimha

In Threthayuga Vishnu incarnated as Rama. In His fierce battle with Ravana, all His army and even Lakshmana were beaten by Indrajit. To rejuvenate them, Hanuman brought Mruthasanjeevi herbs from the Himalayas. After use, he replaced them in Himalayas, and while returning carried the Salagramam with him. At the daybreak, Hanuman descended on to the earth to perform his daily rituals at Sri Mahalakshmi's Tapavanam near the big holy tank, Kamalalayam. He devotionally placed the Salagramam there. Upon returning after his rituals, Hanuman could not lift the Salagram, despite his best efforts. He worshipped the God. The Salagramam became a huge rock and a divine voice told Hanuman that the Lord prefers to stay here asked him to return to worship Him here after his duty with Sri Rama is fulfilled. It is believed that Hanuman returned here after the Ramavathar is still there worshipping the Lord. The big idol of Hanuman on the western side of the rock facing Sri Narasimhaswamy from the open signifies this.
Here Sri Mahalakshmi's prayer made Sri NARASIMHA calm. Then he blessed Sri Mahalakshmi and gave her so many boons. From that time, the name to Mahalakshmi became the popular nomenclature.
Temple Timings : 7:00 am to 1:00 pm; 4:30 pm to 8:00 pm
Temple Festivals : Narasimhar Pooja in September is the most important one
Nearest Town : Namakkal
Address : Arulmigu narasimha Swamy Temple, Namakkal - 637001.
Hotel Near Lakshminarasimhar Temple, Namakkal :
1.SANU International
AATHIRAI Restaurant
280/158, Salem Main Road
Namakkal - 637001
Telephone : +91-4286-276030, 276040
Fax : +91-4286-276030
Ph : +91-9500978831, +91-9500989850
2.Hotel Radha Prasad
Near Anna Statue,
Tiruchengode - 637211.
Phone : 04288 - 255510, 255560
Fax : 04288 - 251255
Mobile : 097155 69000, 097888 34567
3.Hotel Golden Palace
Trichy Main Road, Namakkal 637 001, India
Ph: +(91)-4286-228511, +(91)-9500979572"
4.Hotel Vangili International
Trichy Road, Namakkal
Ph: +(91)-4286-232777, +(91)-7598376424"
1 1 1 1 1 1 1 1 1 1 Rating 3.36 (233 Votes)
Driving Direction & Temple Location