Mariamman Temple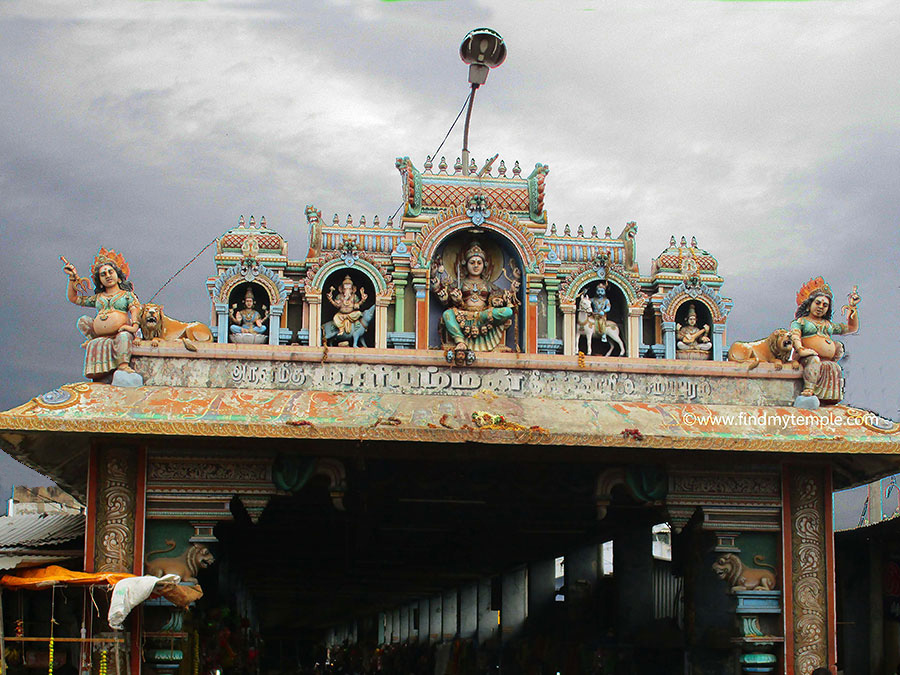 Main Diety : Mariamman
Temple Tree : Neem (Botanical name: Azadirachta indica)
Prominence of the Shrine : Devi here is called as "Samayapurathal" she saves the devotees at the instant (Instance-Samayam in Tamil). For the welfare of the people Ambal herself observes fast and penance. The devotees spray flowers on her for the successful completion of the penance. This is celebrated as "Poochoridal". This penance of Ambal is known as "Absolute Fasting Penance" (Pachchaipattini Viradham). For the first 28 days of 'Poochoridal', solid food is not offered to Ambal. She is offered tender coconut, Cane juice, Jaggery soup, thin buttermilk only.
Temple History : Magisha was the offspring of Demon king Ramba and Buffalo Queen. He became intoxicated with pride consequent on the boons granted to him as a result of his long held penance. He rose against the Devas and subdued them. The seven worlds dreaded to hear his name. Goddess Durga was out to save the Devas. She observed tough penance and fought with Magisha for nine days and killed him. She was hailed 'Magishasura Mardhini' as a result. In order to mitigate the anger and to transform her frightful appearance, Magishasuramardhini decided to observe penance. She reached Srirangam temple. The temple priests at Srirangam who were unable to bear the pulsating rage of Devi, begged with her to move to a place not frequented much by people. Accordingly, Devi went to Samayapuram on the banks Cauvery. There she sat under a neem tree. Calling herself 'Gowmari' Devi adorned herself with yellow clothes and concealed herself in soft flowers. She observed penance with fasting. The rage subsided. People in the vicinity raised a temple for her and began to worship her. Devi became Mariamman in this temple offering blessings to all the people around.
Architectural Profile : A certain king of Vijayanagaram, while he was on an invasion of South, worshipped Mariamman and won the war. To fulfil his vow, he built a temple for Gowri with lofty walls and enshrined the supporting deities of Vinayaka and Karuppanna Swamy.
Temple Timings : 5.30 am to 8.45 pm.
Pooja Details :Ushat Kalam : 6.00 am.
Kala Santhi : 8.00 am.
Uchchi Kalam : 12.00 noon.
Saya ratchai : 6.00 pm.
Second Period : 8.00 pm.
Artha Jamam : 9.00 pm.
Golden Chariot : 7.00 pm.
Nearest Town : Trichy.
Address : Arulmigu Mariamman Thirukoil,
Samayapuram .
Trichy District – 621 112.
Telephone Number : 0431 –2670460.
Hotels Near Mariamman Temple, Samayapuram :
1. Mathura Hotel, (13 km from Temple)
No 1, Rockins Road, Tiruchirappalli Townhall,
Trichy - 620002, Opposite Central Bus Stand Contonment
Tel : +(91)-431-2414737, +(91)-9894558654.
2. Mayavaram Lodge, (15.5 km from Temple)
No 87, Vanapattarai Street, Tiruchirappalli Townhall,
Trichy - 620002, Teppakulam Post,
Tel : +(91)-431-2711400, 2704089
3. Femina Hotel, (21 km from Temple)
109, Williams Road, Tiruchirappalli 620001,
Hotel Area: Trichy Central Bus Stand / Railway Junction Area,
Tel : 0431 - 2414501.
4. Hotel Rockfort View, (12.8 km from Temple)
05, Odathurai Road | Chinthamani, Tiruchirappalli 620 002.
Mobile: +91 740 2713466.
Tel : +91 431-2713466.
5. Grand Gardenia, (20 km from Temple)
22-25 Mannarpuram Junction,Trichy-620020,
Mobile : +91 95856 44000.
Tel : +91 431 4045000.
Restaurants Near Mariamman Temple, Samayapuram :
1. Ragunath Restaurant, (13.6 km from Temple)
College Road, Tiruchirappalli.
2. Parthasarathy vilas, (11 km from Temple)
Vegetarian / Vegan Restaurant
Kondayam Pettai Agraharam, Thiruvanaikoil, Trichy 620005.
1 1 1 1 1 1 1 1 1 1 Rating 3.36 (233 Votes)
Driving Direction & Temple Location