Amirdhagadeswarar Swamy Temple
Thirukadaiyur, Nagapatinam District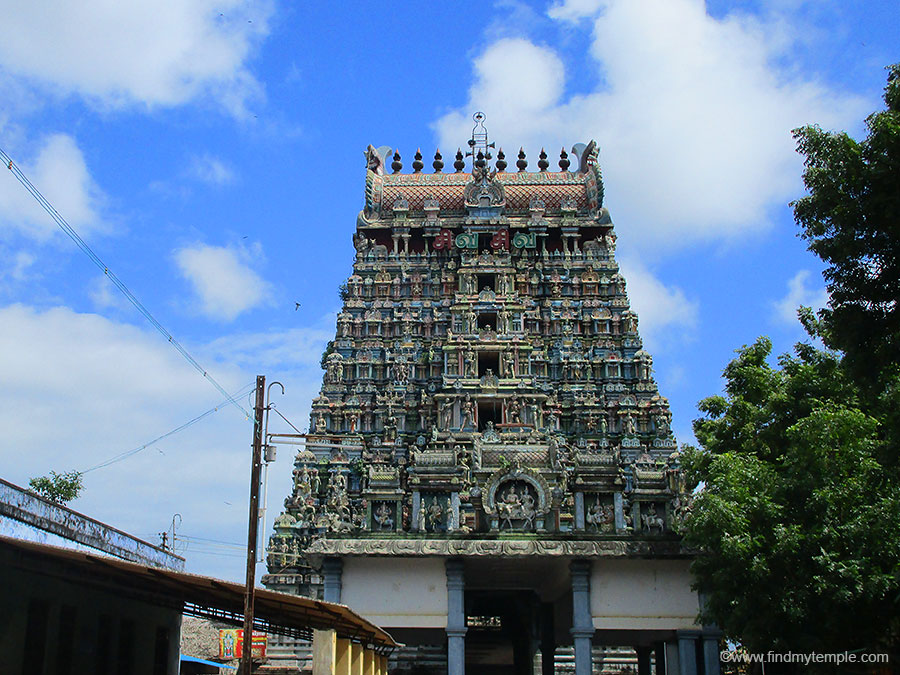 Main Diety : Sri Amirdhagadeswarar Swamy

Ambal : Sri Abirami Ammai

Other Deities : Kala Samhar Moorthy, Kallavaaranam Pillaiyar, Yaman, Markandeyar, Nataraja, Kungiliakkalaya Nayanar
Holy Water : AmirdhaTheertham, Sivagangai

Temple Tree : Vilvam

Prominence of the Shrine : Lord Shiva killed yama to save his devotee Markandeya on this location. At the request of Markandeya, Ganga Theertham appeared at the grave yard of Thirukkadavur. Brahma was offered Gnana Upadesam here. Bhoomadevi was showered with grace here. Goddess Abhirami changed Thai Amavasai (New Moon Day) into Pournami (Full Moon Day) for Abhirami Pattar. To be blessed with a long life, Shashtiapthapoorthi (completion of 60 years) and Sadhabhishegam (Completion of 80 years) are held every day here. People all over india visit here to conduct their 60th or 80th year marriages on this sacred temple.

Who worshipped here : Agathiar, Pulatheeswarar, Vasugi, Dhurgai, Brahman, Yaman, Markandeyar, Karinayanar, Kungiliyakalaya Nayanar

Poets who sang its praise : Thirugnanasambandar, Appar, Abhirami Pattar

Temple Timings : 6.00 am to 1.00 noon - 4.00 pm to 9.00 pm

Pooja Details : Six times a day

Temple Festivals : 18 day Brahmotsavam in the tamil month of Chithirai.
1008 Sangabhishegam has been held every Monday on tamil month "Karthigai".
Aadipooram in Tamil month of "Aadi",
Navarathri Vizha in Tamil month of "Purattasi".

Nearest Town: Mayiladuthurai
Address : Sri AmirdhagadeswararTemple, Thiruladaiyur (Po.), Tharangakbadi (Tk.), Nagappattinam (Dt).
Telephone Number : 04364 – 287429
---
Team FindMyTemple provides services to devotees visiting Thirukadaiyur. We help arrange travel, stay and rituals. Click here for more information or submit your request by clicking the button below.
---
Hotels Near Amirdhagadeswarar Swamy Temple, Thirukadaiyur :
1.HOTEL KANAKABHISHEGAM

No 6, Sannathi Street,

Thirukadaiyur - 609311.

Phone : +91 4364 287191 / 92 / 93"

2.HOTEL SADHABISHEGAM

# 6/18A, Sannathi Street, Thirukkadaiyur

Nagapattinam District, Tamil Nadu - 609 311

Telephone : +91 - 4364 - 287413, 287513,

Mobile : +91 - 97894 97762"

3.Hotel Mookambigai Residency Thirukadaiyur Main Road

Thirukadaiyur

Tharangabady T.K

Nagapattinam Dist, Pin - 609311

Phone; 04364-287515; 287748;287749;287750

Mobile:+91- 9364387750
4.ABIRAMI RESIDENCY

Mela Veedhi,Thirukadaiyur - 609 311.

Phone : 04364 287065, 287066

Mobile : 98840 87065, 94449 27650,98840 87085, 98840 87067
Restaurants Near Amirdhagadeswarar Swamy Temple, Thirukadaiyur :

1.Abirami Restaurant
Thirukadaiyur Main Road, Thirukadaiyur
Tharangabady T.K,

Nagapattinam Dist, Pin - 609311

Phone: 04364-287515; 287748;287749;287750

Mobile:+91- 9364387750
1 1 1 1 1 1 1 1 1 1 Rating 3.38 (238 Votes)
Driving Direction & Temple Location