Devaraj Swamy Temple (Varadaraja Perumal Temple)
Vishnu Kanchi -

Kanchipuram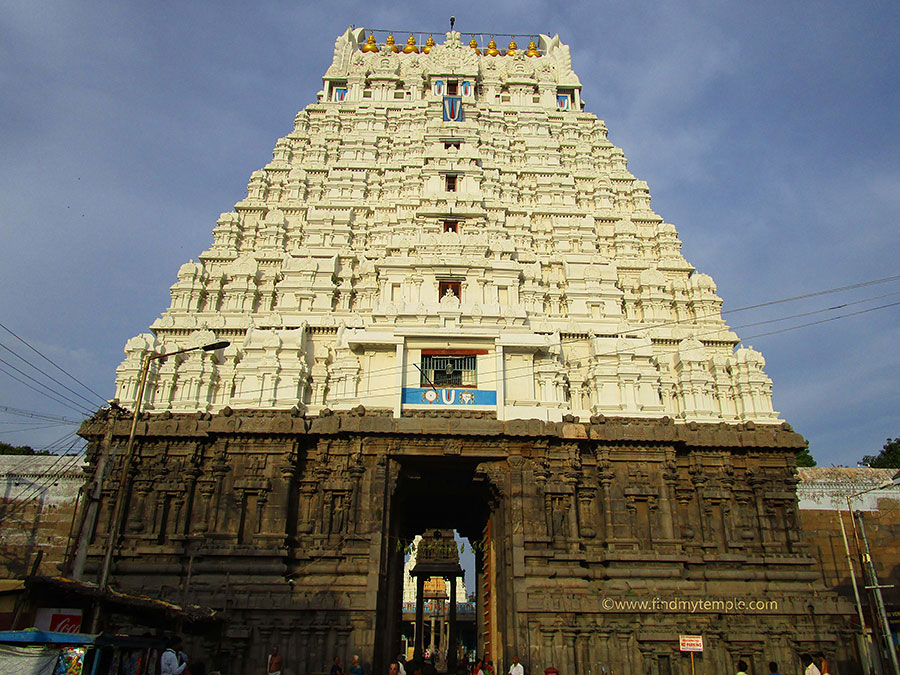 Main Deity : Varadaraja Perumal.

Ambal : Perundevi Thayar.

Holy water : Vegawathi River, Ananda saras etc.,

Vimanam : Punniyakodi Vimanam.

Mangalasasanam : 1. Thirumangai Azhwar, 2. Boodhathazhwar, 3. Peyazhwar.
Construction : The Rajagopuram of this temple faces west. It is centrally located in the south part of Kancheepuram. Moolavar Varadaraja Perumal graces the devotees in his standing posture facing west. Perundevi Thayar graces the devotees facing east.
Temple History : Varadaraja Perumal temple is the most celebrated among the Dhivya Desams in Thondai Nadu.When the name Kanchi is spelt three things strike our mind instantly: They are 1) The silk sari 2) Sri Ekambaranadhar temple and 3) Varadharaja Perumal Temple.
Once the Trinity performed a yaga for the well being of the world. The Devas who participated in the yaga were offered what all they wanted by Mahavishnu. Hence Mahavishnu was given the name Varadar. On the day Lord Vishnu appeared with Conch, Chakra and Gadha on Punniyakodi Vimanam and accepted his share of offerings. It was on the Thiruvonam of Chithirai that Sriman Narayanan appeared here. The Devas entreated Sriman Narayanan to visit regularly on this day and Sriman Narayanan accepted it.
Vaiya Maaligai Lizard : Heman, Suklan were the sons of the sage Srungibarer. They learnt all arts with Gowthama sage. They were engaged in bringing flowers , theertham and fruits for the Vishnu Pooja. One day they kept the vessel containing theertha with a lid on it. Accidentally a lizard fell into it. They handed over the vessel to the sage without knowing that a lizard had fallen into it. As the sage received the vessel, the lizard jumped out of it and disappeared. The sage became wild, and cursed them to turn into lizards. The two fell at the feet of the sage and begged for salvation. The sage regained himself and told them that when Indira would come there in the form of an elephant (Gajendran) to worship varadar, the curse would go off.
Heman, Suklan came to this shrine and outside the sanctum sanctorum on the northeast spent their time as lizards. When the time drew near, Gajendran entered His temple; the curse of the two was withdrawn. Inside this temple the following sannidhis are located separately.
1. Azhagiya Singar Sannidhi.
2. Sakkarathazhwar Sannidhi.
3. Dhanvandri Sannidhi.
4. Valampuri Vinayagar Sannidhi.
5. Thiruvanandazhwar Sannidhi.
6. Karumanicka Varadhar Sannidhi.
7. Malayala Nachiar Sannidhi.
Athi Varadhar : In this temple, in the tank of the outside corridor, a statue of varadar made of fig (athi tree) wood is immersed in the reclining posture. It is taken out once in 40 years and poojas are performed and it is kept outside the tank for 48 days for public darshan. In 1979 it was taken out and kept outside the tank for public darshan.
Temple Timings : 7.30 am to 12.30 noon - 3.30 pm to 8.30 pm.
Nearest Town : Kanchipuram.
Temple Address: Sri Devarai Swamy Temple (Sri Varadharaja Perumal Temple), Vishnu Kanchi - Kanchipuram, Kanchipuram District.
Telephone No : 044- 2726 9773.
Hotel Near Devaraj Swamy Temple (Varadaraja Perumal Temple), Vishnu Kanchi :
1. GRT Regency-Kanchipuram,
487, Gandhi Road, Kanchipuram 631502, India
Ph: +(91)-44-27225250, +(91)-9940184251
2. MM Hotels,
No. 65 - 66, Nellukara Street, Kanchipuram 631502, India
Ph: +(91)-44-27227250, +(91)-8098827250
3. Hotel Baboo Soorya,
No 85, East Raja Street, Kanchipuram Ho,
Near Kamakshi Amman Temple,
Kanchipuram - 631501, India
Ph: +(91)-44-27222556, +(91)-9597121214
Restaurant Near Devaraj Swamy Temple (Varadaraja Perumal Temple), Vishnu Kanchi :
1.Saravanaa Bhavan,
66, Annai Indhira Gandhi Street,
Kanchipuram 631502,India
Ph: 4427226877
2.Hotel Saravana Bhavan,
504, Gandhi Road | Near Indian Overseas Bank
Kanchipuram 523230
Ph: 044 27222505
3. Haritam,
NH-45 Thenpakkam Village,
Kanchipuram 603301, India
Ph:44 27522336
1 1 1 1 1 1 1 1 1 1 Rating 3.36 (233 Votes)
Driving Direction & Temple Location