Thenupureeswarar Temple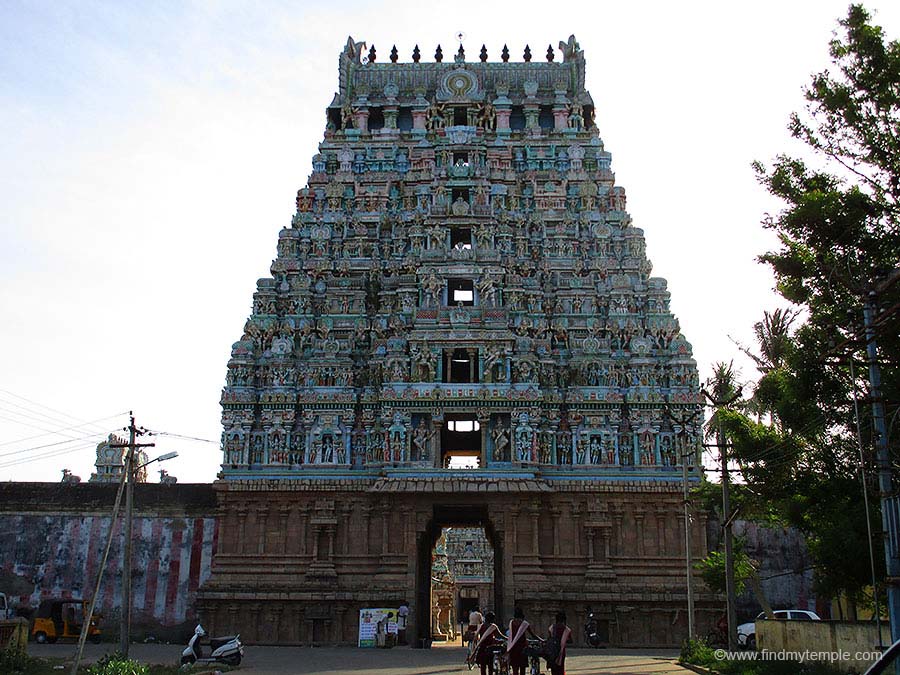 Main Deity : Sri Thenupureeswarar.
Ambal : Sri Gnanambigai.
Other Deities : Murugan, Ramar, Madhavaranappilliar, Saptha Kanniyar, Durgai, Mahalingam, sambandar, Bairavar.
Holy Water : Gnana Theertham.
Temple Tree : Vanni Tree.
Prominence of the shrine: Durga Devi at this temple is very powerful and famous. Goddess Parvathi Devi wanted to do penance without any disturbance and she chose this place to perform the same. Lord Shiva appeared to her with his long hair is a specialty.
Towards the northern side of the temple, dedicated Sannidhi is there for Goddess Durga Devi. Though the main god is Shiva (Thenupureeswarar) Goddess Durga here is very powerful and she looks calm and grace.Sage Viswamithra was honored with 'Brahma Rishi' title here only. Rama got 'Sayahathi Dosha' due to his killing of Vali (king of monkey kingdom) and he created a Temple Theertha (named Kodi Theertham) using his arrow. Later he worshipped Lord shiva using the water from Kodi Theertham to get rid of the 'Sayahathi Dosha'. There is a linga at this temple called 'Ramalinga' which was originally incarnated by Lord Ram.
As per another story, There was a Brahmin called Dharmasharma who was cursed to become a dog by a sage called Medhavi. He came here and got his original human form back after touching the water from the Theertham here. That Theertham is called as Ghanavavi Theertham.
There are five Nandis on this temple. Usually 'Nandi' is straight in front of the Lord Shiva in all other temples. Here all the five Nandis are located slightly aside and not in straight line to Lord Shiva. Once the Sage Thirugnana Sampanthar after worshipping Thiruvalanchuzhi, Pazhayarai, Metrtrali and Thiruchaththi temples arrived here around noon time. He could not bear the afternoon hot temperature. The Lord offered 'Muthu Pandal' (Decorated canopy of Pearls) to Thirugnana Sampanthar to feel comfortable in the hot weather. He also asked Nandi to move away so that the sage can worship him without any disturbance.
Temple History : Ninth to eleventh centuries are considered to be the glorious period of Tamil Nadu during the Chola dynasty. That time though the Chola kings used to rule from Tanjore (Thanjavur) the old ladies and kids of the royal family used to live in Pazhayarai palace ( Today this is small village located 6 Km from Kumbakonam and 2 KM from Patteswaram). Durga Devi was there in the north entrance of the Pazhayarai palace and after the Chola dynasty was over Durga Devi was moved inside the Thenupureeswarar Temple. Patteswaram Durga is worshipped during Raghu Kala, New moon day, Full moon day, Tuesdays, Fridays and Sundays. Durga here is not in ferocious form like any other temple. She is appearing with calm and grace. Usually her vehicle lion used to be in the right direction but in Patteswaram Durga is called as "Santha Sorubini" and her vehicle lion is facing left direction. She is appearing with eight hands, and three eyes. She is holding chakra, Conch, Bow, Arrow, Sword and parrot.
Who worshiped here : Patti, Viswamitrar, Markandeyar.
Poets who sang its praise : Thirugnanasambandar.
Temple Timings : 6.00 am to 12.30 noon ---- 4.00 pm to 9.00 pm
Details of Poojas : Six times a day.
Temple Festivals : The first day of 'Aani' marks the receiving of 'Muthu
Pandal' by Gnanasambandar. Special prayers are held on Aadi Fridays. Maargazhi – Amavasai.
Nearest Town : Kumbakonam.
Address : Sri Thenupureeswarar Temple,
Patteeswaram (Po.),
Kumbakonam (Tk),
Tanjore (Dt). Pin : 612 703.
Hotel Near Thenupureeswarar Temple, Patteshvaram :
1.Sivamurugan Hotels(8.9km from Temple)
60 Feet Main Road, | Near New Bus Stand,
Kumbakonam 612 001, India
Ph: 096000 00384
2.Sara Regency (8.9km from Temple)
45/1 Chennai Road, Kumbakonam 612002, India
Ph:082200 05555
3.Quality Inn VIHA (9.9km from Temple)
New Railway Road, Kumbakonam,
Tanjore, Tamil Nadu 612001
Trichy Road, Namakkal
Ph:0435 255 5555
4.Hotel Green Park (9.2km from Temple)
No. 10, Lakshmi Vilas Street,
Kumbakonam, South India - 612001.
Ph :(0435) - 2402853 / 2403914
5.Hotel Vinayaga - Kumbakonam(9.3km from Temple)
132C, Kamaraj Road,
Kumbakonam- 612 001
Tamilnadu, India
Tele : +91 435 240 03 56
Telefax : +91 435 240 03 57
Mobile: +91 822 001 9 122
Reservation No: +91 4296 272 110
Restaurant Near Thenupureeswarar Temple, Patteshvaram :
1.Venkatramanaa Hotel
No 40, TSR Big Street, Kumbakonam HO,
Kumbakonam - 612001, Near Gandhi Park
Ph : +(91)-9442130736
2.Sri Balaji Bhavan
1, Sasthra College Road,
Kumbakonam HO, KUMBAKONAM - 612001
Ph : +(91)-435-2424578
3.Hotel Shanmuga Bhavan
16, Kumbeswarar South Street,
Kumbakonam HO, KUMBAKONAM - 612001
Ph:+(91)-435-2433962
4.Gowri Shankar Hotel
No 47, John Selvaraj Nagar,
Kumbakonam HO, Kumbakonam - 612001
Ph : +(91)-9443131276 ,+(91)-435-2431177
tel : (91)-435-2430736
5.Rayas Garden Restaurant
No 18 Rayas Hotel, Head Post Office Road,
Kumbakonam HO, Kumbakonam - 612001
Ph :+(91)-435-2423170, 2423171, 2423172, 2423173"
1 1 1 1 1 1 1 1 1 1 Rating 3.37 (235 Votes)
Driving Direction & Temple Location