Jambhukeswarar Temple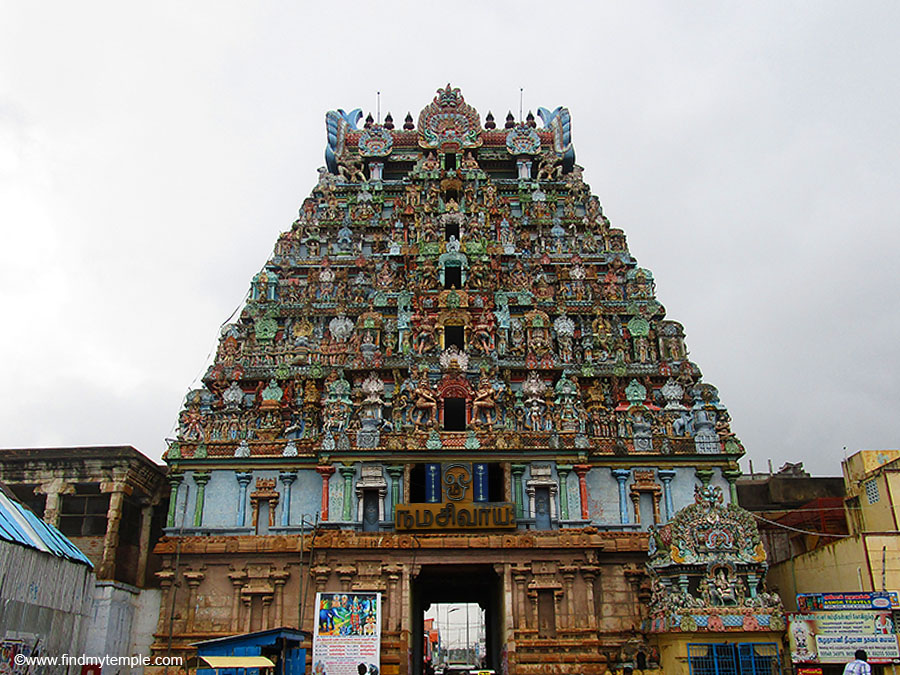 Main Deity : Jambukeswarar (Appulingeswarar)
Ambal : Akilandeswari
Holy Water : Cauvery and Nava Theertham

Temple Tree: Venn Naaval Maram (Jambu, Botanical - Syzygium cumini)

Prominence of the Shrine : Of the five invincible incarnation of Lord Shiva Jambukeswarar is the manifestation of water. Here Goddess Parvathi made lingam out of water and worshipped it. For this reason it is known as 'Appusthalam'. In the sanctum sanctorum water is trickling out eternally. The Lord is also called 'Jambukeswarar' as he is found under the "Vellai Naaval" tree. Here an elephant and a spider worshipped the Lord with utmost devotion. To protect the Lord from the hot sun, the spider spun a web. The elephant unaware of its significance disturbed the spider's web. The infuriated spider entered the trunk of the elephant and killed it and lost its own life too. Thus came the name of this shrine "Thiru Anaikka". Later it became 'Thiruvanaikkaval'. The spider in its next birth was 'Kochengot Chola' and constructed 78 bigger temples. Goddess Akilandeswari here was ferocious in her disposition. To bring down her ferocity and neutralize it, Sri Aadhi Sankara enshrined an idol of Lord Vinayaga in front of Goddess Akilandeswari, and adorned her ears with ornaments known as 'Thaadangam'.
As in Madurai, Lord Shiva performed his spiritual pranks (Thiruvilayadal) in the form of a Siddhar. The king who ruled over this region was engaged in constructing the fifth protective wall. Unfortunately he had to engage himself in a battle. The king was not interested in the battle and he continued with the work. He earnestly prayed to Lord Shiva. Shiva appeared as Vibhuthi Siddhar and helped him complete the construction of the wall. The lofty wall constructed by Lord Shiva came to be known as "Thiruneetran Thirumadhil". The long passage around the walls (pragara) was called "Vibhuthi Pragaram". Even today they are called so. There is a shrine for Vibhuthi Siddhar on the bank of "Brhamma Theertham".
Special details Song : Thirugnanasambandar Thevaram

Temple Timings : 6.30 am to 1.00 pm, 3.00 pm to 9.00 pm
6.00 am to 9.00 pm (on Fridays,Saturday,Sundays and on day marking festivals).

Pooja Details : Five times a day. The Pooja for noon (uchchikala Pooja)
11.00 am to 12.00 noon.
Temple Festivals : Aadi Velli (Fridays in Tamil month of Aadi),
Float festival in Aadi,
Navarathri (nine nights),
Float festival in Thai, Car festival in Panguni, Panchpragara festival.

Nearest Town : Trichy.

Address : Arulmigu Jambukeswarar Akilandeswari Temple,
Thiruvanaikovil, Trichy – 620 005.

Telephone Number : 0431 – 2230257
Other special details : Architectural profile; The temple was constructed by Kochengat Cholan. At Kailasam, there was a dispute between 'Putpadanthan' and 'Maaliyavan' the two ganas of Lord Shiva. The dispute was who served Lord Shiva more. They cursed each other when the dispute became acrimonious. Maaliyavan became spider and putpadanthan became elephant. They worshipped Lord Shiva here. The spider entered the trunk of the elephant and killed it and Lord Shiva gave "Mukthi" (eternal blessing) to the elephant. The spider was guilty of murder. It was given another birth. The spider was born as a human being, the son of the Chola King Subavedhar and his Queen Kamalavathi. He was Kochengat Cholan. As a sequel to the devotion he had for Lord Siva in the previous birth, he constructed this temple and also other temples with lofty protective walls which would prevent the entry of elephants. In this temple, a sannidhi is made for this king.
This temple has five praharas. 1). Oonjal Hall (Mandapam), 2. Hundred Pillar Hall, 3. Vasantha Hall, 4. Navarathiri Hall, 5. Somaskandar Hall are worth seeing.
Pancha bootha sthalam :
Earth - Kancheepuram
Water - Thiruvanaikaval
Air - Thirukalahasthi (Panchaboothas)
Fire - Tiruvannamalai
Sky - Chidambaram
Hotels Near Jambhukeswarar Temple, Thiruvanaikovil :
1. Mathura Hotel,
No 1, Rockins Road, Tiruchirappalli Townhall,
Trichy - 620002, Opposite Central Bus Stand Contonment
Tel : +(91)-431-2414737, +(91)-9894558654.
2. Mayavaram Lodge,

No 87, Vanapattarai Street, Tiruchirappalli Townhall,
Trichy - 620002, Teppakulam Post,
Tel : +(91)-431-2711400, 2704089
3. Femina Hotel,

109, Williams Road, Tiruchirappalli 620001,
Hotel Area: Trichy Central Bus Stand / Railway Junction Area,
Tel : 0431 - 2414501.
4. Hotel Rockfort View,

05, Odathurai Road | Chinthamani, Tiruchirappalli 620 002.
Mobile: +91 740 2713466.
Tel : +91 431-2713466.
5. Grand Gardenia,

22-25 Mannarpuram Junction,Trichy-620020,
Mobile : +91 95856 44000.
Tel : +91 431 4045000.
Restaurants Near Jambhukeswarar Temple, Thiruvanaikovil :
1. Ragunath Restaurant,

College Road, Tiruchirappalli.
2. Parthasarathy vilas,

Vegetarian / Vegan Restaurant
Kondayam Pettai Agraharam, Thiruvanaikoil, Trichy 620005.
3. Banana Leaf
Madras Trunk rd ,

Tiruchirappalli,

Tel : 0431-2793287
4. Vasanta bhavan

N. S.B. Road, Tiruchirappalli, India

Tel : +(91)-431-2708282, +(91)-8508204247
1 1 1 1 1 1 1 1 1 1 Rating 3.38 (238 Votes)

Driving Direction & Temple Location