Tharugavaneshwarar Temple
Thirupparaithurai, Trichy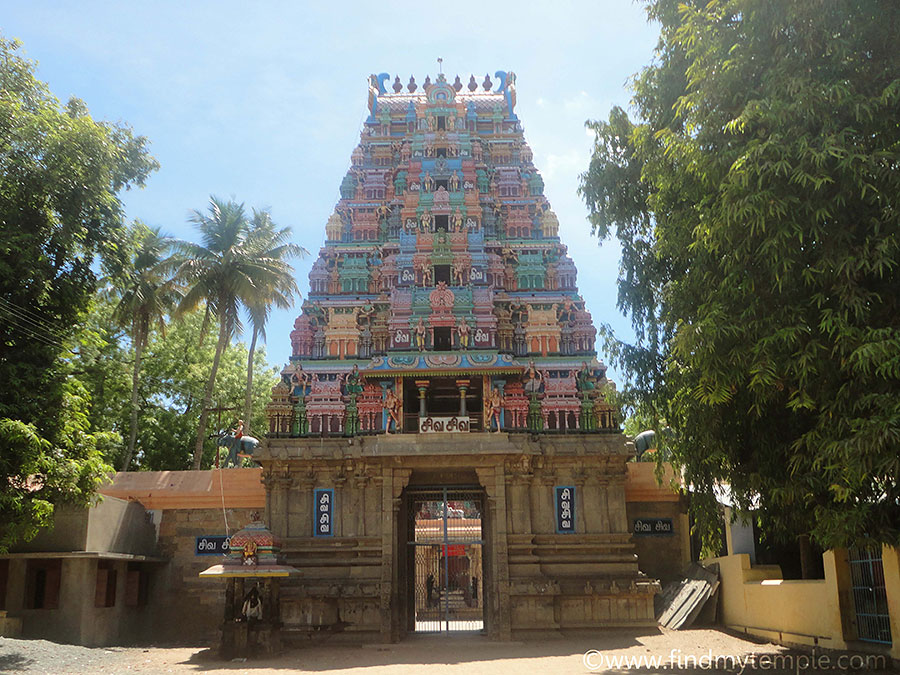 Main Deity : Tharugavaneshwarar [ Paraaithurai Nathar ].
Ambal : Hemavarna Ambigai [ Mayilaambigai ].
Other Deities : Valampuri Ganesh, Arupathu Moovar, Somaskandar, Maha Ganapathy, Panchabhoodha Lingas, Arumugar, Bhikshaadanaar, Brahma, Dakshinamoorthy, Artha Nareeswarar, Durga, Gajalakshmi, Saptha Kanniyar.
Holy Water : River Cauvery.
Temple Tree : Paraai Tree.
Prominence of the Shrine : Since the Lord had risen in the Paraai tree forest, this shrine is named as 'Paraaithurai'. This place also has the name 'Thaarukavanam'. [Paraai tree is called as 'Thaaruka Vruksham' in Sanskrit.] It is believed that the Paraai tree has the specialty of healing a few types of skin diseases which cannot be cured easily. This shrine belongs to the seventh century – during the Chola Era. Long ago, the "Tharukaavana Munivargal" excelled in their chastity and thus got many laurels, boons and powers. But they were filled with pride and arrogance that they thought that all their powers were because of the penances, Velvis and Yagnas that they performed. They thought that they were equal to God.
They did not respect the temples and began to consider the places where they lived as temples. Seeing this, the other Rishis went and appealed to Lord Shiva. Lord Shiva, who wanted to teach a lesson to the Tharukaavana Saints, called Lord Vishnu and asked him to refrain the saints from their chastity by going to them in the form of Mohini. Lord Vishnu went in the form of Mohini and enchanted the saints, made them break the yagnas and lose their self – control. At the same time, Lord Shiva transformed himself into a handsome youth and went to the saints' wives, talked with them, made them mesmerized by his beauty and spoiled their chastity and virginity.
The Tharukaavana saints who came to know of this deed of Shiva started a "Velvi "(type of yagna) to show him that they were more powerful than the Lord. They created a few tigers, deer and snakes from the burning Homa Kundalam in the Velvi. They sent the animals to kill the God Shiva. Shiva killed all the tigers and used their skin as dress. He caught hold of the deer in his left hand, killed the snakes and put them as a garland around his neck.
Next, the Tharukaavana Saints sent many "Bhootha Ganangal" but Shiva killed them in a matter of seconds. The saints were frightened by this. They realized that they were not equal to God but inferior to God and pleaded God to forgive them for their arrogance. Lord Shiva forgave them and appeared before them. Later a temple came into existence there. Lord Shiva appeared there by himself [ Swayambu Lingam ] and came to be known as "Tharukaavaneshwarar" and "Paraaithurai Nathar" facing towards the East. The Goddess came to be known as "Pasumpon Mayilaambikai", "Hemavarnaambikai" facing the North.
Temple History : In the Navagrahams present here, only Lord Saneeshwara has a Vaahanam, the remaining Gods dont have Vaahanams. After entering the temple, one can see the Vivekananda Primary School in the "Nooru Kaal Mandapam". Opposite to the Nooru Kaal Mandapam is the temple lake. Before entering the seven level Raja Gopuram [ Vimanam ] we can see Lord Ganesha and further, we can see the Nandhi Mandapam. There is a place to offer the animal and a flag hoist which is covered by copper. The Nandhi in the Nandi Mandapam Pillars were praised and sung by Sampanthar, Thirunavukarasar, and Manikkavasagar. Their statues can be found in the pillars.
In the wall close to the Vimanam, it is written that five towers can be seen from that point. As written, if we stand in that place, we can view 5 towers including the Main Raja Gopuram. Excluding the Moolavar, we can see the Valampuri Vinayagar, Saptha Kanniyar, Arupathu Moovar, Somaskandar, Maha Ganapathy, Panchabhoodha Lingas, Arumugar, Bhikshaadanaar, Brahma, Durga, Gaja Lakshmi, Dakshinamoorthy, Artha Nareeswarar, Navagrahas, and other Gods.
Every year in the first day of Aippasi month devotees take a holy dip in the Kaveri River. Doing the first "Moozhukku" [dip ] here on the first day of Aippasi and taking the last Moozhukku on the last day of Aippasi in the Cauvery river of Mayiladuthurai is considered to be very auspicious. In the stone carvings, this shrine is mentioned as "Utthama Seevi Chathur Vedhi Mangalatthu Thirupparaai Thurai" and the God is called as "Paraai Thurai Mahadevar" and "Paraai Thurai Parameshwaran".
In thIn
People who worshipped here : ThaThaarukaavana Munivargal [ Saints ].
Poets who sang its praise : Sambandhar, Thirunavukkarasar, Maanikkavasagar.
Temple Timings : Morning 8:00 AM to 12:00 Noon, Evening 4:00 PM to 08:00 PM
Nearest Town : Thirupparaaithurai, Tiruchirappalli.
Address : Arulmigu Tharugavaneshwarar Temple,
Thirupparaithurai, Tiruchirappalli.
Hotels Near Tharugavaneshwarar Temple, Thichy :
1. Mathura Hotel,
No 1, Rockins Road, Tiruchirappalli Townhall,
Trichy - 620 002, Opposite Central Bus Stand Contonment
Tel : +(91)-431-2414737, +(91)-9894558654.
2. Mayavaram Lodge,

No 87, Vanapattarai Street, Tiruchirappalli Townhall,
Trichy - 620002, Teppakulam Post,
Tel : +(91)-431-2711400, 2704089
3. Femina Hotel, (25 km from Temple)
109, Williams Road, Tiruchirappalli 620 001,
Hotel Area: Trichy Central Bus Stand / Railway Junction Area,
Tel : 0431 - 2414501.
4. Hotel Rockfort View, (16 km from Temple)
05, Odathurai Road | Chinthamani, Tiruchirappalli 620 002.
Mobile: +91 740 2713466.
Tel : +91 431-2713466.
5. Grand Gardenia, (23.8 km from Temple)
22-25 Mannarpuram Junction,Trichy-620 020,
Mobile : +91 95856 44000.
Tel : +91 431 4045000.
Restaurants Near Tharugavaneshwarar Temple, Thichy :
1. Ragunath Restaurant,

College Road, Tiruchirappalli.
2. Parthasarathy vilas,

Vegetarian / Vegan Restaurant

Kondayam Pettai Agraharam,
Thiruvanaikoil, Trichy 620 005.
1 1 1 1 1 1 1 1 1 1 Rating 3.37 (235 Votes)
Driving Direction & Temple Location