Subrahmanya Swami Temple
Pazhamuthircholai, Madurai District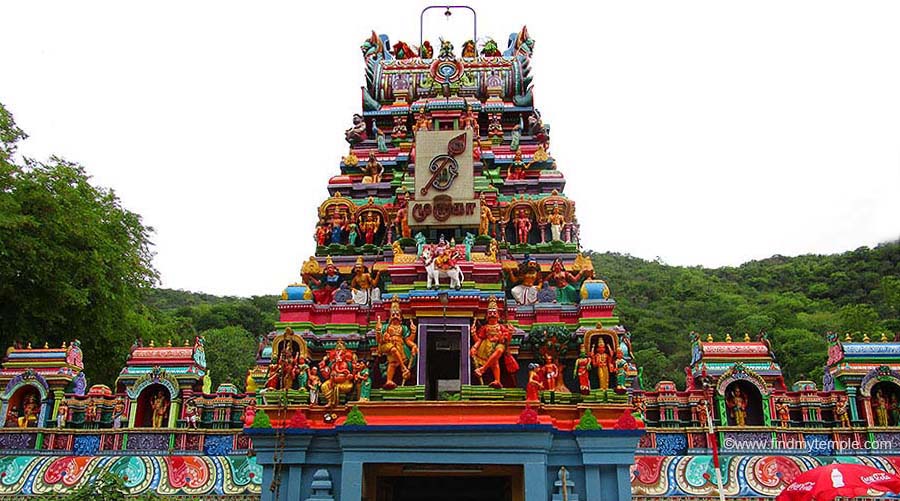 Main Deity : Sri Subrahmanya Swami
Ambal : Valli, Deivanai (Devasena)
Holy Water : Noopura thankai
Temple Tree : Naval
Prominence of the Shrine : Famous as the 6th shrine of the famous 'Arupadai veedu'; the most auspicious 6 shrines of Lord Subrahmanya (Muruga); Believed to provide enlightenment, knowledge and wisdom to those who worship the Lord here.
Temple History : As per the belief, it is here, near the Naval tree, that Lord Muruga enlightened His famous Tamil devotee, 'Avvai' who was crazy of love and affection towards Him as a kid, and used to sing His fames. The story goes as follows:
Once Avvai was proceeding towards Madurai by foot. Damn tired of the long walk and the hot sun, she sat under the shade of the Naval tree. The Lord appeared in the disguise of a boy raring cattle, and sat the Naval tree, eating its delicious fruits. He asked Avvai "why grandma, you appear to be so tired. Do you need Naval fruits to get relief?" Glad to hear this, the old woman immediately replied in the affirmative. On hearing this, the Lord asked her again "Grandma, you need Hot fruits (சுட்ட பழம்) or cold fruits (சுடாத பழம்)?" Without realizing the inner meaning, Avvai requested to give her சுட்ட பழம் (meaning ripe fruit). Hearing this, the boy (Lord) shook the tree branches. The fruits fell on the ground. The old women took them, and to remove the sands sticking on it, puffed with her mouth. Seeing this, the boy mischievously and jokingly asked her. "Why Grandma, is the fruit really hot? Then eat it after it cools down". Then the wisdom struck Avvai.She realized that all the living beings can be compared to fruits in this world. The sand around the fruits is equivalent to our craze for material things and affection towards human beings. To remove that affection Avvai realized not only the educated knowledge is enough and the need of spiritual importance.
Temple Timings : 7 am to 7 pm.
Temple Festivals : Tamil New year; Vaikasi Vishakha; Aadi Krithikai; Aavani Pooram + annual Pradosham; Skanda Sashi; Mondays in the month of Karthikai; Day of Karthikai month when the krithika star occurs (thrukkarthikai); Painkuni Uthram.
Nearest Town : Madurai
Address : Sri Subrahmanya Swami Thirukovil, Cholai Malai (Pazhamuthircholai), Azhakar kovil- 625301. Madurai District.
Telephone No : 0452-247 0228
Hotels Near Subrahmanya Swami Temple, Pazhamuthircholai :

1.Fortune Pandiyan Hotel

Race Course, Madurai-625 002,
Tel : 91-452-4356789

Fax : 91-452-2533424

2.THE SPK HOTEL

Luxury Hotel

Address: Lake View Road, Managiri, KK Nagar,
Madurai, Tamil Nadu 625020

Phone:0452 255 5777.

3.Heritage Madurai,

11, Melakkal Main Road,

Kochadai, Madurai 625 016, India.

Tel : + (91) 452 2385455 ,+(91) 452 3244185

Fax : + (91) 452 2383001

4.sangam Hotel, Madurai

Alagarkoil Road, Madurai – 625002

Tel : 91-452-4244555 / 2537531

Fax: 91-452-2537530"

5.Star Residency

No 43 & 44, Collector Office Road,

Near Anna Bus Stand,

Near Aravind Eye Hospital,

Madurai - 625020.
Tel : +91 - 452-4343999,+91 - 452-4343970
Restaurant Near Subrahmanya Swami Temple, Pazhamuthircholai :
1.Hotel Supreme
No. 110, West Perumal Maistry Street,
Madurai, Tamil Nadu 625001
Ph: 0452 234 3151
2.Surya Roof Top Veg. Restaurant
110, West Perumal Maistry Street
Madurai - 625001
Phone No :- +91 452 2343151 (3 lines), 3012222
Fax No :- +91 452 2342637
3.Adyar Anandha Bhavan
285, Kamarajar Road, Mahal Area,
Madurai Main, Madurai,Tamil Nadu 625009
Ph : 044 2345 3045
4.Sree Mohan Bhojanalay
No 33, Dhanappa Mudali Street, Madurai Ho,
Madurai - 625001, Opposite To Hotel
Ph : + (91)-9943323221, 9442751870
Tel : +(91)-452-2346093
1 1 1 1 1 1 1 1 1 1 Rating 3.36 (233 Votes)
Driving Direction & Temple Location