Kaliyuga Varadharaja Perumal Temple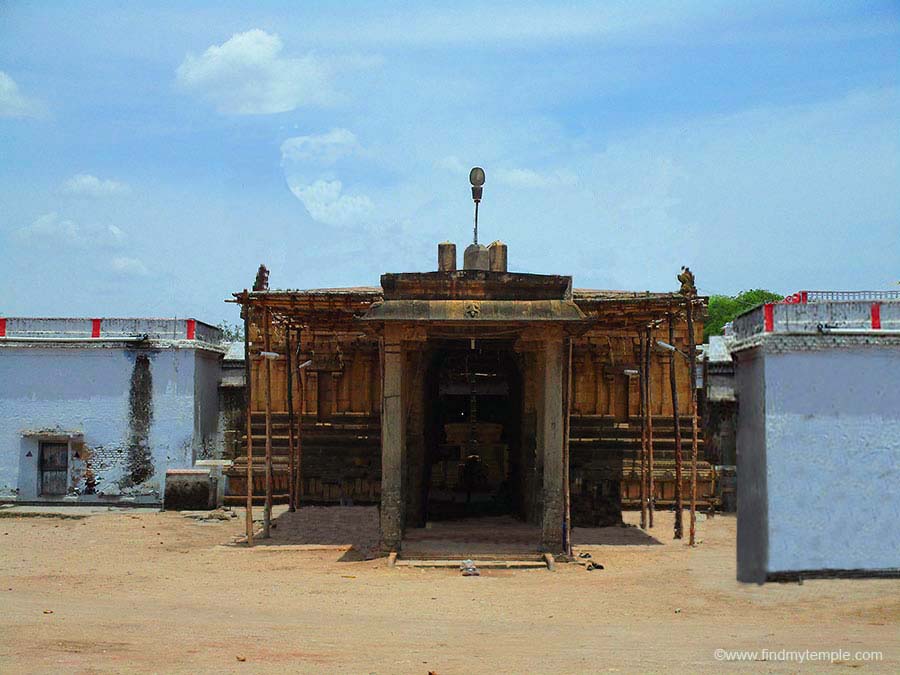 Main Deity : Kaliyuga Varadharaja Perumal(Vishnu)
Ambal : Sridevi; Bhoodevi.
Temple Tree : Maha linga tree.
Prominence of the Shrine : At the main karpagraha, a twelve foot mast is borne by lord looks similar to Anjenaya(Hanuman). This is considered as Moolavar (main deity) and poojas are performed. There are no separate idols for the god around however there are other idols who built the temple.
Temple History : Gopalan, devotee from a 'vanniyar caste'( A type of caste in Tamil nadu) was living at in Ariyalur some 250 years ago. His son name was 'Mangaan'. He was running a cow farm. One day a beautiful cow which was Pregnant was lost while grazing. Gopalan was in grief as the cow could not be traced even after three days.
On the third day, Mangaan had a dream at night in which the lord told him that his cow was there at a grove at about 2km west between two trees- Aala maram (Banyan tree) and maha linga tree. There among the bush his cow with the calf could be found. The following day Mangaan went there and saw the cow which ran to him crying . Mangaan saw at the site where his cow and calf has stayed, mangaan and his servants touched the mast (flag post) and worshipped it.
After seven days Mangaan had an another dream, the lord said, "You have found and worshipped something which could not have been had even after 8 thousand years of penance, I am real. You dropped me and took away the materialistic cow. How ignorant you are! you are not aware of the relationship your fore fathers had with me, your fore fathers who were living in seedhalavadi, wanted to build a temple for me (Vishnu) and they brought a stone mast which they abandoned on the way as the axle of the cart they were bringing me in was broken. That mast is what you saw. Don't worry. It is your right to erect the mast. Erect it and worship me every day. To make you realize these I hid your cow. I have appeared to remove the worries of living beings of Kali Yuga. My name is kali Yuga Perumal". Mangaan built a temple there and started to worship. The temple is today kallankurichi Kali Yuga Varadharaja perumal temple.
Temple Timings : 6.30 am to 12.30pm and 3.00pm to 9.00 pm.
Nearest Town : Ariyalur.
Address : Sri kaliyuga Varadharaja Perumal temple, Kallankurichi 621 705. Ariyalur Dt.
Hotels Near Kaliyuga Varadharaja Perumal Temple, Kallankurichi :
1.Rolex Lodge,
Ariyalur, Tamil Nadu 621704

2.AS residancy,
Ariyalur.

Restaurants Near Kaliyuga Varadharaja Perumal Temple, Kallankurichi :

1.Banana Leaf A/C Restaurant,
Near Collector Office, Min Nagar, Ariyalur
2.Ravi Restaurant A/c,
Sendurai Road, Ariyalur
3.Maruthi Hotel,
Trichy Road, Ariyalur.
Tel : 04329-222622

4.Sri Muniyandi Vilas,
Market Street, Ariyalur,
ph: 04329-221458

5.Sri Ariyabhavan,
Matket Street, Ariyalur,
ph: 04329-221450.
1 1 1 1 1 1 1 1 1 1 Rating 3.37 (235 Votes)

Driving Direction & Temple Location