Nellaiyappar Temple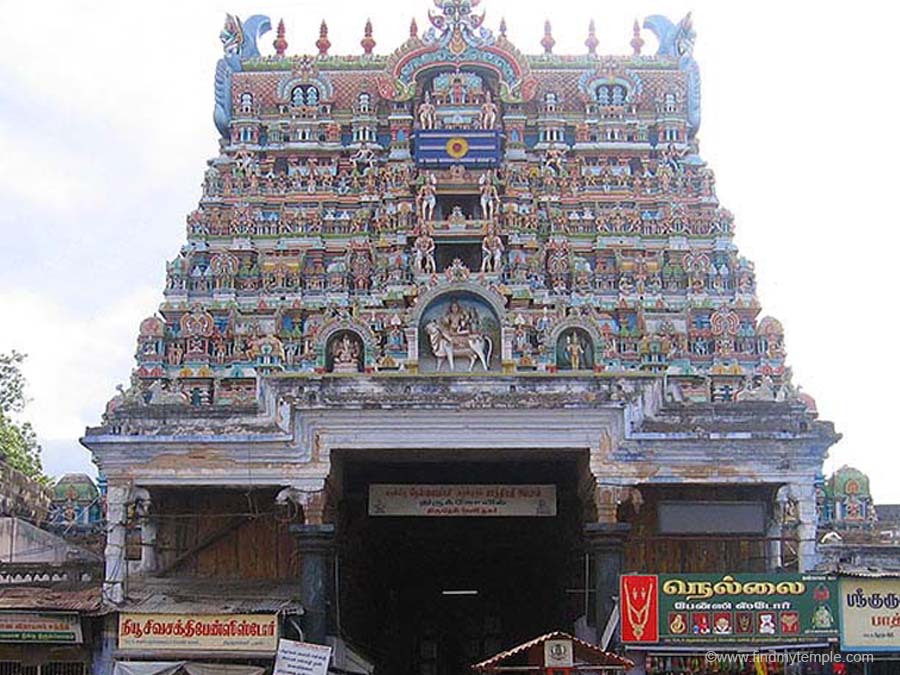 Name of the Temple : Sri Nellaiappar - Gandhimadhi Amman temple.
Main Deity : Nellaiappar.
Ambal : Gandhimadhi Amman.
Holy Water : Potramarai Theertham (Swarna Pushkarani), Kari urumari Theertham (chandra pushkarani), Veli Theppakulam, Sindhu Poondurai included in the 32 Theerthams.
Temple Tree : Moongil(bamboo).
Prominence of the Shrine : The specialty about the Tirunelveli shrine is, Ambal observed penance to protect the world and got the world. The eternal grace of the Goddess Umadevi left mount Kailash and obtained two 'nazhi' (A type of measurement instrument for grains) paddy from the lord and reached a place called "Venuvanam". She observed penance on the banks of Kambai river blessed with eternal form of the lord and married him. The lord granted the beings the "life of pleasure" in his posture as Sakthi and Shiva. He showed the celestial wedding appearance to Sage "Agaththiyar" to instruct the beings the method of observing penance.
The thousand pillar Mandapam (hall): It has one thousand pillars. Here celestial wedding is performed in tamil month 'Aippasi'. This mandapam is 520 feet long and 63 feet wide. On the day of "panguni uthiram" the occurrence called 'offering sengol' is held here. The Lord Ganesha is called here as "Uchistta Ganapati here allures us with his appearance. The mandapam is designed as if it is born by a tortoise. The popular belief is that lord Maha Vishnu himself worships the lord here in the form of a tortoise. This shrine should be worshipped by those born on the 'punarpoosam' star.
Temple History : A Brahmin called vedhasarma obtained paddy by begging and kept them outside for drying them. The paddy was for 'nivedhanam' (offering). The lord protected the paddy being washed away from sudden flood by forming a fence (veli) himself. He was called 'nelveli nathar'. Hence the shrine came to be known as Tirunelveli.
Temple Timings : 5.30 A.M to 12.30 P.M, 4.00 P.M to 9.00 P.M.
Pooja Details : Temple Festivals Festivals are held all the twelve months of Tamil year.
Chithirai- vasantha mahotsavam-16 days.
Vaikasi - visakam
Aani - brahmotsavam; aani peruntherurizha.
Aadi - pooram (10 days)
Aavani - moolam(11 days)
Purattasi - navarathri (15 days with laksharchanai)
Aippasi - thirukalyana utsavam (15 days)
Karthigai - karthigai deepam-somavara thiruvizha (one day)
Maargazhi - thiruvadhinal (10 days)
Thai - poosam (10 days)
Maasi - macha Shivarathrl (one day)
Panguni - uthinam (10 days)
Nearest Town : Tirunelveli.
Address : sri Nellaiappar gandhimadhi amman temple,Tirunelveli-627 006.
Telephone Number : 0462 2339910.
Hotel Near Nellaiyappar Temple, Tirunelveli :
1.Hotel MNH Royal Park,
MNH Jewellers Campus, 64-D, Madurai Road
Tirunelveli Junction, Tirunelveli 627001,
Ph: 0462-2320404, 0462-2324617, 0462-2324618, 0462-2324619
2.Hotel AppletTree,
North Bye Pass Road (near bridge) | Vannarpetai,
Tirunelveli 627003, India
Ph:(+91) 95 95 333 333
3.Sri Bharani Hotel,
29-A, Madurai Road, Tirunelveli Junction
Tamilnadu, Tirunelveli 627001, India
Ph: 0462 233 3234
4.HOTEL AAR ROYAL PARK,
996/1-B, Opp to Green Forest Furniture Mart,
Vasantha Nagar, Near New bus stand,
Tirunelveli 627007, India
Ph: 0462 – 2555900
5.Hotel MNH Royal Park,
MNH Jewellers Campus, 64-D, Madurai Road | Tirunelveli Junction,
Tirunelveli 627001, India
Restaurant Near Nellaiyappar Temple, Tirunelveli :
1.Maruthi Restaurant
Srijanakiram Hotels,Madurai Road | Junction,
Tirunelveli 627001,India
0462-2331941
2.Hotel Nellai Saravana Bhava
Tirunelveli Junction, Town and Palayamkottai,
Tirunelveli 627001,India
0462 233 5917
1 1 1 1 1 1 1 1 1 1 Rating 3.37 (235 Votes)
Driving Direction & Temple Location