Ekambareswarar Temple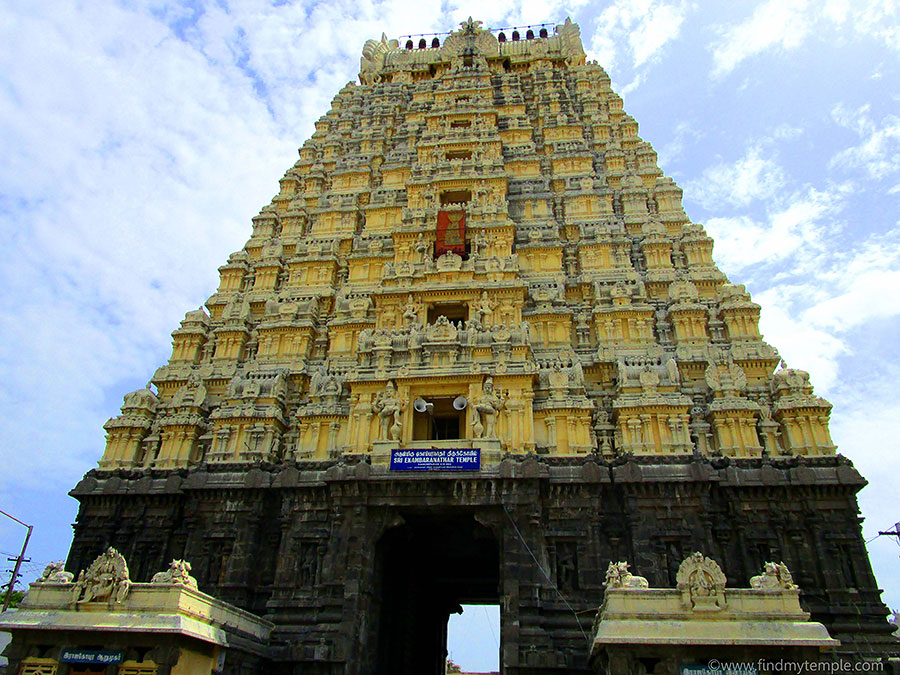 Main Deity :Ekambareswarar ( Lord Shiva)
Ambal: Kamatchi Temple
Holy Water: Shiva ganga Theertham, Kambai Theertham, Karahara Theertham Temple Tree Mango Tree that gives a four different tastes. Four Vedas have been formed as a mango tree here is a mythological belief.
Prominence of the Shrine: Ekambareswarar temple has the highest Tower (Gopuram) in the temple own of Kanchipuram. It has five praharas. One of the specialty of this temple is it has a Vishnu temple named "Nilathunda perumal" which is part of 108 Divya Desams.
This temple was worshipped by Devas and Rishis. Lord Shiva here is in Suyambu (self-made) form made up of mud. Six times a day poojas are performed for this Suyambu Linga. As per puranas when there was a flood in River Kambai Goddess Ambigai hugged the Shiva and married him. As we know, there is no Sannidhi for Goddess Ambigai at this temple similar to other Shiva temples at Kanchi. Kanchi Kamatchi Temple is considered to be the Goddess for all the Shiva temples at this city.
Temple History: Once upon a time Lord Brahma decided to give rebirth to all the Asuras who had died. To realize this wish, he undertook severe penance at Kanchipuram. He created two body guards from Asuras named "Madhu and Kaidabar" and continued his penance. Goddess Parvathi wanted to stop this, for if the Asuras come back to life they would have caused misery to human beings and Devas. She took the form of Maha Vishnu and appeared in front of the two Asura. They didn't realize it was Devi and they obeyed her thinking her to be Lord Maha Vishnu. Parvathi Devi sent her Chakra and it cut the hands of the two Asuras. Brahma who was in a deep penance was disturbed by the ruckus and woke up.
He got very angry as his penance was disturbed and he tried sending his "Brahmasthra"(the very powerful weapon owned by Lord Brahma) to kill Parvathi, who was in the form of Vishnu. Parvathi told brahma that the body guards have been attacked by Shiva who was running behind him and not by her. When Brahma turned back, she took another form of "Rudhra Murthy"(one of the form of Shiva) and started running. Lord Brahma was very confused by seeing the Vishnu and Shiva forms which was originally Goddess Parvathi. So the Shiva which was in north direction become Ekambareswarar temple and in the south direction Vishnu temple was formed which become Varadharaja Perumal temple.
Temple Timings: Morning 6:00 AM – 12:30 Noon, Evening 4:00 PM to 8:30 PM
Nearest Town: Kanchipuram
Address: Sri Kanchi Ekambareswarar temple, Kanchipuram – 631501.
Telephone No : 044-27222084
Hotel Near Ekambareswarar Temple, Kanchipuram :
1. GRT Regency-Kanchipuram
487, Gandhi Road, Kanchipuram 631502, India
Ph: +(91)-44-27225250, +(91)-9940184251
2. MM Hotels,
No. 65 - 66, Nellukara Street, Kanchipuram 631502, India
Ph: +(91)-44-27227250, +(91)-8098827250
3. Hotel Baboo Soorya,
No 85, East Raja Street, Kanchipuram Ho,
Near Kamakshi Amman Temple,
Kanchipuram - 631501, India
Ph: +(91)-44-27222556, +(91)-9597121214
Restaurant Near Ekambareswarar Temple, Kanchipuram :
1.Saravanaa Bhavan
66, Annai Indhira Gandhi Street,
Kanchipuram 631502,India
Ph: 4427226877
2.Hotel Saravana Bhavan
504, Gandhi Road | Near Indian Overseas Bank
Kanchipuram 523230
Ph: 044 27222505

3.Haritam
NH-45 Thenpakkam Village,
Kanchipuram 603301, India
Ph:44 27522336
1 1 1 1 1 1 1 1 1 1 Rating 3.38 (238 Votes)

Driving Direction & Temple Location