Rameswaram Ramanathaswamy Temple Details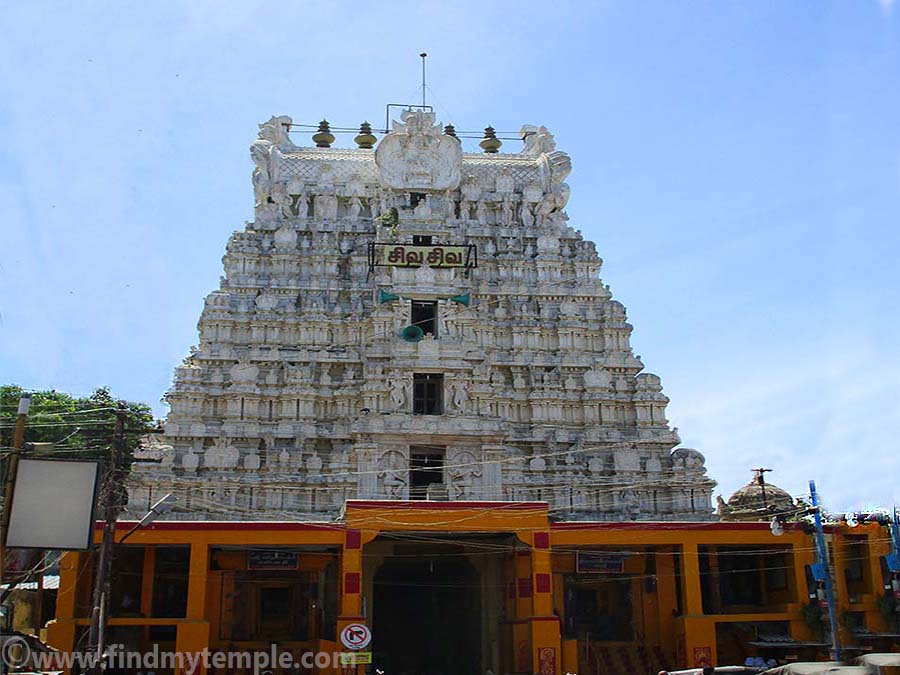 Main Deity : Ramanathaswamy , Ramaligeswarar

Ambal : Parvadha vathini, Malaivalarkadhali, Visalatchi, Sita

Other Deities : Rama, Lakshmana, Hanuman, Ramalingam, Kasi Vishwanath, Nataraja, Perumal, Santhanaganapati, Murugan.

Theertham : There are 22 Holy water bodies in the temple.
1. Mahalakshmi Theertham: We get prosperity if we have holy dip in this theertham.

2. Savithri Theertham, 3. Gayathri Theertham, 4. Saraswati Teertham : Those who have abandoned religious rites and those without descendant will attain Mokhsham if they have dip in these 3 theerthas.

5. Sangu Theertham: Curse of not being gratitude will be cleared.

6. Sakara Theertham: Disabled, blind and deaf will be healed.

7. Sethu Madava Theertham: Rama will give you Lakshmi katatcham and
paranoia power(Sidha sakthi)

8. Nala Theertham: Taking dip in this theertham will make you shine in any field..

9. Neela Theertham: Taking dip in this theertham will make you reach heaven after death.

10. Kavaya Theertham: Taking dip in this theertham will give mental and physical strength.

11. Kavatcha Theertham: Those who takes dip in this theertham will not go to hell.

12. Kandhamadhana Theertham: Those who take dip in this theertham will be relieved from their wretches and get aishwaryam.

13. Brahmahathi Salvation Theertham: People who suffer from doshas, curses and black magic will be redressed from all these if they have dip in this holy theertham.

14. Ganga Theertham:

15. Yamuna Theertham:

16. Gayatri Theertham:
If we take dip in this theertham , we will be redressed from the sin of
all births.

17. Sarva Theertham: Those who are blind from birth and all illness will be cured.

18. Shiva Theertham: If we take dip in this theertham , we will get all pleasures in life.

19. Sathyamrudha Theertham: If we take dip in this theertham, we will be redressed from the curse of the Brahmin and live long life.

20. Sandhira Theertham: If we have dip in this theertham , interest in art will grow.

21. Surya Theertham: We will be redressed from all illness and attain prominent position.

22. Kotti Theertham: Those who take dip in this theertham will attain Mukthi(absence of reincarnation) . Holy water is taken from this theertham for anointing Ramanathaswamy and other deities. After taking dip in this theertham we should not at night in that place is a formality .
Prominence of the shrine : Ramanathaswami Templeis one of the most significant Hindu temples. God worshiped by God is the glory of this temple. This place is located in the Sivasthalas which is praised in Thevaram songs in Pandya Dynasty.Though this temple has history of Ramayana, the current design of the temple is believed to have been built in the 12th century by the Pandya. Both the myth and history of this temple's building are excellent.
Rameshwaram temple is facing east. A large temple located on approximately 15 acres of land. Rameshwaram temple is 865 feet long and 657 feet wide, its eastern tower is too tall. A height of about 126 feet. The tower has a height of about 78 feet to the west.
This temple has gates in all 4 sides but north and south gates are not in use. In this temple, Ramalingam, Kashi Vishwanath parvatavarttini, Visalakshi, Nataraja have cabins separately. Swami's shrine is located towards the east. Ram worshipped Lord shiva in the form of a Shiva Lingam made of earth by Sita Hanuman's tail mark is still seen in this Shivalinga. Kashi Vishwanath temple is located on the left side of Shiva's shrine. This was installed by Hanuman. In the center of the middle mantap deities of Rama, Sita, Lakshmana can be seen. Ahead of them facing south is Anjaneya. Mother Parvatavartini shrine is located to the right of Ramanathan's shrine. Santhana Ganapathy shrine is located in the southwest corner.
Nataraja temple is located in the northeast corner of the courtyard outside. Behind Rananathar temple between 2nd and 3rd courtyard, Sethumadhava temple is located. Every morning at 5:00 am in Ramanatha swamy temple, the crystal Shiva Linga installed by Adhi Shankarar is anointed. Dharshan fee is collected for this. Another speciality of this temple is the 3rd courtyard which has 1212 pillars.This is the longest in the world. This was completed by Muthuramalinga Sethupath between 1740 - 1770 years.
In India there are 12 places where Lord Shiva appears in the form of Torch (Jothi). Rameshwaram is one of them. There are other places in the other 11 states. Vibheeshana who helped Rama was also one of the reasons for Ravana's death. To get redressed from the sin he installed a Lingam and worshipped. Shiva appeared before him and redressed his sin, then he turned into torch (Jothi) and united in this Lingam. So he is called as "Jothirlingam".
Among the Holy places in India, the 4 best places are Badhrinath in north, Jaganath in east, Dwaragnath in north and Ramanath in south. Of these first 3 are Vainava (Vishnu) temples and last is Shiva temple. In this shrine Ramanathar appears as Jothirlingam. Here Lord Perumal's theertham is offered is a special feature.
People who make Kasi , Rameswaram pilgrimage tour, should first take dip in Agni Theertham in Rameswaram and take sand and water. Then they should go to Kasi and mix that sand in Ganga Theertham, then they should anoint Kasi Vishwanathar by Agni Theertham. And bring Ganga Theertham from Kasi to anoint Ramanthar in Rameswaram. Thus pilgrimage tour starts and ends in Rameswaram. If people are not able to go to Kasi, they can anoint Ramanathar with Ganga Theertham which is sold here.
First we have to take dip in the Agni Theertham(sea shore) and then in the other theerthas which is present as wells inside the temple. To prove chastity of Sita, Rama ordered her to enter crucial litmus. For touching Sita ,Agni Bhagavan had a holy dip in this theertham for redressing his sin. So this is called as "Agni Theertham".Rituals for our anscestors are done in this Agni theertham.
Ramanathaswami temple's twenty-two wells are its uniqueness. All of these wells are believed to be built by Lord Rama. The place where bows of Rama fell turned into wells. Though these wells are side by side, each well has its uniqueness. Taste, color, salinity, density of water in the 22 wells varies. Taking holy dip in all 22 theerthams and finally worshipping God will redress you from all your sins and attain salvation.
Rameswaram Temple History
Rama returned from Srilanka after defeating Shiv devotee Ravana in the Ramayana war. Rama and Sita on their way back home, Rama asked suggestion from Sage Agasthiyar to get redressed from Bhramahasti Dosha. Agasthiyar told Rama to worship Shiva Linga in Rameswaram coast. So Rama asked Hanuman to bring Shiva Linga from Mount Kailash. Hanuman brought two Lingas,one for him and one for Rama. Since Hanuman couldnot reach on time, Sita did a Shiva Lingam by the sand on the beach. Rama did pooja and worshipped that Linga on time. As this RamaLinga was worshiped by Rama this is considered to be the main deity of this temple.
Hanuman got annoyed as Rama worshipped Linga before he reached, he tried to pull out the Linga by his tail with full strength. But the tail got cut and he was thrown 37km west from that place. That place is called as "Valandharai".
Then Rama convinced Hanuman and installed Vishvalinga near Ramalinga asked everyone to worship Vishvalinga first and then Ramalinga. The Linga which was brought by Hanuman is called as "Vishvanathar" and it is located left of Ramanathar shrine. Visalatchi has a separate shrine.The 2nd Linga which was brought by Hanuman for himself is placed in the right side of the entrance.
As Rama installed and worshipped Linga(Eswaran) ,this place is called as Rameswaram. This is located in Ramanathapuram district of Tamil Nadu in the Palk Strait. The Lord in this temple is called as Rameswarar, Ramalingeswarar and Ramanathar.
People who worshipped here : Rama, Sita, Lakshmana, Hanuman

Poets who sang its praise : Thirugnanasamandhar, Thirunavukarasar

Rameswaram Temple Timings
Morning 4:30 am to noon 1:00 pm, Evening 3:00 pm to 9:00 pm.

Rameswaram Temple Pooja Details
Six term pooja, Palliarai Dheeparadhanai 5:00 am, Spadihalinga Dheeparadhanai 5:10 am, Thiruvanadhal Dheeparadhanai 6:00 am, Vilapooja 7:00 am, Kalasandhi 10:00 am, Midday pooja 12:00 pm, Sayaratchi 6:00 pm, Midnight pooja 8:30 pm, Palliarai Dheeparadhanai 8:45 pm.

Temple Festivals :
Jun- Ramalinga pratishtai festival,
Jul- Adi Amavasai, Vaikunda Ekadesi,Ramanavami, Tirukkalyana urchavam,
Feb- Maha Shivrathri,
Jan-during Amava Godhandaramar will appear on Garuda vahan in Agni Theertham

Nearest Town : Rameswaram

Temple Address : Ramanathaswamy Temple
Rameswaram, Ramanathapuram District.

Telephone Number : 04573 - 221223 / 221255 / 221292
Hotels Near Ramanathaswamy Temple, Rameswaram
Rameswaram :
1.Hotel Queen Palace,
N.H. Road, Near Bus Stand,
Rameswaram-623526, ph:04573 221 013
2.Hotel Vinayaga,
#5, Railway Feeder Road,Rameswaram,
Tamil Nadu 623526.ph:04573 222 361
3.Daiwik Hotels Rameswaram,
NH- 49, Madurai Rameswaram Highway,
Near Rameswaram Bus Stand,
Rameswaram-623526,ph:04573 223 222
4.Hotel Garish Park,
3, Madurai-Rameshwaram Road,Bharathi Nagar,
Ramanathapuram-623503.ph:094423 22030
Resturant Near Ramanathaswamy Temple, Rameswaram :
1.Hotel Aiswarya Lakshmi,
Ground Floor, NH 45, Madurai-
Rameshwaram Road,Chalai Bazar
1 1 1 1 1 1 1 1 1 1 Rating 3.37 (235 Votes)
Driving Direction & Temple Location