Sundara Raja Perumal Temple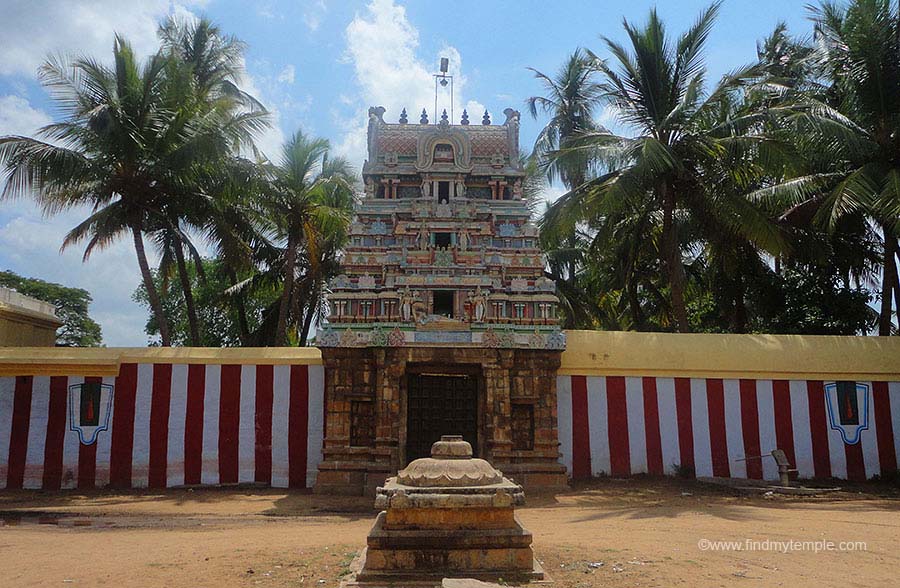 Main Deity : Sri Sundara Raja Perumal(Vadivazhagiya nambi)
Ambal : Azhagiya valli Nachiar.
Holy Water : Maandooga Pushkarani, Kollidam river.
Vimanam : Tharaga vimanam.
Prominence of the Shrine : This temple is 4th of 108 Vaishnava Shrines. The concretion of the temple which was held up for 100 years was celebrated in a grand manner recently. After worshipping this shrine, it is considered auspicious to offer worship at Appakoodathan shrine situated at the other bank. Sage Maandoogan got cursed by the notorious angry sage Durvasa. Maandoogan worshipped at this temple and got cured.
Temple History : Once Lord Brahma ( the creator) thought that he is the sole reason for the world living beings being beautiful. Lord Vishnu advised to brahma but still his ego didn't go. So Lord Vishnu cursed him to go to earth and take a birth of a normal human being. Lord Brahma who born as a human at earth went to many temples and worshipped to get rid of his curse.
At that time he saw a very handsome man who crossed him. Brahma that that he never saw such a beauty. Later he realized that man was none other than Lord Vishnu, who came down to show him that the beauty is not stable and ego will demolish one's life. As Lord Vishnu showed mercy on Brahma and showed his full form at this place, it is called as Anbil (Anbu means love in Tamil).
Who worshiped here : Lord Brahma.
Temple Timings : 6.30 am to 12.30pm 4pm to 7.30pm
Pooja Details : Two times a day
Temple Festivals : Thiru Karthigai is special.
Aadi Friday and Thai Friday- Sundara valli Thayar purappadu-
Navarathri festival,
Margazhi- Thiruvaimozhi, Thirumozhi thirunaal,
Rappathu Thirunaal( 10 days before Vaikunda Ekadashi)
Nearest Town : Trichy.
Location : 22km from trichy.
Address : Sri Sundara Raja Perumal Temple, Anbil (P.O) Lalgudi Tk, Trichy Dt.
Hotels Near Sundara Raja Perumal Temple, Anbil :
1. Mathura Hotel, (24 km from Temple)
No 1, Rockins Road, Tiruchirappalli Townhall,
Trichy - 620002, Opposite Central Bus Stand Contonment
Tel : +(91)-431-2414737, +(91)-9894558654.
2. Mayavaram Lodge, (27 km from Temple)
No 87, Vanapattarai Street, Tiruchirappalli Townhall,
Trichy - 620002, Teppakulam Post,
Tel : +(91)-431-2711400, 2704089
3. Femina Hotel, (33 km from Temple)
109, Williams Road, Tiruchirappalli 620001,
Hotel Area: Trichy Central Bus Stand / Railway Junction Area,
Tel : 0431 - 2414501.
4. Hotel Rockfort View, (24 km from Temple)
05, Odathurai Road | Chinthamani, Tiruchirappalli 620 002.
Mobile: +91 740 2713466.
Tel : +91 431-2713466.
5. Grand Gardenia, (31.7 km from Temple)
22-25 Mannarpuram Junction,Trichy-620020,
Mobile : +91 95856 44000.
Tel : +91 431 4045000.
Restaurants Near Sundara Raja Perumal Temple, Anbil :
1. Ragunath Restaurant, (24.7 km from Temple)
College Road, Tiruchirappalli.
2. Parthasarathy vilas, (22 km from Temple)
Vegetarian / Vegan Restaurant
Kondayam Pettai Agraharam, Thiruvanaikoil, Trichy 620005.
1 1 1 1 1 1 1 1 1 1 Rating 3.37 (235 Votes)

Driving Direction & Temple Location